UC alum wins Samvid Scholarship
National award recognizes Chinmay Bakshi, A&S '21, as future changemaker
Chinmay Bakshi, a 2021 graduate from the University of Cincinnati's College of Arts & Sciences, has been awarded the Samvid Scholarship. It is the second year for the new, nationally competitive award. The scholarship provides up to $50,000 per year for two years of graduate education and offers mentorship programming to help high-achieving students realize their potential as future leaders in innovation for positive social change. 

Throughout his extraordinary undergraduate career at UC, Bakshi pursued twin passions for biomedical research and for community involvement, which he focused on public health and wellness initiatives. His achievements in both exemplify UC's Next Lives Here vision of innovation, inclusion and real-world impact.  
In recognition for this work, he was one of the six undergraduates in 2021 awarded the UC Presidential Leadership Medal of Excellence. His achievements also earned him the nationally competitive Barry Goldwater Scholarship in 2019. He was a finalist for the prestigious Rhodes and Truman scholarships and has earned many other accolades.
Having earned interdisciplinary degrees in neurobiology and liberal arts (medicine, health and society track) at UC, Bakshi is attending Harvard Medical School this fall. While he is still choosing his medical specialty, he plans to pursue a career in research and healthcare policy that will help him serve vulnerable populations. He is particularly interested in effective pain management for patients with complex diseases, in pharmaceutical innovation and in systemic public health solutions to the opioid epidemic.   
Jenny Hyest, director of UC's Office of Nationally Competitive Awards, said, "One of the remarkable things about Chinmay is how he was never afraid to chart his own course at UC. He was proactive in seeking out unique opportunities for research and for community engagement, both on and off campus, and if he couldn't find the opportunity he was looking for, he created it. I have always admired Chinmay's willingness to dream big, and his biggest dreams have to do with how we, as a society, can better support the most vulnerable among us."
Bakshi began to connect to UC researchers while still in high school. His interest in breast cancer research (both of his grandmothers were diagnosed with the disease) led him to the cancer and cell biology lab of Dr. Nira Ben-Jonathan in UC's College of Medicine.
"I was able to really discover a passion for research and see how I can contribute to innovation. I could see how the University of Cincinnati collaborates with other institutions and really is at the forefront of research. That was a very transformative experience, because I could envision myself as an undergraduate student pursuing meaningful research with professors at the top of their fields."
Even before the first day of freshman classes, he also introduced himself to Dr. Jeffery Molkentin, a professor in the pediatrics department in the College of Medicine and a Howard Hughes Medical Institute Investigator who leads molecular cardiovascular biology research at Cincinnati Children's Hospital Medical Center.
"I walked into his office, and I said, 'I'd really like to conduct research with you.' I sat down and spoke with him, and he was impressed with the previous research I had done. Ultimately, I stayed with his lab throughout undergrad."
"UC offers every single resource that you need to be successful," Bakshi said. "A lot of people come to college and they're not sure where to turn to. The University of Cincinnati's advising is top-tier, and I would say, get involved and really pursue whatever you're interested in, and you will find any opportunity you want at UC. That's exactly what happened to me."
UC offers every single resource that you need to be successful.
Chinmay Bakshi A&S, '21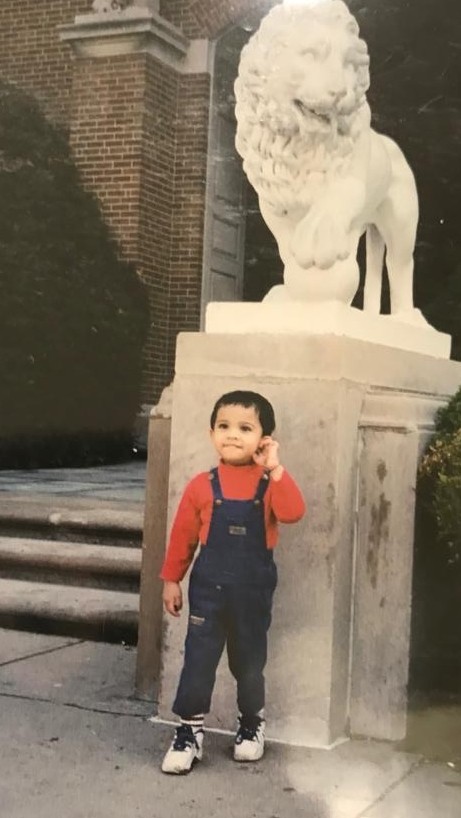 Bakshi may have been more comfortable than the average undergrad in making connections at UC, as he was partly raised on campus.
Both of his parents are UC alumni, in electrical engineering and computer science. His father, Vishwas Bakshi, received his admissions letter to UC the day Chinmay was born; Chinmay and his mother, Niwedita Bakshi, followed from India to Cincinnati later. They lived in Morgens Hall and near campus for several years.  
"He used to accompany me at Langsam [Library] so many times," said Vishwas Bakshi. "I used to go for studying, and he used to come with me and read books in the library. He's known Langsam since he was a very, very young kid."
It was in the Cincinnati neighborhoods around UC and then later in Mason, Ohio, where Bakshi found his second lifelong passion, community service.
"My parents didn't come with a lot of money here to this country, they didn't have a lot of resources. We would walk to grocery stores," he said, remembering helping his mother carry groceries home from Kroger. "Those moments were very critical for me to understand what low-income communities and vulnerable communities face, who don't have the resources."
Bakshi accompanied his parents when they and their volunteer group worked at a local foodbank. As a student in Mason, he continued to volunteer in the community, including founding a student-led wellness club at his high school.
He carried that work forward as a UC student. He connected with Dr. Laura Nabors of the School of Human Services, College of Education, Criminal Justice & Human Services, after she gave a presentation to dorm resident advisors about the new Generation Rx Ambassadors program, which focuses on wellness education, stress management and substance abuse avoidance strategies. As a member of the ambassadors program, Bakshi advocated successfully to add wellness education content to the curriculum for all UC freshmen. He also worked with community initiatives on harm reduction for people suffering addiction.
Beyond finding mentors in a field of interest, finding impactful work in the community is the second thing that Bakshi suggests to students who want to enlarge their undergraduate experience.
"Get involved with the community, regardless of whatever major you are, whatever you're interested in. Really look at people who are underserved and try to give back to the community, because you just never know—if you don't get out of [your] bubble, then you'll never really understand what the world looks like."
If you don't get out of [your] bubble, then you'll never really understand what the world looks like.
Chinmay Bakshi A&S, '21
UC offers many ways for students to make academic and community connections to pursue their passions.
"I'm very happy with the fact that I focused on interdisciplinary work as an undergraduate student," Bakshi said, in contrast to the path of early specialization that many pre-med students take. Through both his dual BA/BS studies and the University Honors Program he was able to explore a wide breadth of interests.
While Bakshi found his own research mentors, the signature research programs run by the UHP, RaMP and UHP Discover, offer similar opportunities to other undergraduates. Bakshi also found honors seminars pivotal, particularly the Exploring Leadership honors course taught by Dr. Todd Foley, director for Digital Innovation in the Division of Experience-based Learning and Career Education.
He also values the mentorship of Hyest in the Office of Nationally Competitive Awards. He suggests that students contact NCA early in their academic careers and thinks it should be part of every first-year learning community.
"I definitely talked to her about [the Samvid scholarship]. She gives amazing advice, amazing feedback. I think if I could point to one person who has helped me out …, really developing not only myself as a candidate [for competitive awards] but as a person, I would point to Jenny. She has literally been a tremendous mentor for me, a great advisor. I can't say good enough things about Jenny.
"It's not just about applying to the awards. It's about understanding that you can make an impact as a college student. I think that's what NCA is really about."
Just as Bakshi was ready to begin applying to medical schools in 2020, the COVID pandemic struck. His research lab was shut down, and MCAT testing was cancelled. He was able to return to live at home, but his plans for his future were cut off.
For a student as focused as Bakshi, the experience felt derailing. It took him some time to envision a new path to his goals.
He decided to take a gap year after his graduation in 2021. In that time, he joined AmeriCorps and worked as an addiction navigator for people, helping connect them to needed resources. He also worked at the Lindner Center of HOPE as a mental health technician, experiences he describes as transformative.
Bakshi recognizes that many of his peers have had a much harder struggle to pursue their future and do meaningful work since the beginning of the pandemic.
"It's easy to say for me right now, because I have a supportive family. For a lot of people that don't have an income, that have lost their jobs, it's much more difficult. I can't even begin to think about being in their position. But what I can say is there's always hope, and you never, ever give up, no matter what. That's really what I take away from this experience."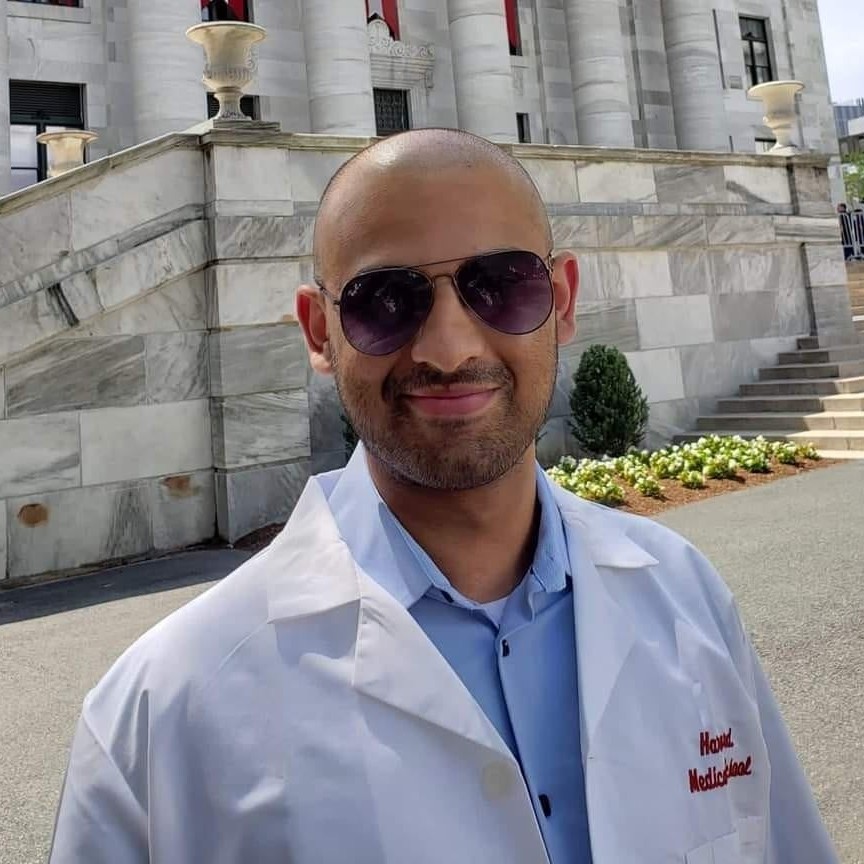 Starting medical school this fall, Bakshi can once again envision his future. One possibility is working on effective pain management, perhaps through innovations in a small healthcare system or hospital that could then be scalable to address health inequities throughout the nation.
"As of now, [it's] very possible that I could focus on more policy work, organizational leadership, and really looking at how I can make a change in healthcare in areas that need it. Especially for vulnerable populations, people who are marginalized in the community. How can I, from a systemic standpoint in healthcare, make a change?"
Be Boldly Bearcat
Explore ways that you, too, can connect with mentors and advisors at UC. Find opportunities and funding to further your academic career. Discover volunteer work and service learning with real-world impact that you can do as an undergrad.
Featured image: Chinmay Bakshi in front of Arts & Sciences Hall. Photo/Joseph Fuqua II/UC
1
UC students plan documentary in Eastern Europe during the war 
December 2, 2022
As global media descends on Eastern Europe to cover Russia's war in Ukraine, two University of Cincinnati students are planning to cover the region from a different angle. Hunter Shallcross and Tanmay Srivastava, both digital media collaborative majors in the College of Arts and Sciences, have planned a trip to multiple European countries to film their own documentary, titled "The Edge of Chaos." The trip is scheduled for May of 2023.  The pair became friends through their passion for film, and soon started partnering on projects. Last February, Shallcross and Srivastava became interested in the way culture and art are changing in countries on the edge of Europe due to the war, and decided to develop the idea into a documentary. "Everybody is flocking to Eastern Europe to document what is going on. We want it to show the artistic side," says Shallcross. "The shots, the camera angles, and the narrative we want to tell about relationships and personal issues that go beyond war."  They began pitching their documentary idea to various professors and making any connections they could to bring their idea to life. Last May, they even attended the Cannes Film Festival, to get some first-hand film experience, while networking with people there. 
2
UC recognized as a 2022 ALL IN most engaged campus for college...
December 2, 2022
In 2022, the University of Cincinnati's UC Votes team worked with student groups and community partners to register students to vote, educate students on voting, ensure ballot access, and turn out the student vote. The University of Cincinnati has been recognized by the ALL IN Campus Democracy Challenge (ALL IN) as a 2022 ALL IN Most Engaged Campus for College Student Voting.
3
WLWT: Hospital systems working through multiple viruses spiking
December 2, 2022
Hospitals in the Cincinnati area are dealing with what some are calling a 'tripledemic' of RSV, COVID-19 and the flu. WLWT reported that according to the Health Collaborative, COVID-19 hospitalizations across Ohio counties in greater Cincinnati are at 176 patients. That's 41 more than Friday. About 180 people are hospitalized with the flu. It's a major spike from the week before. One of the experts cited by WLWT is Carl Fichtenbaum, MD, of the Division of Infectious Diseases at the UC College of Medicine.
Debug
Query for this