President Pinto shares 2023 State of the University Address
Neville G. Pinto addresses university during All-University Faculty Meeting
University of Cincinnati President Neville G. Pinto used his State of the University Address on April 13 to share a five-year update on "Next Lives Here," the strategic direction he launched in February of 2018.
More than 100 faculty, staff and students attended the annual talk, which this year took place inside the main auditorium of Kowalewski Hall in the Winkle College of Pharmacy as part of the All-University Faculty meeting. More than 600 additional members of the UC community attended virtually.
Pinto detailed multiple areas where UC is thriving and credited the university's talented faculty and staff for the gains. Among the successes, UC is experiencing record enrollment, at nearly 48,000 students, and record research expenditures, which eclipsed $615 million (including affiliates) in FY22. In addition, UC's research ranking by the National Science Foundation has climbed two spots to No. 33 among public universities nationally.
The university is also graduating more students than ever with 11,803 degrees awarded last year, an increase of about 800 degrees since 2018.
"We will be a leading public university in this nation," declared Pinto. "And that word public is the most important word."
He detailed the importance of UC's mission to serve everyone, and particularly students from Cincinnati Public Schools, a major push of Pinto's CPS Strong initiative.
UC's diversity and inclusion numbers have continued to climb, with the most ever students of color this year (25.5%) and a record number of international students (4,251). Approximately one in four Bearcats receive Pell Grant financial aid.
Pinto celebrated ribbon cuttings in the last several months, including the new UC College of Law, the reopened and refreshed Calhoun Hall and the brand new Digital Futures building, where 22 interdisciplinary research teams are now working to "solve problems that matter."

Pinto spoke of the key role that UC's innovation agenda has played in filling the 1819 Innovation Hub to capacity with 20 co-located partners in the building. He also shared the importance of the recent merger of the Center for Entrepreneurship and the UC Venture Lab, efforts that last year helped earn UC the pinnacle innovation award from the Association for Public and Land Grant Universities (APLU).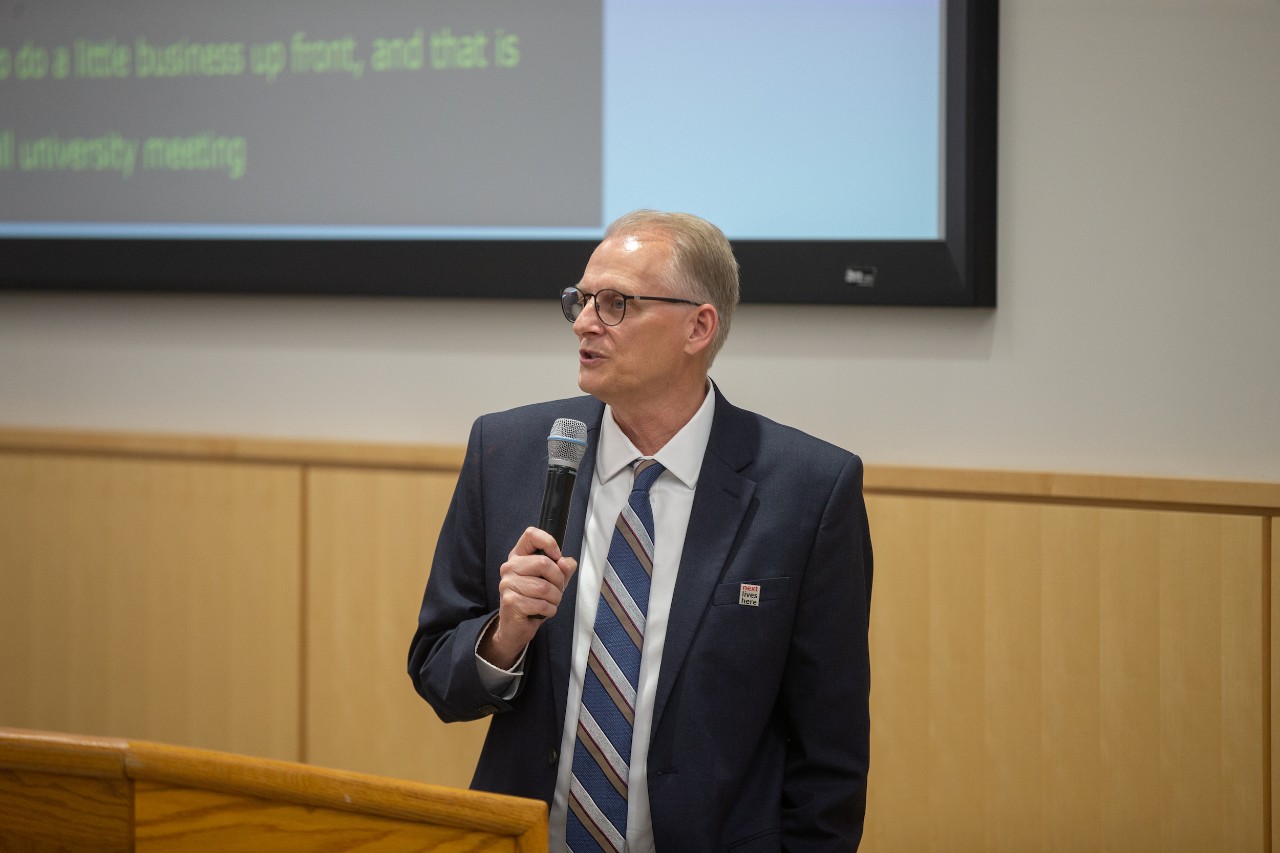 Looking ahead at what's to come in the Acceleration Phase of "Next Lives Here," Pinto said UC graduate students can expect to see a heightened focus on improving their campus experience, much like undergraduate students saw as part of the Bearcat Promise initiative. The Next Graduate Scholars pathway of Next Lives Here includes resources for expanding health insurance for grad students and recruiting top doctoral students to UC.
Others area of investment in the Acceleration Phase of Next Lives Here, Pinto said, will be cancer research as well as the biosciences and bioeconomy — which he defined as including economic activity that is driven by research and innovation in the life sciences and biotechnology that is enabled by advances in engineering, computing and information sciences.
The State of the University talk was one of many President Pinto is sharing this year, as he is also touring all 13 academic colleges. These visits typically include an open forum and small-group meetings with college-level faculty, staff and students. To date, he has met with the College of Engineering and Applied Science, UC Blue Ash and the Winkle College of Pharmacy. The remaining stop this academic year will be April 17 at the College of Education, Criminal Justice and Human Services. Additional visits will be scheduled with non-academic units during the summer, followed by more college tour stops beginning Fall semester.
Impact Lives Here
The University of Cincinnati is leading public urban universities into a new era of innovation and impact. Our faculty, staff and students are saving lives, changing outcomes and bending the future in our city's direction. Next Lives Here.
1
Path to 50K: A journey defined by our impact
August 28, 2023
University of Cincinnati President Neville G. Pinto shares the importance of UC's impact as enrollment projected to eclipse 50,000 students for first time in university history.