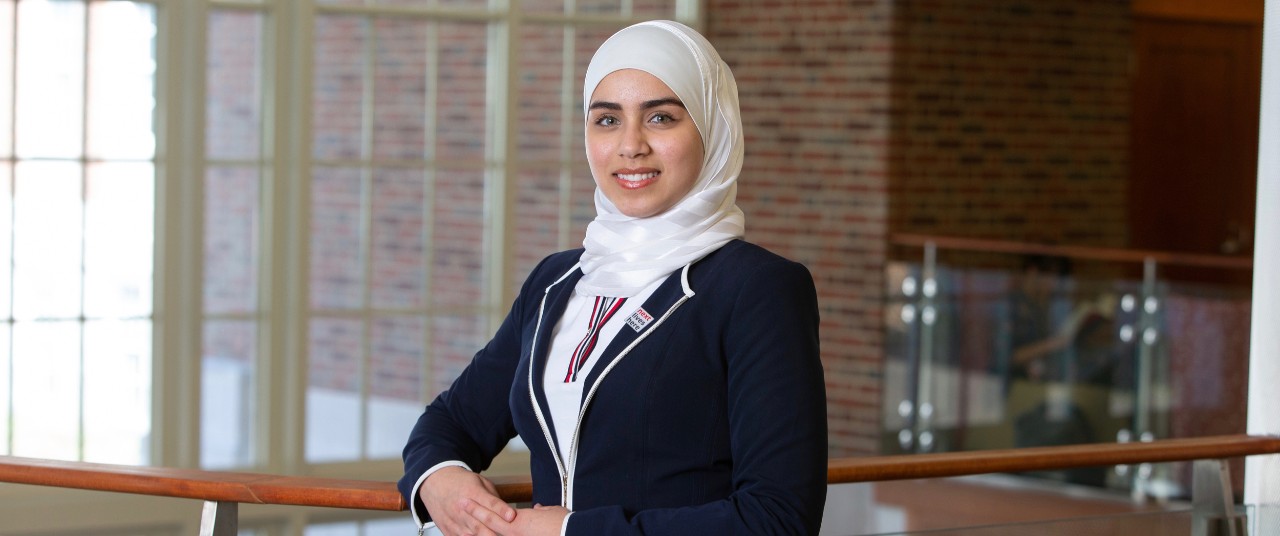 Muslim honor student finds UC, success a balancing act
Mariam Elgafy continues to be a voice for the unheard while inspiring students to lead and succeed
Sometimes inspiration and courageous leadership traits arise at a very early age. Take Mariam Elgafy for example.
Even before she stepped onto the University of Cincinnati's campus Elgafy was already labeled the "voice of the voiceless" — a title she earned as a student at Sinclair Community College for speaking up for those unheard, those that cannot speak and those too fearful to speak.
As a university honors student in UC's College of Education, Criminal Justice, and Human Services, Elgafy is also a proud Muslim hijabi woman who is not only an academic scholar and campus leader, but helps dispel preconceived notions about Muslim women's roles in unexpected ways — by teaching one-on-one figure skating classes and ice hockey instruction to students young and old.

"While I strive to provide a positive face to a religion and race that is often misunderstood, I also feel it my duty as a strong Muslim woman to speak up for those without a voice," says Elgafy. "Through my opportunities at UC I have been able to create more inclusivity, empowerment and open-mindedness for women and students all across campus."

Graduating this spring with a bachelor's degree in early childhood education and communication with a minor in political science, Elgafy earned the 2019 UC Presidential Leadership Medal of Excellence. The award is presented each year to a handful of students who exemplify the university's ideals of scholarship, leadership, character and service in pursuit of academic excellence, a major tenet of UC's strategic direction called Next Lives Here. 
Elgafy says she embraces a respect for her religion and culture along with her passion for empowering people, and it didn't take long for her positive attitude and personal courage to spread. 
"I have learned over the years to stand for what I believe, whether through my trips to Egypt where I saw a community of millions fighting for their democracy or students on our campus expressing civic engagement," says Elgafy. "As I strive to empower those around me, I use public speaking to help them make their voices heard, no matter how large or small their platform is."
Coming from an Egyptian background, Elgafy has had the opportunity to experience different cultures and languages across the world, finding a particular beauty in the Arabic language through its poetry, expressions and different dialects.

"Born in Cairo, Egypt, I can say that I am torn between two worlds," says Elgafy. "I have seen the beauty of Egypt as tourists would but also the political oppression and degradation of human life," scenes that she says include the incarceration and silencing of people for making their voices heard.

"This has made me appreciate the freedom of speech and expression in the United States," says Elgafy. "Through the University Honors Program, I was offered an opportunity to travel to Thailand for a United Nations leadership conference, but due to political instability in the U.S. in 2017, it would not have been the best decision to travel abroad."

For months Elgafy was devastated to be deprived of such an opportunity. But one quote resonated with her.
"You should never view your challenges as a disadvantage," said former U.S. first lady Michelle Obama in a commencement address. "Instead, it's important for you to understand that your experience facing and overcoming adversity is actually one of your biggest advantages."

"I soon realized that I was blessed with the ability to speak and connect with large and small audiences, and I would seize that blessing to advocate for myself and those around me," says Elgafy, using her voice to empower students at UC and the younger students in her classrooms.

"My parents and brother have continuously been my biggest supporters; it is through their love and advocacy that I have been able to achieve my fullest potential."

As a campus ambassador in UC's Honors Program, Elgafy helped inspire prospective students to see the potential available through University Honors classes. As a senior class officer and senator in UC's Undergraduate Student Government, Elgafy directed the Student Government Mentorship Program (SGMP) where she helped open enrollment up to first- and second-year students, giving more students the opportunity to pursue leadership roles.
Along with peer leading and tutoring, SGMP is one of her investments in the next generation of leaders. "I try to promote innovation, sustainability, growth and excellence in the work committed by these students," she says.
Under her leadership as the president of UC's CECH Tribunal, Elgafy helped raise significant funds for the IMPACT Innovation program, while also holding multiple social and cultural events to bring students together.

As senior peer leader in UC's Common Read program and member of the intersectional leadership collaborative in the Racial Awareness Program (RAPP), she prompted students to engage in deep discussions on social justice education and racial awareness. 
Off campus, Elgafy experienced some of her most rewarding moments while volunteering in the community and mentoring young students in Arabic.  

"Many of these young Muslim children are struggling to find their identity in a world where they have to put [it] aside if they really want to achieve things," Elgafy says. "I help them overcome obstacles by being open with them about my experiences and shining a light on the  struggles I went through at their age.

"I want them to know they can achieve miracles, while still embracing their identity and being unapologetically Muslim."
You should never view your challenges as a disadvantage. Instead, it's important for you to understand that your experience facing and overcoming adversity is actually one of your biggest advantages.
Michelle Obama former U.S. first lady
As Ramadan gets underway in May, Elgafy looks back fondly on some of her trips abroad to Egypt in her time off. 
"While visiting family in Cairo, I enjoyed engaging in community service," says Elgafy. "I collected clothes for the homeless with the Resala organization and especially enjoyed cooking food for refugees and having late night dinners and creating bonds in orphanages during Ramadan." 

Back on campus, when Elgafy is not demonstrating her swift skills on the ice, she can be found serving in her student teaching roles at public and Islamic elementary schools from the Cincinnati area to Dayton, leaving her students with a much more positive outlook than before.
Many of her students deal with mental health and emotional concerns throughout the year, but at the end of the day she says, "They know there is an adult who advocates for them, genuinely loves and cares for them and has become part of their life, far beyond the school year."

"While student teaching in local schools, I share the beauty of UC's campus and instill a sense of empowerment in students that may not otherwise consider college," she says. "It brought tears to my eyes when my students wrote farewell letters to me in my favorite Bearcats' 'black and red' [ink] stating, 'Congratulations on finishing college Miss Elgafy. Go Bearcats!'"

Besides her academic achievements and scholarships, Elgafy was named a member of Omicron Delta Kappa, a national leadership honor society, as well as honored with the UC's Cincinnati Women in Excellence and Spirit Together award for leadership, scholarship, sincerity and spirit. Elgafy has received the 2019 Presidential Leadership Medal of Excellence award along with five other undergraduates: Kendall Cappel, Rickey Terrell, Rahul Sandella, Andrew "Scottie" Emmert and Laura Stegner. 
"Many say the future is uncertain," says Elgafy. "But UC has prepared me to the fullest extent to become an influential and dedicated global scholar and leader that exhibits traits of innovation, initiative, independence, inclusiveness and growth.

"As I continue on as a proud Bearcat beginning my graduate studies in communications this fall at UC," she adds, "I hope to eventually enter law school where my passion for influencing public policy, igniting political and academic change and becoming a louder 'voice for the voiceless' can come into full bloom."
More about:
• UC's Presidential Leadership Medal of Excellence Award  

• UC's Office of Nationally Competitive Awards 

Featured image at top: Mariam Elgafy, recipient of UC's 2019 Presidential Leadership Medal of Excellence award, stands inside Teachers-Dyer Hall. photo Andrew Higley/UC Creative Services
Learn to lead and succeed
Want to build new leadership skills for your future? Apply to UC as an undergrad or graduate Bearcat. Seeking academic excellence is part of UC's Next Lives Here strategic direction.