CCM faculty featured in CSO's grand return to Music Hall
The Cincinnati Symphony Orchestra's "Live from Music Hall" performance is available to stream online
The Cincinnati Symphony Orchestra mounted its first live performance in Music Hall since the outbreak of COVID-19 forced the cancellation of the remainder of its season. The Live from Music Hall performance, initially streamed on Saturday, May 16, is available to watch online.
The performance featured the launch of the CSO's Fanfare Project, which commissions new music from more than a dozen composers to "inspire and uplift and to help us make sense of this moment in our shared history through the universal language of music." CCM Professor and CSO Principal Oboe Dwight Parry gave the world premiere of the Fanfare Project's first composition vitres (fragment…) by CSO Creative Partner Matthias Pintscher in the opening of the live-streamed concert.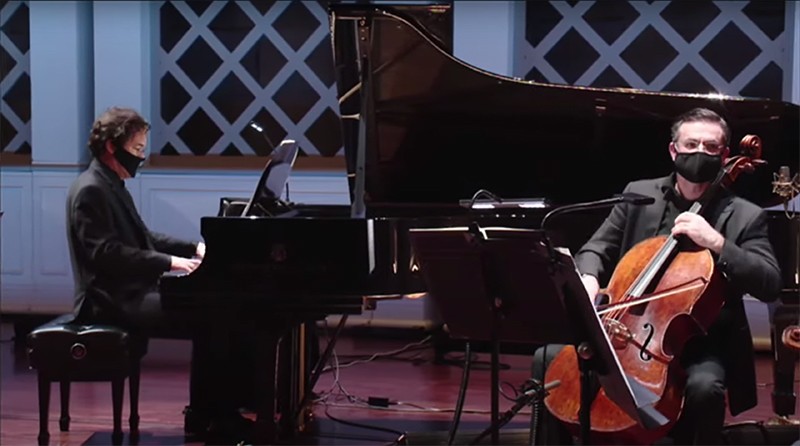 Following the world premiere, four CSO musicians took the stage to perform Mahler's Piano Quartet in A Minor — while maintaining social distances and wearing face masks. The performance featured CCM professors Michael Chertock, piano, and Ilya Finkelshteyn, cello; as well as CSO concertmaster Stefani Matsuo and principal viola Christian Colberg.
"The event was one step forward to the time when theaters will reopen, and we won't be afraid to share a live communal experience," wrote arts reporter Janelle Gelfand in her review for the Cincinnati Business Courier. "It was a message of hope that eventually our arts and culture will re-emerge."
Images captured from the Cincinnati Symphony Orchestra's concert video.
3
DAAP's Step Up to Art cuts ribbon on Fig Alley and Ohio Avenue...
October 2, 2023
In 2019, DAAP's grant accelerator program paired Bonansinga, a professor and director of UC's School of Art, within the College of Design, Architecture, Art, and Planning, with Muhammad Rahman, an assistant professor of design, to research and develop a community enrichment program. The result was Step Up to Art.
Debug
Query for this