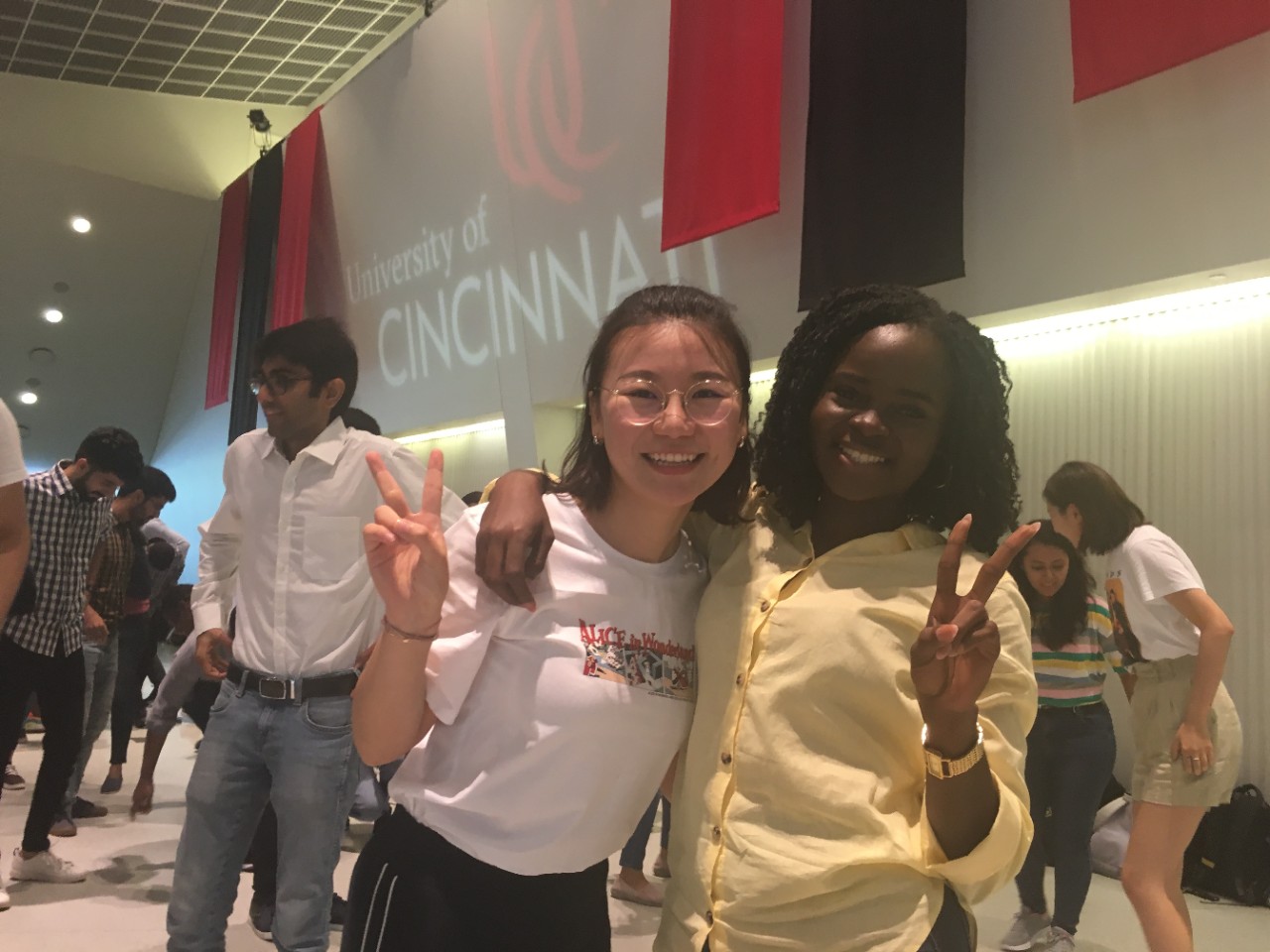 International Orientation & Check-in
The University of Cincinnati looks forward to the arrival of all of our new students.
Use this page to get ready to come to the United States, travel to Cincinnati and check-in safely at UC.
Before you come to the United States, you need to complete the following tasks:
The online orientation provides you with important information that will help prepare you for living and studying in the US. You can access the online orientation any time prior to your first day of classes at UC.
Before you leave, shop around for airfare, taking note of baggage regulations, price, and other amenities before selecting an airline.
Purchase a ticket at least one month before you are supposed to arrive in the U.S.
If you are sponsored by the government or a private organization, communicate your travel arrangements to your sponsors and check in before and after arrival.
Make sure that your flight schedule allows enough time between connecting flights.
Arrive for your flight at least 3 hours before departure.
Travel with your passport, visa, and I-20/DS-2019 in your carry-on luggage.
Keep other important items in your carry-on, like prescription eyeglasses, a bilingual dictionary, medication, or a change of clothes.
Bring enough money for unexpected expenses or events, such as a missed flight. Keep this money hidden!
Be prepared to go through US customs after you arrive in the United States. The Department of Homeland Security website has a great description of what you will expect during this process.
Arrange for a family member, friend, or supervisor to meet you at the airport if you can. If not, you can use the Airport Executive Shuttle following the pre-arrival checklist instructions in iBearcatsGlobal.
Once you arrive on campus, try to get familiar with the area. UC International has many resources to help you when you first get here, like temporary housing (if you're waiting to get into an apartment), transportation options, and more!
Once you arrive in Cincinnati, you are required to complete the "Immigration Review" and "Registering for Events" sections of the pre-arrival checklist in iBearcatsGlobal.
You must arrive in Cincinnati in time to complete these processes and to attend other required events before classes begin. The earliest you may enter the U.S. is 30 days before the start date on your I-20/DS-2019.
When should I arrive in the U.S.? (Spring Semester 2023)
You must arrive in Cincinnati in time to complete the immigration review and to attend other required events before classes begin. The earliest you may enter the U.S. is 30 days before the start date on your I-20 / DS-2019.
Spring Semester 2023: Classes begin on January 9, 2023. The recommended arrival date for international students is January 3 - 4, 2023.
If you will be living in university housing
Information regarding university housing is forthcoming.
COVID vaccination is not mandatory, but recommended at the University of Cincinnati.
See U.S. government COVID guidelines for international travel.

Official move-in is on January 8. 

Plan to arrive on January 3rd or 4th, 2023. 

You can move into your housing unit at this time without an additional housing cost. However, you will be required to complete an Early Arrival Form that will be posted on the Housing website.
Prior to January 3, you can apply for early arrival housing, but you will be charged a nightly fee (usually around $40/night). Parents cannot stay with you in your room, sheets and linens are not provided, halls will have limited staff, and meal plans will not be in effect.
Meal plans will start on January 8.

Arriving before January 8 requires completion of the Early Arrival Form. If you plan to arrive before January 3 and do not have early arrival housing, you will need to make your own arrangements for accommodations at local hotels.
Best practice would be to arrive and move into housing on Tuesday, January 3 or Wednesday, January 4 to account for any unexpected travel delays and ensure that you are ready for orientation activities that start on Thursday, January 5.
If you will be living off campus

Students with off-campus housing can arrive up to 30 days in advance of your I-20 or DS-2019 start date. Temporary accommodations are not provided by the University.
You will use personal information and copies of the following immigration documents to complete the Immigration Review in iBearcatsGlobal:

your passport
your I-94 record (download online)

your I-20/DS-2019
any previous immigration documents you may have, such as:

I-20 or DS-2019 forms
Work permits
I-797 approval notices or receipts

You will be scheduled for mandatory events like health screenings, orientations, and onboarding. 
One of your mandatory events is a health screening at University Health Services (UHS). You will receive a letter and immunization record sheet in the packet that contains your I-20 / DS-2019. Make sure you:
Read the letter and have your healthcare provider complete the immunization record sheet.
Receive any required immunizations before you arrive in the United States.
Upload the form to Med+Proctor and bring the form with you to your health screening. Instructions will be emailed to you.

Complete your pre-arrival checklist in iBearcatsGlobal to receive instructions on making a health screening appointment upon arrival.
Complete an eform providing person information. 
Call University Health Services at 513-556-2564 to schedule your health screening once you are in Cincinnati.
Attend your health screening appointment.
COVID Guidelines for Arrival
Please see the university's public health website for guidelines concerning travel, vaccination requirements, COVID-19 testing, and quarantine.
New Undergraduate Student Orientation 

New Student Orientation registration is available after a student confirms their admission.
New Student Orientation is also called Bearcat Bound Orientation (BBO). BBO for international students will take place on January 5, 2023.
International undergraduate students are required to attend Bearcat Bound Orientation to learn about academic advising, the course registration process and campus resources. At these sessions, you will learn how to schedule an appointment with your academic advisor and will register for your first semester schedule of classes.
All students are required to register and attend BBO in January.
Monday, November 7 | UC International Services / Housing Virtual Presentation & Pre-Arrival Information
11:00 - 12:00pm EST
Join Director of International Services Ron Cushing and Director of University Housing Carl Dieso to learn more about:
Completing the pre-arrival checklist in iBearcatsGlobal
Immigration Updates
On Campus Housing Information (undergraduates)
At this session, you will have an opportunity to ask relevant questions.
Friday, January 6 | UC International Services Virtual Panel Presentation
8:30 - 9:30am
Join the UC International Services' Virtual Panel Discussion for essential information regarding immigration advising and international student services and support. 
We will answer questions relating to your immigration status, connect you to campus, community resources and events that will help you thrive at UC. This session is open to both undergraduate and graduate students. 
Virtual breakout sessions following panel presentation
On-Campus Employment for International Students
Tips for Academic Success
Saturday, January 7 | UC International + IPALs Welcome Event
TBD | TBD
Join UC International and the IPALs in this high energy welcome event. Your group will compete in a series of challenges, submitting fun videos, photos, text, and/or trivia responses through a smartphone app. The challenges require teamwork, communication skills, problem solving, creativity, and strategizing to succeed. The team that completes the most challenges wins! We promise fun and a chance to make new friends.