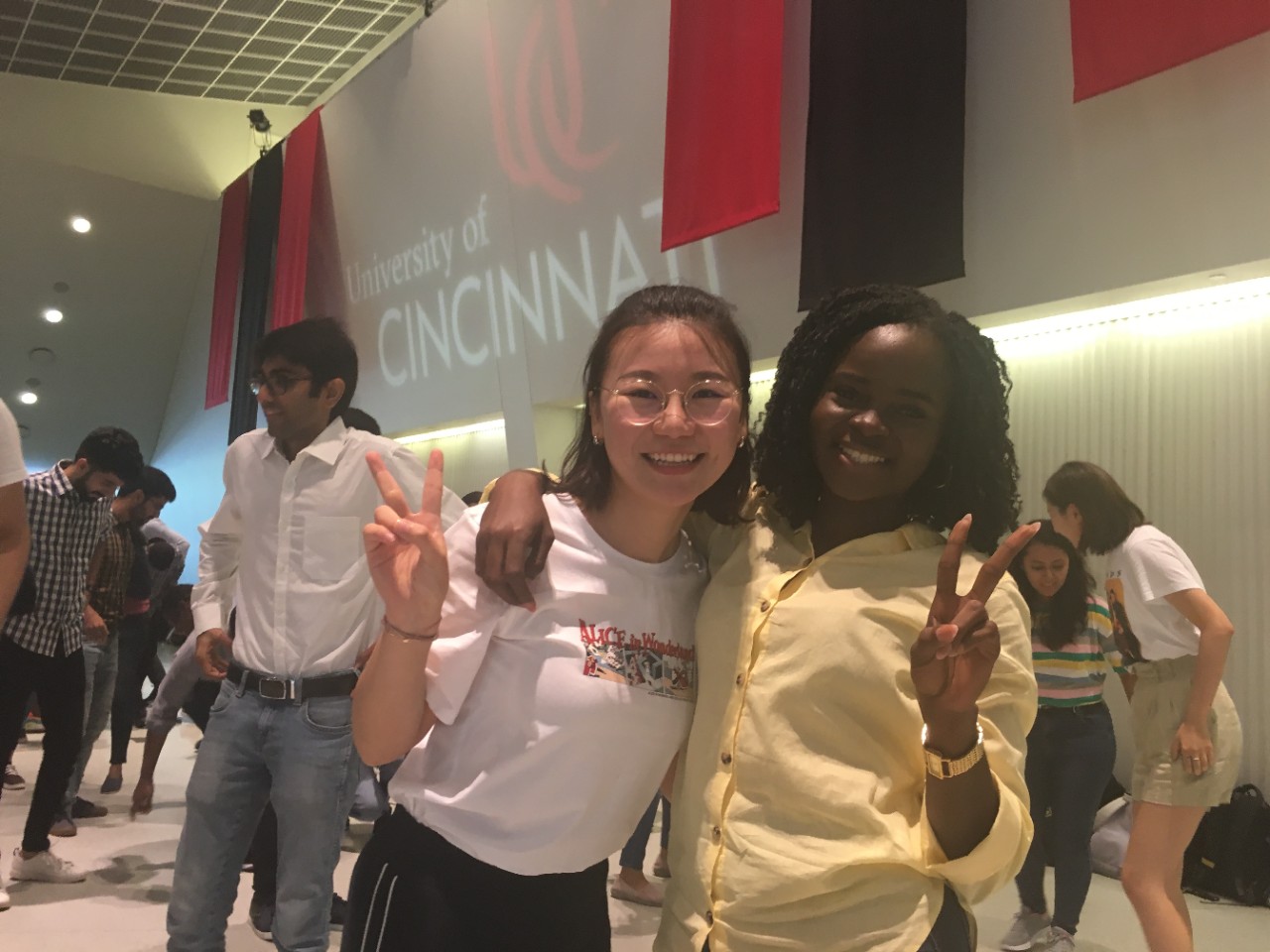 International Orientation & Check-in
The University of Cincinnati looks forward to the arrival of all of our new students.
Use this page to get ready to come to the United States, travel to Cincinnati and check-in safely at UC.
Before you come to the United States, you need to complete the following tasks:
Online orientation for international students
UC International requires that all international students enroll in an online orientation course and complete it prior to arrival. This course will introduce you to UC International, help you with the arrival process, explain government regulations for international students in the United States, and provide campus resources for a safe and successful academic experience. 

You can access the online orientation any time prior to your first day of classes at UC. To enroll in the online orientation: 
Use the course registration link to enroll in the online orientation on Canvas, the University of Cincinnati's digital learning platform. 
Log into Canvas using your UC username and password. 
Authenticate your login using Duo mobile or other options provided. 
Enroll in the course using the button labeled "Enroll in course." Then, use the "Go to the Course" button to view the online orientation. 
Complete the orientation prior to arrival.  

Read each page thoroughly and finishing the quizzes at the end of each module. You have an unlimited number of tries at each quiz.  
Your progress in the course can be seen by UC International Services staff.
Before you leave, shop around for airfare, taking note of baggage regulations, price, and other amenities before selecting an airline.
Purchase a ticket at least one month before you are supposed to arrive in the U.S.
If you are sponsored by the government or a private organization, communicate your travel arrangements to your sponsors and check in before and after arrival.
Make sure that your flight schedule allows enough time between connecting flights.
Arrive for your flight at least 3 hours before departure.
Travel with your passport, visa, and I-20/DS-2019 in your carry-on luggage.
Keep other important items in your carry-on, like prescription eyeglasses, a bilingual dictionary, medication, or a change of clothes.
Bring enough money for unexpected expenses or events, such as a missed flight. Keep this money hidden!
Be prepared to go through US customs after you arrive in the United States. The Department of Homeland Security website has a great description of what you will expect during this process.
Arrange for a family member, friend, or supervisor to meet you at the airport if you can. If not, you can use the Airport Executive Shuttle following the instructions you'll receive after your Immigration Documents e-form in iBearcatsGlobal is approved.
Once you arrive on campus, try to get familiar with the area. UC International has many resources to help you when you first get here, like temporary housing (if you're waiting to get into an apartment), transportation options, and more!
All new international students attending UC are provided with one complimentary ride to UC's main campus (zip codes 45219, 45220, 45221) from CVG airport via Executive Transportation, a private shuttle service. To reserve a ride, use the instructions that you received in the Immigration Documents approval email.
If you need a ride to another zip code, the standard rate charged by Executive Transportation will be discounted by $30 and you will be responsible for paying the difference.
Family members and guests are charged a fee of $30 per person, to be paid at the time of service.
If you experience a delay on your way to the CVG airport, provide your name and M# to the Executive Transportation Information Desk, located near luggage carousel #4 in Baggage Claim, to still utilize the service.
Once you arrive in Cincinnati, you are required to complete the "Check-in" e-form in the New International Student Checklist in iBearcatsGlobal. Check-in is a federally mandated step to study in the United States.
You must arrive in Cincinnati in time to complete this e-form and to attend other required events before classes begin. The earliest you may enter the U.S. is 30 days before the start date on your I-20/DS-2019.
When should I arrive in the U.S.? (Spring Semester 2024)
You must arrive in Cincinnati in time to complete the immigration review and to attend other required events before classes begin. The earliest you may enter the U.S. is 30 days before the start date on your I-20 / DS-2019.
Spring Semester 2024: Classes begin on January 8, 2024. The recommended arrival date for international students is January 3, 2024 or before. When you should arrive will depend on if you will be living in on-campus housing.
If you will be living in university housing
The application for spring semester on-campus housing opened October 3, 2023 and will remain open until space is unavailable.
Plan to arrive on January 3, 2024. 

Official move-in for all new students is January 7, 2024.
International students may move into UC Housing with no additional charge starting January 3, but you must complete an Early Arrival Form. Residence halls will be staffed 24/7 starting January 2, 2024.
Early arrival prior to January 3 may, in exceptional cases, be accommodated, but with additional costs ($40+ per night). No meals plans will be available. This option also requires completing the Early Arrival Form.

Meal plan options at dining halls begin on January 7, 2024.
If you will be living off campus
Students with off-campus housing can arrive up to 30 days in advance of your I-20 or DS-2019 start date. Temporary accommodations are not provided by the University.
You will use personal information and copies of the following immigration documents to complete Check-in in iBearcatsGlobal:

Passport
Most recent I-94 (download online)

I-20/DS-2019
Entry visa
If you'll study in a status other than F or J, you'll need to show documentation of your current status. Examples include, but are not limited to:

I-94
Work permits
I-797 approval notices or receipts 
COVID Guidelines for Arrival
Please see the university's public health website for guidelines concerning travel, vaccination requirements, COVID-19 testing, and quarantine.
Spring BBO will be on January 4, 2024 from 9 - 5 PM.
Registration is currently open for students through the Bearcat Portal.
Friday, January 5 | UC International Services Virtual Panel Presentation
8:30 - 9:30am EST
Join the UC International Services' Virtual Panel Discussion for essential information regarding immigration advising and international student services and support that will be a key part of your holistic university experience.
We will answer questions related to your immigration status. We will also connect you to campus and community resources and events that help keep you informed and thrive at UC. This session is open to both newly admitted undergraduate and graduate students.
Virtual breakout sessions following panel presentation
Saturday, January 6 | Bowling + Pizza
3:00pm - 6:30pm, Stone Lanes
Connect with other new international students! UC International invites you to join us for an afternoon of bowling at Stone Lanes. Your ticket includes transportation to and from the bowling alley, lane, shoes, and ball rental, pizza and a soft drink.
You will receive further instructions about onboarding when you complete the Immigration Review section of the pre-arrival checklist.