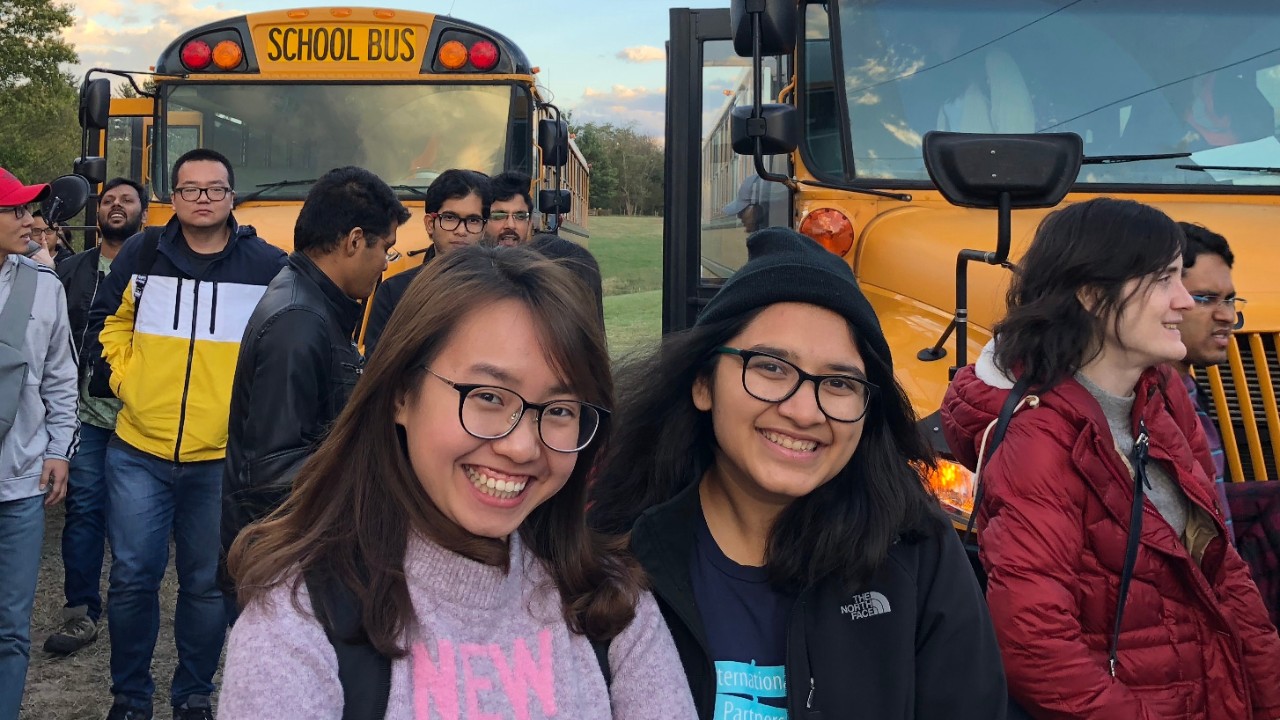 Find easy ways around campus, Cincinnati and the US.

The University of Cincinnati's individual campuses—the main West campus, East (Medical) campus, Blue Ash campus in northern Cincinnati, and Clermont County campus (regional campus 25 miles east of Cincinnati)—are each self-contained within the area of a few blocks. Most of them are situated in city or suburban neighborhoods.
Depending on your personal situation and where you live, you may or may not need public transportation daily, and you may or may not want to have a car.

UC International and student groups often hold popular shopping trips (to IKEA, outlet malls and international markets) and other group trips that will help you get around, get what you need and get to know each other.
Here are some other ways to reach the places you will go most often.
Your pre-arrival checklist from UC International will include information about signing up for shuttle service from the Greater Cincinnati Airport (CVG) across the river in northern Kentucky directly to the University of Cincinnati.
On-campus transport options include shuttle services and bike rentals; scooter rentals are currently suspended.
The Bearcat Transportation System provides free shuttle service for UC students, faculty and staff with 16 shuttles covering 13 routes.
The shuttle routes operate at various times during the academic terms and connect UC's Uptown Campus with the nearby neighborhood, Blue Ash Campus and Victory Parkway Campus.
A free bike-share program is available through the UC Bike Kitchen, created by the Office of Sustainability.
The City of Cincinnati's Red Bike Share program also has rental stations on UC's campus.
The Lime and Bird scooter rental programs at UC are currently suspended for lack of demand.
Cincinnati has no subway system (ask a local the story), but there are two bus systems and a small streetcar system downtown.

Greater Cincinnati's public transportation system, the Metro, offers bus service in Hamilton County and portions of Clermont County every day of the year. Fares are subject to change. For complete route, schedule and fare information, check the Metro website, or call the Metro Center at 513-621-4455, weekdays 6:30 a.m. to 6:00 p.m. and weekends 8 a.m. to 5 p.m.
Through UC*Metro, you can get a bus pass
Cincinnati's new electric streetcar system is a fun way to see the sights or hop around the downtown and Over-the-Rhine neighborhoods of the city.
There are many taxicab companies in Cincinnati. The Yellow Cab Company (513-241-2100) is one of the oldest, but there are many other taxicab companies to choose from. You must call to be picked up unless you are near a taxi stand downtown; taxis do not cruise around town like in many other big cities.
Typically (and stereotypically) Americans rely on cars to get around most parts of the country, including Cincinnati. But owning a car is a big added expense and may not be convenient on campus if the cheapest parking garage isn't near your dorm or college buildings.
If you need a car, there are things you need to know.

If you have a valid International Drivers License or a valid drivers license from another U.S. state, you may drive a car in Ohio for up to one year from the date when you arrived in the U.S.
However, if you buy a car and register it in your name and you do not have a valid driver's license from Ohio, you must have an Ohio drivers license. For you to get an Ohio driver's license, your I-20 or DS-2019 must have been issued for more than one year.
More detailed information about getting an Ohio driver's license and license plates can be found in the Digest of Ohio Motor Vehicle Laws.
You must carry your license with you when you drive.
If you live in Kentucky, the rules to obtain a driver's license are a little different than for those who live in Ohio. For full details, refer to the Kentucky DMV website.
If you currently have a foreign driver's license as listed on the website, you can drive for up to one year before you need a Kentucky driver's license.
If you are an F-1 student who would like a Kentucky Driver's license, you need to bring the following documents to a regional office:
Visa, Passport with Homeland Security stamp and/or I-94 (bring everything)

Social Security Card or Ineligibility Letter 

If you do not have an SSN, UC International can provide the ineligibility letter for you

Current I-20

INS School Compliance Form, dated within the past 30 days 

UC International can provide this for you

Proof of address within the last year 

Bring postmarked envelopes from reliable institutions, such as utility companies
Currently, the closest office is in Burlington, Kentucky. You can schedule an appointment online.
According to the Kentucky DMV website, you will possibly perform a driving test and written exam along with a vision test. Please review the website for the most up-to-date information.
ID Card
If you do not plan to drive in the United States, you may want to apply for a state ID card. Having a state issued ID card is more convenient than carrying your passport and it's easier to replace if lost.
Applying for the ID card requires the same documentation as the driver's license, but you won't need to perform any of the testing for driving. See the Kentucky DMV website for more details.
When you buy and register a car, you must also insure it to drive it. You will not be able to purchase license plates for your car unless you can show proof of insurance.
You must carry proof of insurance with you when you drive, whether you own or rent/lease the car. It is illegal to drive without insurance.
Insurance is available through agents or online.
Limited on-street parking is available near campus. Parking in campus garages is available hourly/daily or by month or semester for faculty, staff and students. Visit Parking Services for maps, permit information and more.  
The Zipcar car-sharing service is available for UC students with valid driver's licenses, who can book cars at an hourly rate through an annual membership plan that includes insurance.
The classic American roadtrip is the way to see the US if you have the time and a car. Train service is limited outside major urban corridors.

The Greyhound bus station is located at 1005 Gilbert Avenue, downtown Cincinnati. Call 1-800-231-2222 (out of town) or 352-6012 (local) for schedule and fare information. Bus fares are reasonable and riding the bus is a great way to see the United States.
The Megabus has a bus stop on campus at West University Avenue and Commons Way. Megabus tickets are availble to and from several U.S. cities.