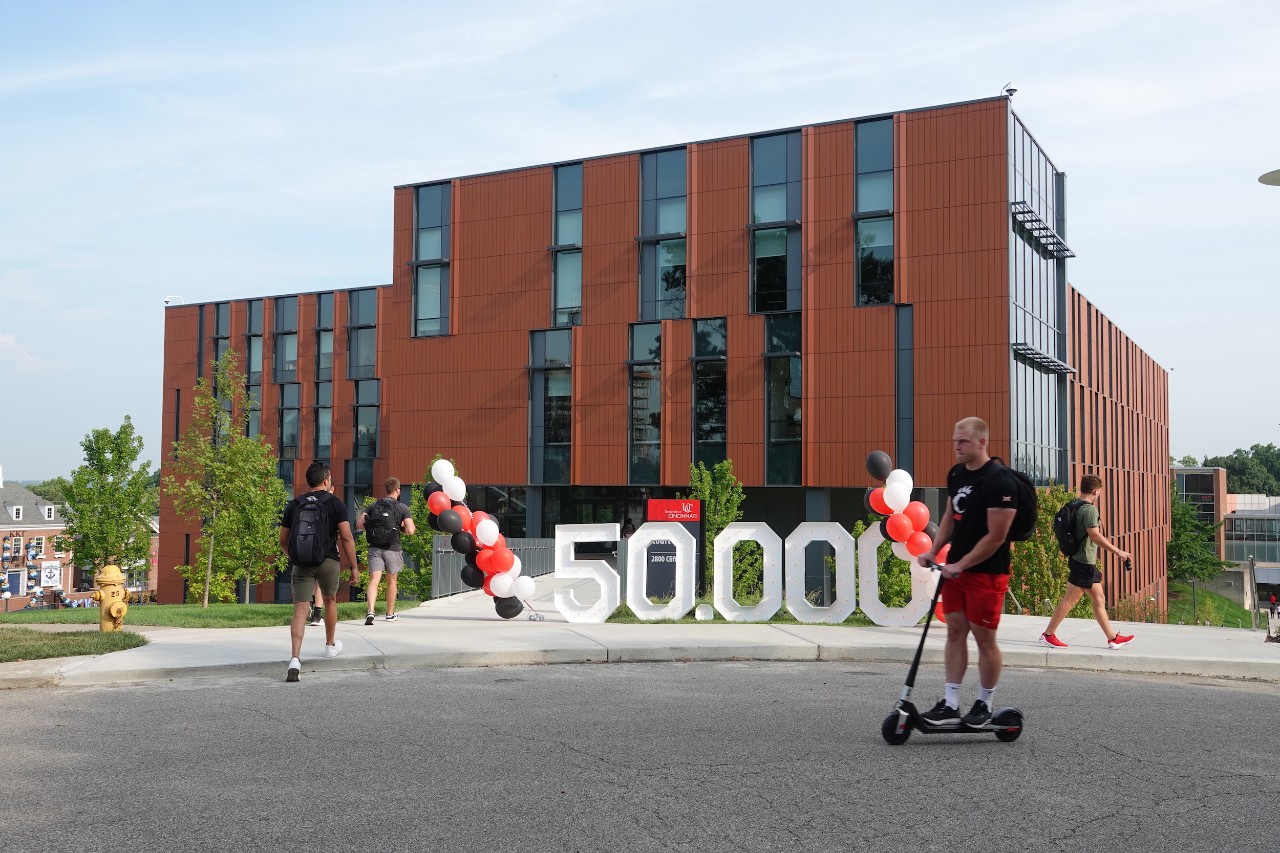 Just in: UC tops 50,000 students
First-gen, first-year, students of color and online learners help boost enrollment
The University of Cincinnati anticipates record enrollment as classes begin Monday, Aug. 21, with a projected 50,500 students — a 5.39% increase over last year.
The growth of the student body has continued for much of a decade and reflects the university's core values around academic excellence, access and inclusion, and affordability.
"It's the brightest and most diverse first-year class we have ever had," says Jack Miner, vice provost for enrollment management. "We are seeing more students from right here in Cincinnati and Cincinnati Public Schools choose UC, and we are welcoming students from across the country as we also continue to see the impact of UC's entry into the Big 12."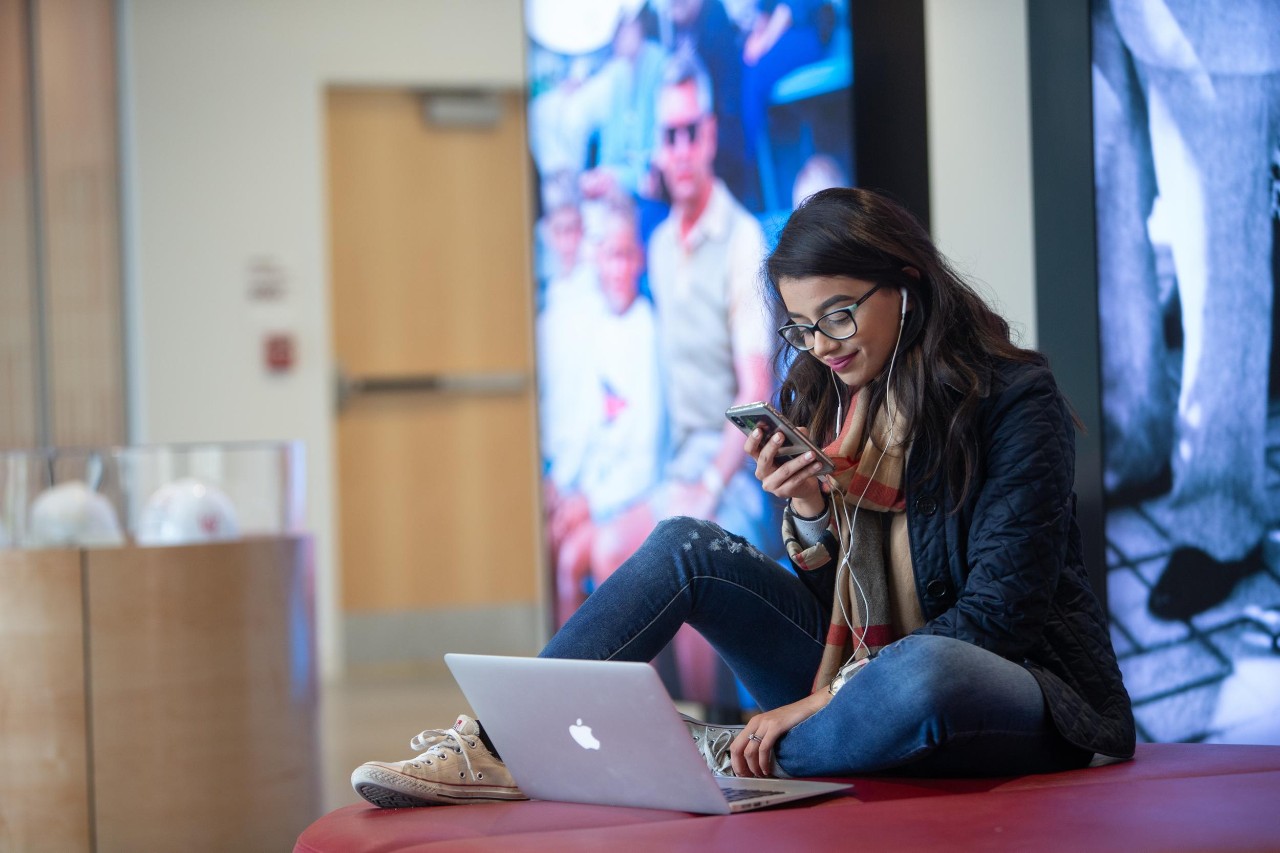 Miner adds, "The result is that this year, we will once again have our largest class on record surpassing 50,000 students at the University of Cincinnati. It's also our largest first-year class ever as well." 
 
UC is projecting about 8,900 first-year students — an increase of 9% over last year. Students of color make up more than 26% of the total student body.
"In addition to the 9% growth in our first-year class, we also saw a 9% growth in our online enrollment, especially among adult learners who are returning to college," says Miner. "These students don't have the same physical presence on the Uptown campus, but they are still engaged with our faculty, staff and their fellow students."
"As we look at the growth, its not just new students in the Uptown area, we are seeing growth at Blue Ash, Clermont, and most importantly in our online programs," says Miner. "This helps create our future workforce and economic development but also supports businesses throughout the region, not just here in the campus area."
Economic impact lifts region and state
The University of Cincinnati delivers a significant economic boost to the region and state of Ohio thanks to alumni impact, operations and research spending, student demand for goods and services, launch of startup companies and more.
A new study looking at the 2021-22 fiscal year finds that UC's overall impact on the business community in southwest Ohio, northern Kentucky and eastern Indiana is $10.6 billion in added income to the business community, an amount that supports 125,057 jobs. For perspective, this means that one out of every 12 jobs in the region is supported by the activities of the university and its students.
Statewide, the study found that UC increases the economic base by $22.7 billion.
The study, conducted by Lightcast, an independent consulting firm, on behalf of the Inter-University Council of Ohio, is part of a larger report that found Ohio's 14 public universities delivered $68.9 billion in total economic impact in fiscal 2021-22.
Beyond record enrollment and its Big 12 invite, UC is achieving historic research funding, its most-ever number of graduates and the top ranking for public co-op programs. These are all achievements UC President Neville Pinto has celebrated this year while marking the five-year anniversary of Next Lives Here, the university's strategic direction.
"Next Lives Here reminds me every day of our sacred responsibility to the next generation," says Pinto. "The values that we collectively impart to our students are going to establish the ongoing success of our society."
A decade of record enrollment
2023 — 50,500 (a projected 5.39% increase)
2022 — 47,914 
2021 — 46,710 
2020 — 46,798 
2019 — 46,388 
2018 — 45,949 
2017 — 44,783 
2016 — 44,338 
2015 — 44,251 
2014 — 43,691 
2013 — 42,656
It is easy to see why UC is such a destination.
Jack Miner Vice provost for enrollment management
More snapshots of the student body
22% increase in Black students in the incoming class 
27% increase in Latinx students in the incoming class 
19% increase in Asian students in the incoming class 
9,100 first-generation students — an 18% increase. First-gen students represent the first member of their families to attend a four-year institution of higher learning. 
UC Blue Ash College enrollment increased by 6%
UC Clermont College enrollment increased by 20% 
Students of Color now make up more than 26% of total student body
"As we look at the growth, its not just new students in the Uptown area, we are seeing growth at Blue Ash, Clermont and, most importantly, in our online programs. This helps create our future workforce and economic development but also supports businesses throughout the region…not just here in the campus area."
Miner added, "We are so proud of the impact we are making on communities of color and underrepresented communities.
"It is always important to remember what a gem we have right here in our backyard — a Research 1 university, the top public university in the nation for cooperative education, a world-class faculty and amazing facilities. It is easy to see why UC is such a destination."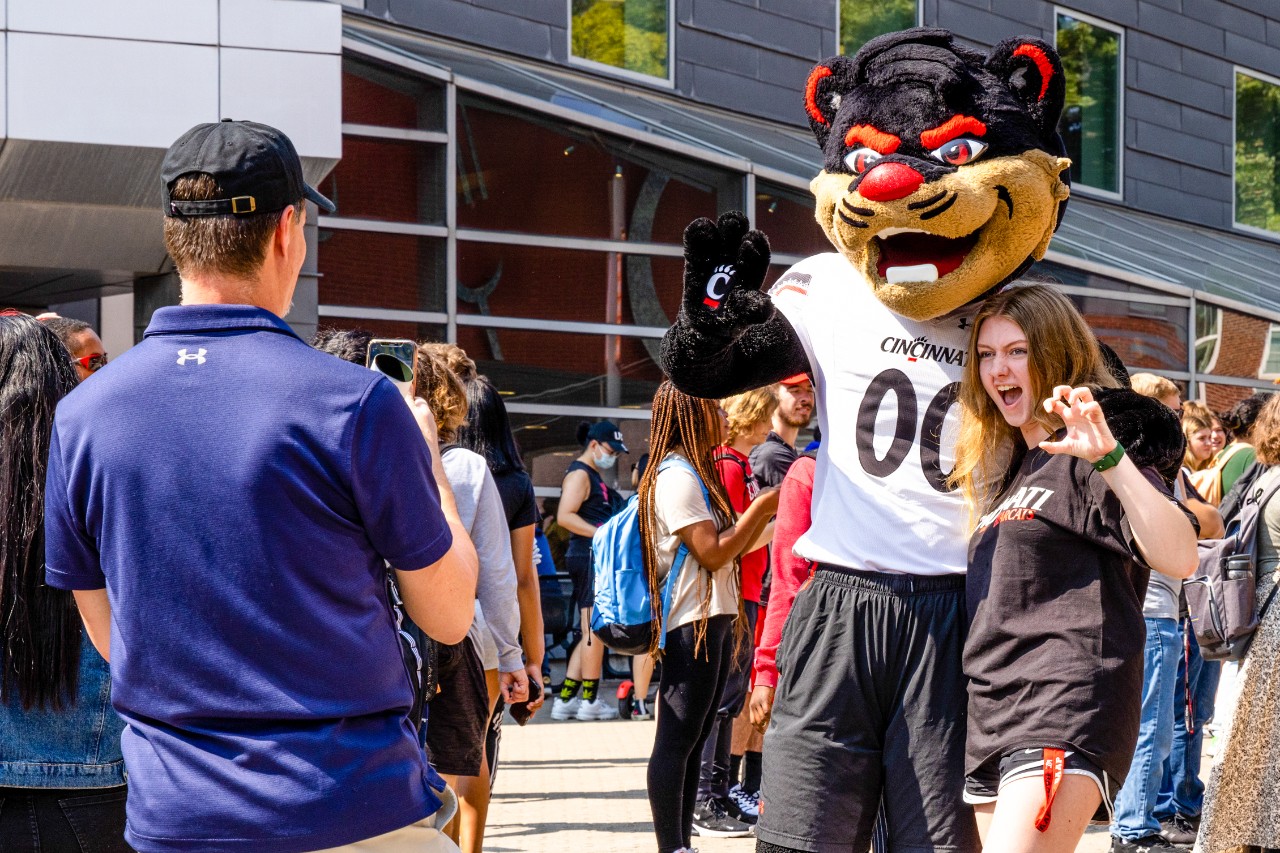 The first-year class alone at UC represents residents from more than 47 states and 50 countries. The university's partnership with Cincinnati Public Schools (CPS) continues to strengthen and grow with UC welcoming the second class of Marian Spencer Scholars on campus. This full-ride scholarship is available to high-achieving CPS graduates.
"As we welcome this class to campus, it is inspiring to think about not only the difference we are making in their lives but in the lives of their families and communities," says Miner. "We are seeing an increase in first-year students. Those students will become role models to their brothers and sisters, cousins and neighbors. Their steps onto this campus will change the trajectory of countless lives."
"An education at the University of Cincinnati is an opportunity to transform lives, to break cycles of poverty, to allow students to dream and discover and for all of us to learn and grow," says Miner.
'Everyone here wants to help you succeed'
Jalan Morgan, a fifth-year biological sciences major, says UC is a smart decision.
"I came to UC as a transfer student from a community college in Cleveland," says Morgan. "I wanted to stay in-state for cost efficiency but be close enough to home to go home if I want to."
"Everyone is so friendly," he says. "I could walk down UC's MainStreet now and ask anyone, 'How are you?' and they would respond back with, 'Hey, how are you?' We would have a conversation going from there."
Morgan serves as a student orientation leader while finding time for internships, a summer science fellowship and working as a patient care assistant at Cincinnati Children's Hospital Medical Center. He says his time at Cincinnati Children's has provided benefits similar to a cooperative education experience.

He also found time for a favorite pastime, pickleball, and joined a campus league.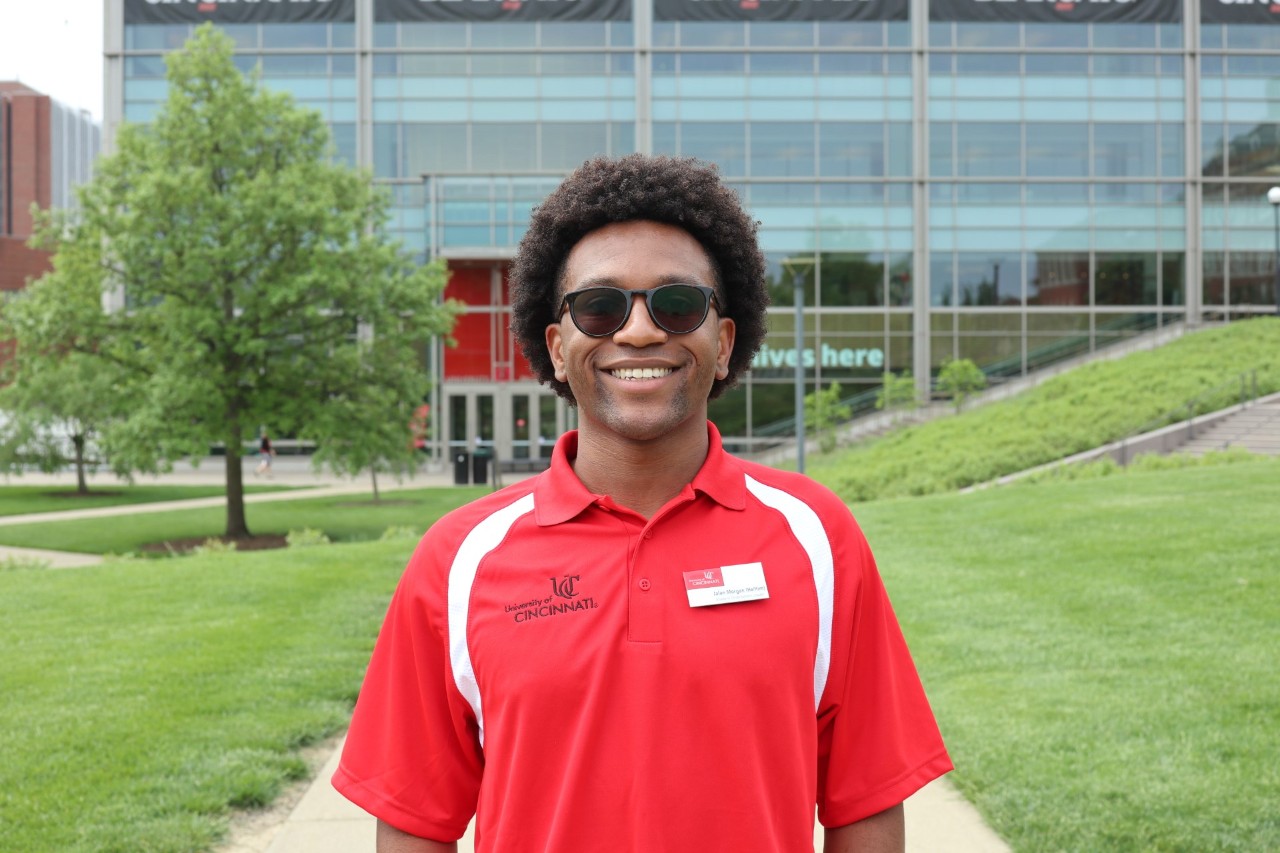 Morgan is a recipient of the Choose Ohio First Scholarship and Louis Stokes Alliance for Minority Participation scholarship. He suggests that new students check out the Scholarship Universe in UC Catalyst for opportunities.

"Come here with an open mind and don't be afraid to veer off path," he says."I came here with plans to do A, B, C within my entire four years, and here I am going into my fifth year. Be open-minded to the change that UC may have to offer. Everything happens for a reason, so be accepting of that."
Morgan says there is one thing he wished he had known on day one about UC. 
"I wish I had known sooner that everyone here wants to help you succeed," he says. "No one wants to see you get behind or fail or anything negative. They really want to help and see you succeed."
New students are encouraged to check out Bearcats Welcome, a host of activities across campus that range from social to educational events that started in early August and continues into September.

"As a new Bearcat you just have to jump in," says UC Student Body President Taylor Morgan. "This is the first year we are doing the Bearcat Welcome for four weeks instead of one week. Take advantage of all those opportunities and go to as many events as possible. 
"Get to know people in as many student organizations as possible," she continues. "Then start to narrow it down after those four weeks. Figure out which ones you want to invest in and which ones are more fun to just attend the events they host."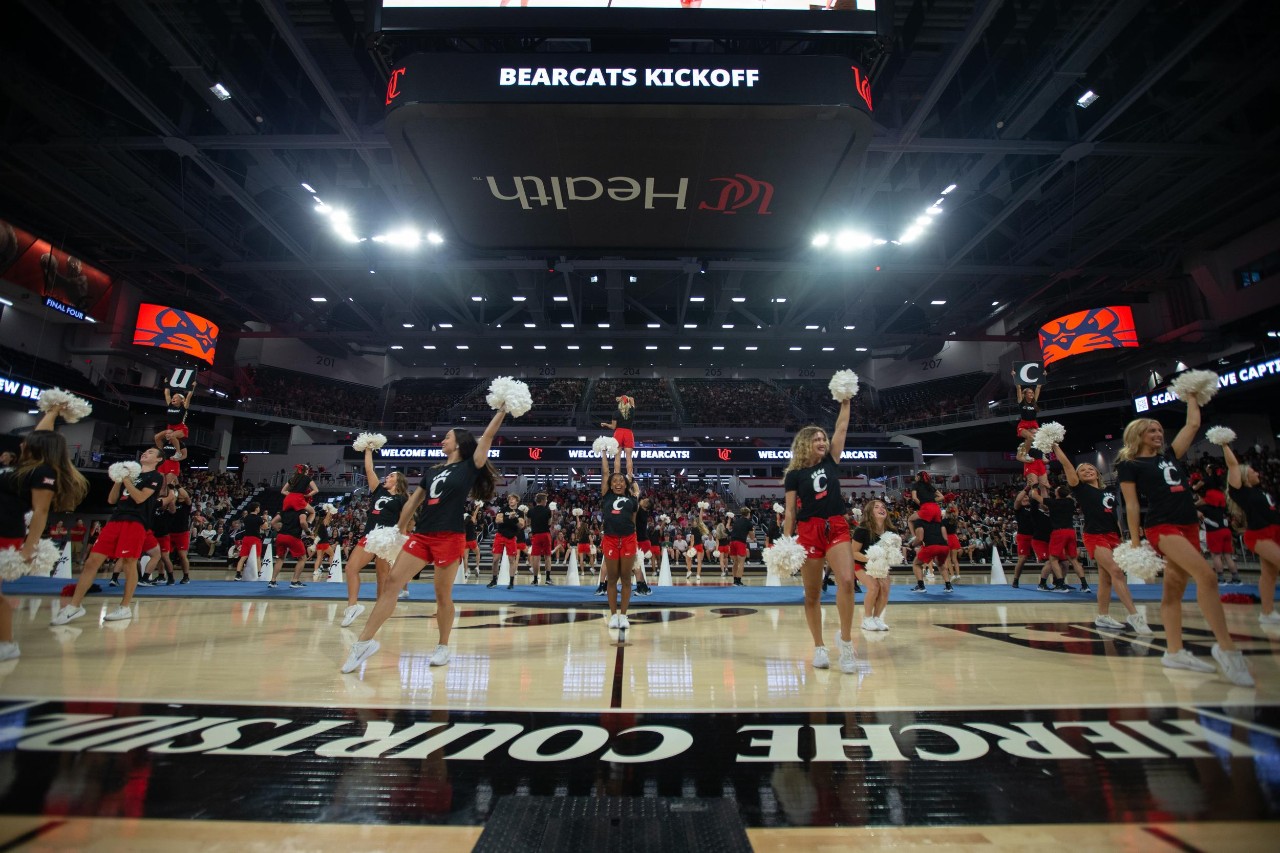 Regional campuses roll out welcome for Bearcats
UC Blue Ash College and UC Clermont College offer students an authentic UC experience by providing flexibility to meet the needs of what is next for students in academics, innovation and workforce development.
Enrollment is up at both campuses this year — 6% for UC Blue Ash and 20% for UC Clermont.
UC Blue Ash will offer more degree options for students as the college adds a bachelor's degree in radiologic technology and a Health Care Support Technician associate degree program to help meet demand in the workplace. 
Muntz Hall, the flagship building on the UC Blue Ash campus, will undergo the next phase of a renovation project in early 2024 and will include a new, two-story atrium and student collaboration space that will add nearly 6,000 square feet to the building.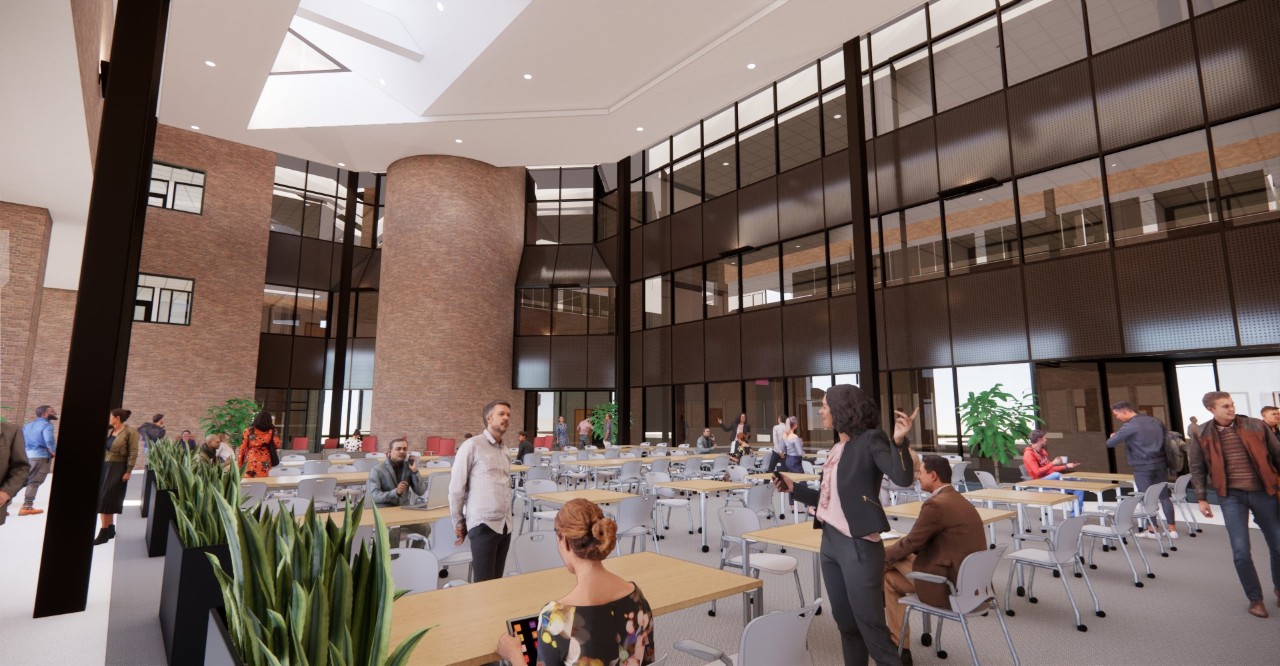 The renovation will also include a new student support wing that will bring together the academic advising, career services, counseling and enrollment services offices, making it easier for students to access these important resources.   
More about UC Blue Ash's first day online.
Clermont students hail from 49 states and four U.S. territories as well as from overseas. New endowments and scholarships for first-generation college students have helped the college open its doors, whether online or in person, to a growing number of Bearcats.
UC Clermont now has 12 HyFlex classrooms on campus, allowing students to choose whether they want to study in person or online on any given day
"The flexibility to serve our students anytime, anywhere, on their schedules has led to increased enrollment and even more potential pathways for success," says Clermont Dean Jeffrey Bauer.
More about UC Clermont's new year online.
New college, new school advance student learning
Returning and incoming students will find a new college and a new school available at UC.
Cooperative education was invented at UC in 1906 and the university has remained a leader in experience-based learning ever since. UC ranks No. 4 in the nation for co-op, with the university's hands-on classroom extending to nearly every corner of the globe, from Fortune 500 companies to amazing learning experiences in places like China, Tanzania and South America.
At the beginning of 2023, the university created the College of Cooperative Education and Professional Studies to consolidate and expand the work of the division of Experience-Based Learning and Career Education and the Office of Professional and Continuing Education, which includes the Cincinnati Talent Accelerator Program, Osher Lifelong Learning Institute and Communiversity.
The College of Cooperative Education and Professional Studies working with UC Online will now offer the Bachelor of Arts degree in professional studies. Students can use their existing work experience toward a degree program that emphasizes teaching applicable skills that will make them more appealing in a competitive job market. This program is ideal for adult learners with existing work experience as well as high school graduates interested in broad fields of study.
Michelle Clare is dean of the college as well as serving as vice provost for continuing education at UC.

UC launched the School of Public and International Affairs within the College of Arts & Sciences during the spring of 2023. It was created out of the former Department of Political Science which dates to 1914.
Richard Harknett, professor, is the first director of the school. Formerly, he chaired the Department of Political Science.
Harknett said the school is the result of a mission change. The department evolved from a political science focus to include several areas of study such as cybersecurity, public administration, international relations, law and social justice during the past decade.
Broadening the school's reach also includes a move, according to Harknett. The school has moved its offices and classrooms on UC's Uptown campus from Crosley Tower to the new Clifton Court Hall, located at the northwest corner of campus.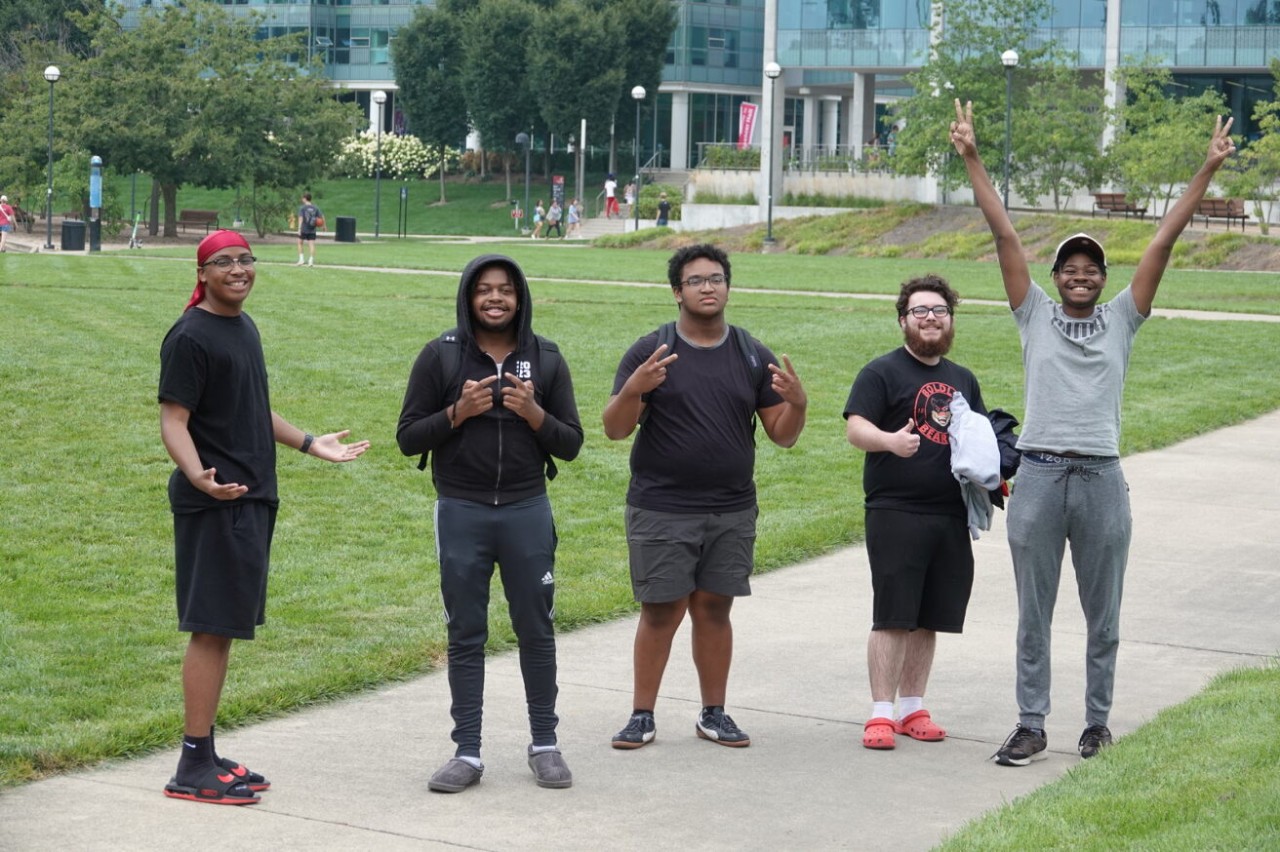 New sites ready, other campus structures upgraded
The university cut the ribbon on the new Bioscience Center in August this year on UC's Uptown East Medical Campus (3159 Eden Avenue). The center is located in the former Hamilton County Coroner's Office, thanks to an $11.5 million renovation project.

The 35,000-square-foot center opens research opportunities between students and faculty in engineering and the UC College of Medicine and area hospitals across clinical specialties. The center features 13 custom research labs, 12 offices, resources for co-op students, a lecture room and six study rooms.
Learn more about the UC Bioscience Center.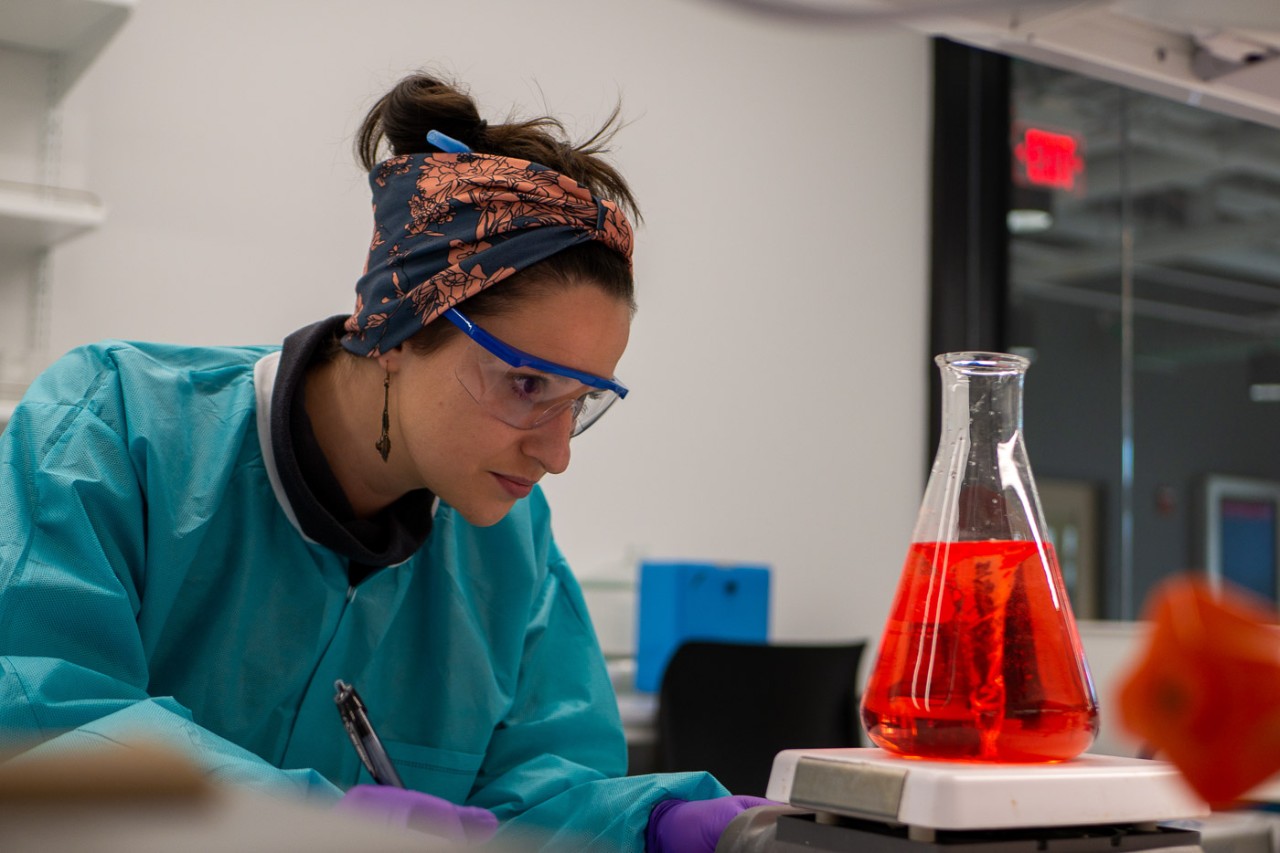 Bearcats kicked off the start of a new year with the reopening of Calhoun  Hall in January 2023. The completion of the $80 million renovation project allowed students to move back into the 173,000-square-foot structure after winter break. Calhoun is the university's largest residence hall and first opened in 1967. It houses about 800 students on 13 residential floors.

Learn more about Calhoun Hall.
Students in several disciplines will use classroom space in the new $93 million Clifton Court Hall with the start of a new academic year. At 185,000 square feet, Clifton Court Hall is the university's largest classroom building, designed to serve its largest college, the College of Arts and Sciences. It opened in May with faculty and staff moving into the new structure.
Its classrooms, specialized labs and offices will serve departments including journalism, psychology, the School of Public and International Affairs, the School of Communication, Film and Media Studies, Asian, Eastern European, and German Studies, philosophy, and Romance and Arabic Languages and Literatures. 
Learn more about Clifton Court Hall.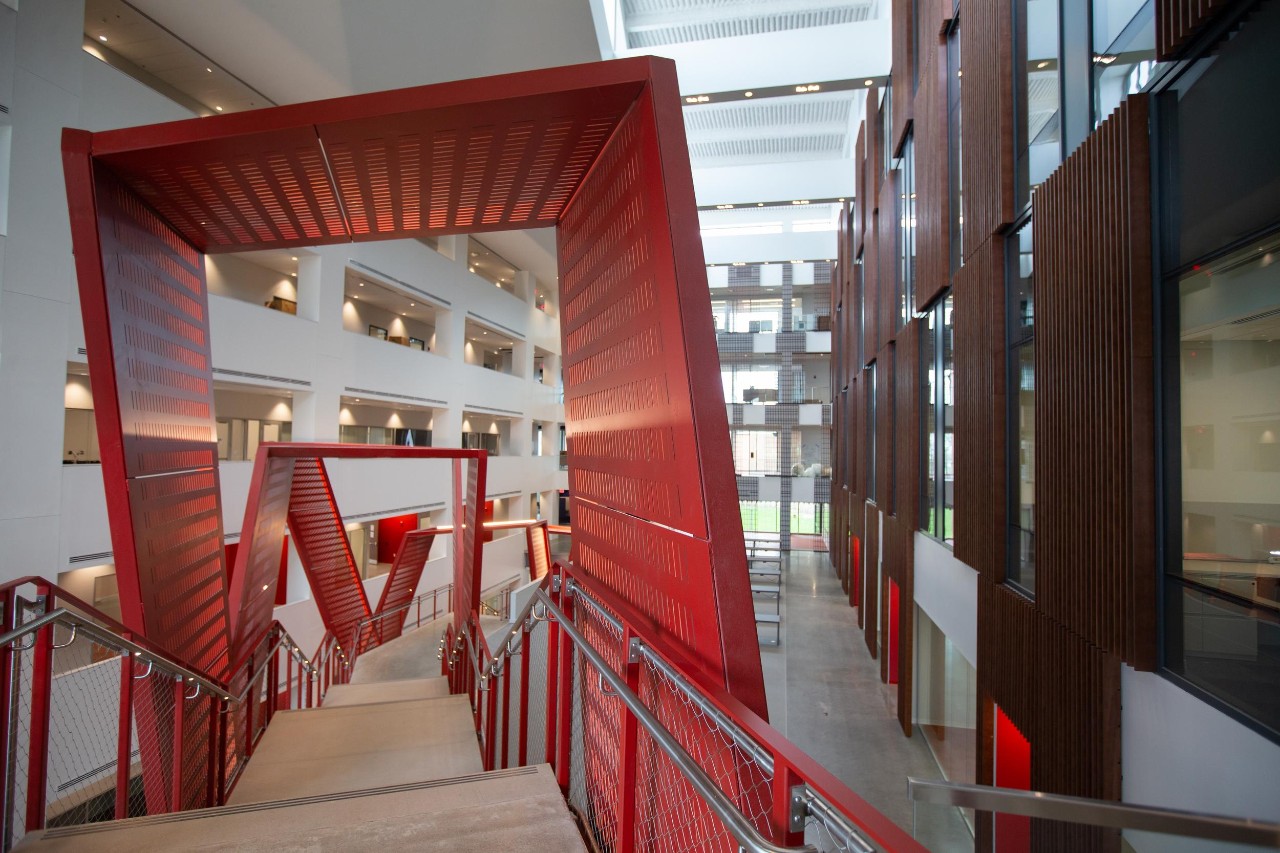 Indoor Practice Facility and Performance Center
Construction has begun on a multimillion dollar Indoor Practice Facility and Performance Center at the corner of Corry Street and Jefferson Avenue on the UC campus. The UC Board of Trustees approved the funding for the project at $134 million.

The 84,000-square-foot facility, to be completed by the 2024 football season, will feature a 120-yard football field that can be used by other UC programs. The 96,000-square-foot Performance Center, scheduled to open before the 2025 football season, will include offices, nutrition stations, a dining hall, weight room, training room and mental health services. 
Learn more about the Indoor Practice Facility and Performance Center.
Siddall Hall, a 15-story high-rise residence hall, was constructed in 1964. It is currently undergoing an $85 million renovation and slated to open in August 2024. The project's scope will be similar to renovations completed in nearby Calhoun Hall. Floor plan changes will focus on improving public and shared spaces and amenities. Exterior public courtyards will be upgraded.

MarketPointe dining center
MarketPointe dining center is open for business following a yearlong renovation. The 37,000-square-foot facility is attached to the north side of Calhoun Hall. MarketPointe now offers new meal options, increased seating capacity and a more modern environment for users.

Learn more about MarketPointe dining center.
Renovation of the Old Chemistry Building is underway as part of a $190 million two-year construction effort. The eight-story structure on Uptown campus is more than a century old and houses faculty and staff from both the College of Engineering and Applied Science and the College of Arts and Sciences.
Featured image at top of the new Clifton Court Hall Building. Photo/Kelly Bennett
Become a Bearcat
Whether you're a first-generation student or from a family of Bearcats, UC is proud to support you at every step along your journey. We want to make sure you succeed — and feel right at home.
1
Just in: UC tops 50,000 students
August 21, 2023
The University of Cincinnati is anticipating a record fall enrollment with a projected 50,500 students. The growth represents a 5.39% increase and reflects the university's core values around academic excellence, access and inclusion, and affordability.
2
UC Serves 2023 underscores university's commitment to Cincinnati community
April 27, 2023
This year, the university is celebrating the return of UC Serves – a day for staff and faculty to share the experience of intentional, focused service to the communities surrounding the University of Cincinnati campuses and beyond. The day of service helps connect UC with community neighbors and build stronger connections among university employees. UC Serves brings staff and faculty to the front lines in supporting UC's institutional commitment to service and community impact in support of our local non-profit partners.