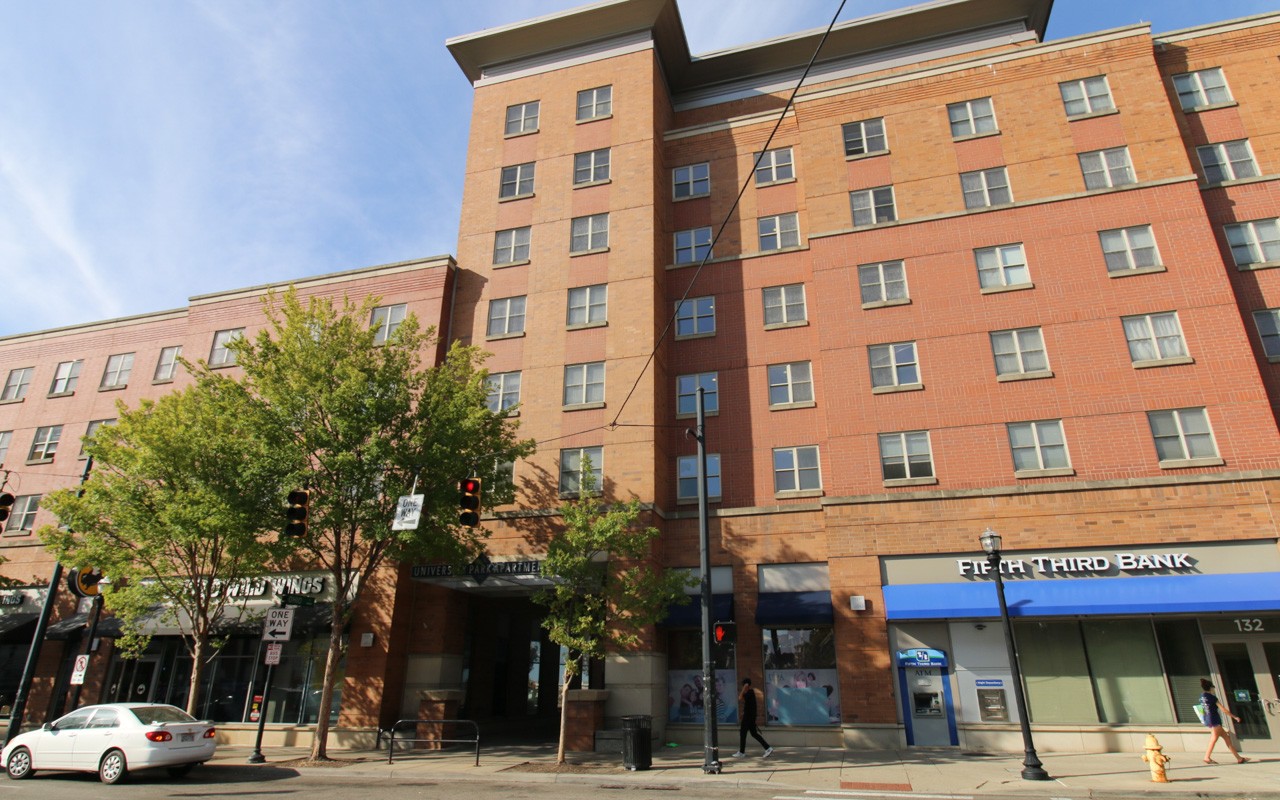 Summer housing is available for all college student interns, whether you work downtown, in the Uptown area or anywhere in the Greater Cincinnati area. The University of Cincinnati offers interns a convenient and affordable summer lifestyle, all in a vibrant urban setting. Your summer will be worry-free at UC.

COVID-19 UPDATE
Due to COVID-19, UC will not be hosting summer interns in 2021. Contact us to plan ahead for next year!
Conveniently Located Upscale Accommodations
Accommodations offer single or multi-person fully- furnished apartments, with:
Full kitchen and bath
On-site coin laundry
Air conditioning, high-speed Internet access, and cable TV service
24-hour front-desk service with residence life staff

4-week minimum stay is required
A week runs Sunday - Saturday and is billed accordingly, regardless of the arrival day during the week
Included in the weekly fee is access to two on-campus fitness centers
A non-refundable $150 application fee is required with your intern housing registration. This will be applied to your final rent invoice.
2+ Person Apartment - $250 per week - will be assigned a roommate(s)
Single Apartment - $350 per week (limited quantity)
These optional services are designed to make your stay worry-free, with everything you need on campus.
Parking pass:  $25 per week with unlimited in and out access in a parking garage
Linen package rental:  $15 for your entire stay. You will be responsible for returning the full package at departure. Package Includes: (1) pillow, (1) pillow case, (1) blanket, (1) extra long twin flat and fitted sheet, (1) bath towel, (1) wash cloth, (1) hand towel
Meal plan: Purchase to use at the campus dining center. The dining center has specific service hours which may work well with your schedule. Plan options include: 

36 Meals - $358
48 Meals - $443
65 Meals - $600
100 Meals - $900
Easy Access to Work, Food, Entertainment, and More
UC sits at the center of Uptown, where you'll find over 100 merchants - groceries, hair salons, a movie theater, and package pickup, not to mention every type of food you could want, all within a 5-minute walk or bike ride from campus. Downtown Cincinnati and Northern Kentucky offer hundreds of dining, shopping and entertainment options, via a short ride share.
Local Transportation Options
Restaurants and Shopping in Uptown Cincinnati by geographical area

| Calhoun / McMillan Streets Area | Ludlow Area | Short Vine Area |
| --- | --- | --- |
| Panera Bread | Dewey's Pizza | Donatos Pizza |
| Floyd's of Cincinnati | Skyline Chili | The Sweet Place |
| Buffalo Wild Wings | J. Gumbos | Conscious Kitchen |
| Currito | Biagio's Bistro | Domino's Pizza |
| Insomnia Cookies | Arlin's | Island Frydays |
| BIBIBOP Asian Grill | Los Potrillos | Taste of Belgium |
| Smoothie King | Sitwell's Lydia's Graeters | Cock & Bull |
| Raising Cane's | Marrakech Morrocan Café and Grille | The 86 Uptown |
| Pieology | Ambar | Alabama-Que |
| Mr. Sushi | Ludlow garage | Papa Johns Pizza |
| Keystone | Proud Rooster | LaRosa's |
| Starbucks | The Whole Bowl | Wingstop |
| The Brass Tap | Grill of India | Ladder 19 |
| DiBellas's Subs | Habenaro | Hangover Easy |
| Waffle House | Gaslight Bar and Grill | Mio's Pizzeria Pub |
| Highway 55 | Baladi Restaurant & Bakery | Martino's on Vine |
| Elephant Walk | Cactus Pear | Steak and Lemonade |
| Einstein Bros. Bagels | Bruegger's Bagels | Al-Madina Indian & Pakistani Grill |
| Krishna Indian | United Dairy Farmers | Dive Bar |
| Roll On In | Jagdeep's Indian Grocery | Kroger |
| FusaBowl | Clifton Market | Walgreens |
| Jimmy Johns | Hunan Bistro | CVS |
| Chipotle | Corinthian | El Taco Veloz |
| Chatime | Fries Café | Tim Hortons |
| Drunken Tacos |   |   |
| Thai Express |   |   |
| Chicago Gyros and Dogs |   |   |
| King Wok |   |   |
| Maki Express |   |   |
| Tea n Bowl |   |   |
| Ninja Grill |   |   |
| Toppers |   |   |
| Bagel Brothers |   |   |
| Cilantro |   |   |
| Penn Station |   |   |
| Tweedles Donut Express |   |   |
| Fortune Noodle House |   |   |
| Target |   |   |
| Adriatico's |   |   |
| China Food |   |   |
| K&J Seafood |   |   |
| Adeep |   |   |
| Subway |   |   |
| Poke World |   |   |
| Mac Shack |   |   |
| Hop Scotch |   |   |
| Peace Café |   |   |
| Kung Fu Tea |   |   |
| Mac's Pizza Pub |   |   |
| Fuzzy's Taco Shop |   |   |