Use this as a guide to your Campus Rec experience! 

Welcome to Campus Rec 101! Don't go your entire first year without visiting the #1 rec center in the country. Use this as a guide to get the most out of your experience at UC.  If you have questions, please ask any of our staff members.  They're ready to help you!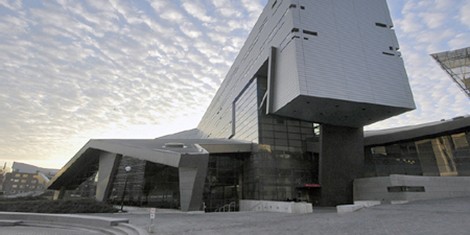 Campus Rec Center (Uptown Main Campus)
Located in the heart of main campus.
Includes the fitness floor with weight and cardio equipment, indoor track, gym courts, pools, climbing wall, racquetball/squash courts, group fitness, and locker rooms.

Fitness Center at CARE/Crawley (Medical Campus)
Located on the medical campus in the Medical Sciences Building, enter the building, and take the staircase on the left by the elevators when you first walk in.
This is a smaller facility than the Campus Rec Center that offers the fitness floor with cardio and weight equipment, locker rooms with dry sauna, and group fitness.

If you have an academic class that says "Rec Center"
If it has a room 3200-3258, it is in the classrooms above the rec center (you will not use the normal rec center entrance or swipe into the rec). Go to the staircase by Steger and go up. All of the classrooms are there! 
If it does not have a room #, it is in the rec center. Meet in the Campus Rec breezeway on your first day and look for a sign with your class name. Always remember to bring your UC ID - you will swipe in for class!

What to Expect On Your First Visit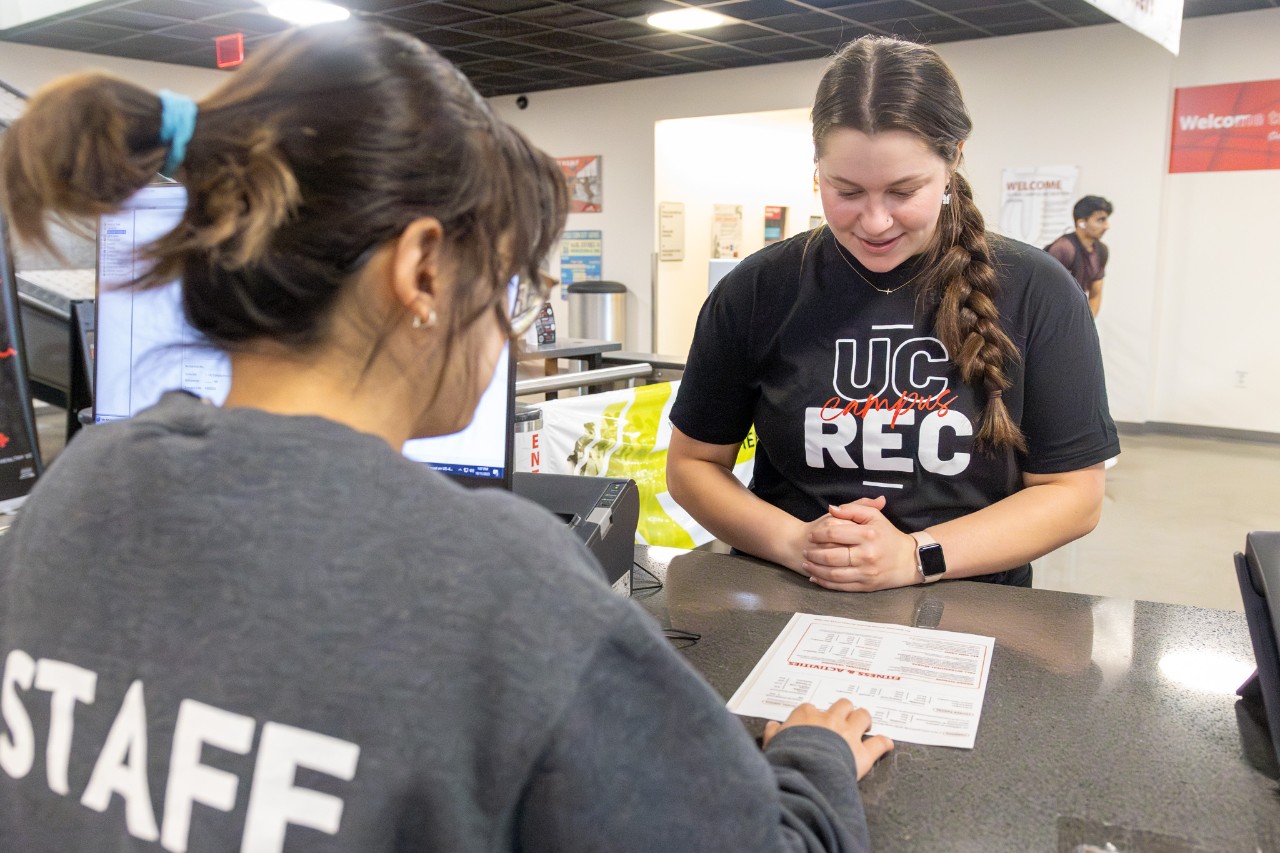 Bring your UC ID and swipe in at the front desk.
Go upstairs for cardio and weight equipment, racquetball courts, group fitness classes, track.
Go downstairs for climbing wall, gym courts, pools, and locker rooms.
It's a big building, feel free to wander or ask for a tour! Don't be nervous, everyone starts as a beginner. You'll build confidence as you come.

You get UNLIMITED swipes to the rec! Come as many times a day as you would like!

Both facilities have the most visitors from 5-9 p.m. Try getting an early workout in the morning, at lunch, or by visiting on the weekends to avoid crowds. If you're looking for an energetic vibe, visit us in the evening.
Students do not have guest swipes. Guests are $12/day.
NEVER give someone else your ID to enter the rec. It will get confiscated. 
Re-rack your weights
Clean your sweat off the machines
Don't text and sit on a machine
Return equipment rental items before closing
Remove your lock and items from day-use lockers before closing
Important Dates: Click on the links below to find the program registration dates!

Workout Attire (whatever makes you comfortable and follows policy)
Water bottle
A lock or locker rental. Free day-use lockers are available near the gym courts or on all levels with a lock (bring your own or buy one at Member Services). All items must be removed before closing. Rent a locker to keep your workout gear at the rec for an extended period of time, rent at Member Services. Never leave your items unlocked or unattended.
Let us help you feel comfortable here and reach your goals!

FREE Fitness Floor Orientation: we will give you a personal tour of the fitness floor and show you how to use and adjust the equipment.
Personal Training: personal trainers help you set goals and achieve them. They can help beginners get started with a plan or help advance athletes to the next level.
Sweat it out in a FREE group fitness class
Try the climbing wall, it's FREE! Swipe in at the desk and the staff will show you what to do!
Swim laps, walk against the current channel in the leisure pool, or relax in the whirlpool
Take advantage of our FREE equipment rental and play basketball or volleyball on the gym courts or use a weight belt on the fitness floor
Our goal is to see a campus community passionate about pursuing an active, healthy lifestyle.
Dance like no one is watching. Lift like no one is looking. Run like you're chasing your dreams!