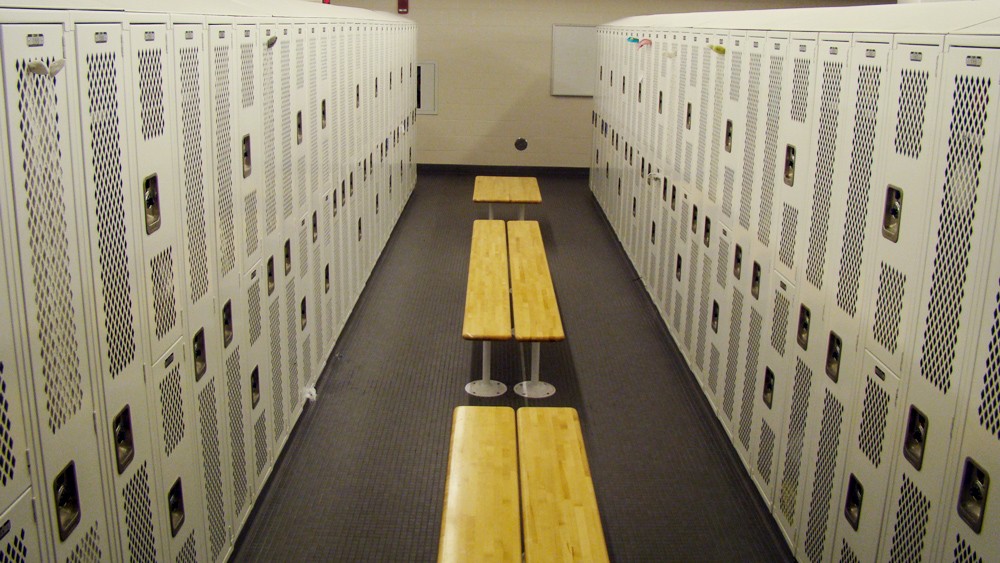 There is no fee for day-use lockers; they can be utilized on a first-come first-served basis. Visit the Member Services Desk for locker rental and towel service.
When using a locker at the Campus Recreation Center, a member just needs to bring a lock. If the member does not have a lock, they are available for purchase at the Pro Shop. 
When using a locker at the Fitness Center at CARE/Crawley, a member just needs to bring a quarter or a lock. The CARE/Crawley facility utilizes quarter lockers, day-use lockers, and rental lockers.
Locks and belongings must be removed from day use lockers by closing on the day of use. Failure to remove the lock by the end of the day will result in the lock being cut, and your belongings will be removed. To retrieve these belongings, you will need to pay $5 at Member Services.
Semester and annual rental lockers are available to our members. Additional information can be found at the Member Services Desk.
Locker rental rates by locker size and time period
Locker Size

Dimension

Year

3-months
Semester
Full
12" x 12" x 72"

$140 ($11.67/month)

$55
$85
Half
12" x 12" x 36"
$100 ($8.33/month
$40
$60
Fitness Floor
17" x 13" x 14"
$50 ($4.15/month)

$20
$30
 
Locker locations available will be specified at time of rental.

Locker Rental Agreement Terms
Following are terms for locker rental application, which you will complete with the assistance of a Member Services staff member:
I understand that I have this locker in the Campus Recreation Center for the time specified on this form. I understand that a lock will be provided to me at the time of purchase and I may not use my own personal lock in compliance with security measures and the rules and regulations of the Campus Recreation Center. If I fail to comply with this rule I understand that my personal lock will be cut off, and I will be charged $5 to retrieve my belongings. I understand that I must renew this locker or remove all personal belongings by the designated date or my belongings will be removed and placed into lost and found. I further understand that all items stored in lost and found will only be returned after a $5 penalty fee is paid. CRC and staff members are not responsible for lost or stolen items. If contents are not retrieved within 14 days after locker expiration date they will be donated. If the lock we provide for you is not returned or left on the assigned locker you will be charged a replacement fee of $10.
Members may purchase towel service at the Member Services Desk. 
All towels must be returned on the same day. A lost towel fee of $5 will be charged to members who do not return their towels.
Semester towel service expires on the last day of the semester the towel card was purchased. All other towel card purchases expire one year from the date of purchase.
Cost for towel service based on number of towels or time period

| Quantity or Time Period | Price |
| --- | --- |
| Daily rate | $2.00 |
| 10-punch pass | $14.00 |
| 20-punch pass | $20.00 |
| 3-month unlimited | $45.00 |
| Semester unlimited | $60.00 |
| Annual unlimited (paid monthly) | $10.00 |
| Annual unlimited   | $120.00 |