Planning + Design + Construction collaborates with their clients to design and facilitate the appropriate graphic and visual interpretation of the recognition and the honor bestowed. Exterior materials such as granite, bronze, stainless steel, aluminum and zinc have been used.
Standards and guidelines for creating recognition plaques, signage or environmental graphics are being developed by the University Architect in conjunction with a team of university professionals. The design of a tangible acknowledgment of a donor or benefactor for buildings and spaces depends on the type of building, the age of the building, the location on campus, the amount of the gift and the guidelines established by the naming committee and accepted by the Board of Trustees of the university. 
For more information, please contact Lucy Cossentino-Sinnard.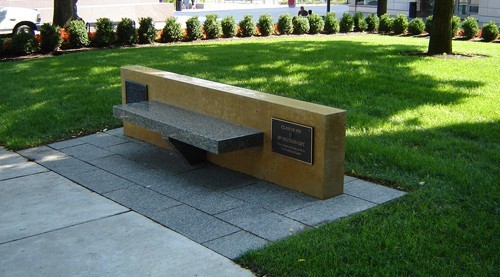 In this example, the Class of 1953 initiated a replacement of an original 1953 bench that stood at a side entrance of the Tangeman University Center. In 2003, the new bench would also commemorate the 50th anniversary of the graduating class of 1953. Working with Jim Kautz from the class of 1953, Planning + Design determined the new honorific bench should be highly visible and installed in an area that encouraged reflection and thought. The 2003 renovation of the century-old Van Wormer Hall provided an ideal location within the serene landscape that borders the beginning of MainStreet at University Circle. Using materials associated with Van Wormer Hall, P+D designed a cantilever granite bench with a limestone back heralding two plaques on either side of the granite.

The limestone back displays the original plaque on the left side and a second plaque commemorating the rededication of the 1953 bench in 2004 upon the 50th class anniversary is seen on the right side.