With UC,


you see
the world
Study abroad is back on top of the world at the University of Cincinnati
Just three days before spring break began in March 2020, COVID precautions forced the University of Cincinnati to cancel all student travel. For hundreds of students, it was a staggering setback to their plans and dreams to study abroad.       
In the three years since, staff and faculty in the university's international offices and colleges have worked hard to rebuild the global infrastructure that supports study abroad at UC. Participation is now back to three-quarters of pre-COVID numbers, and about 60 faculty-led programs are on the books for 2023-24.
International opportunities integrated into students' degree and career plans are a vital component of the University of Cincinnati's Next Lives Here promise of experiential learning for all students, regardless of their program of study.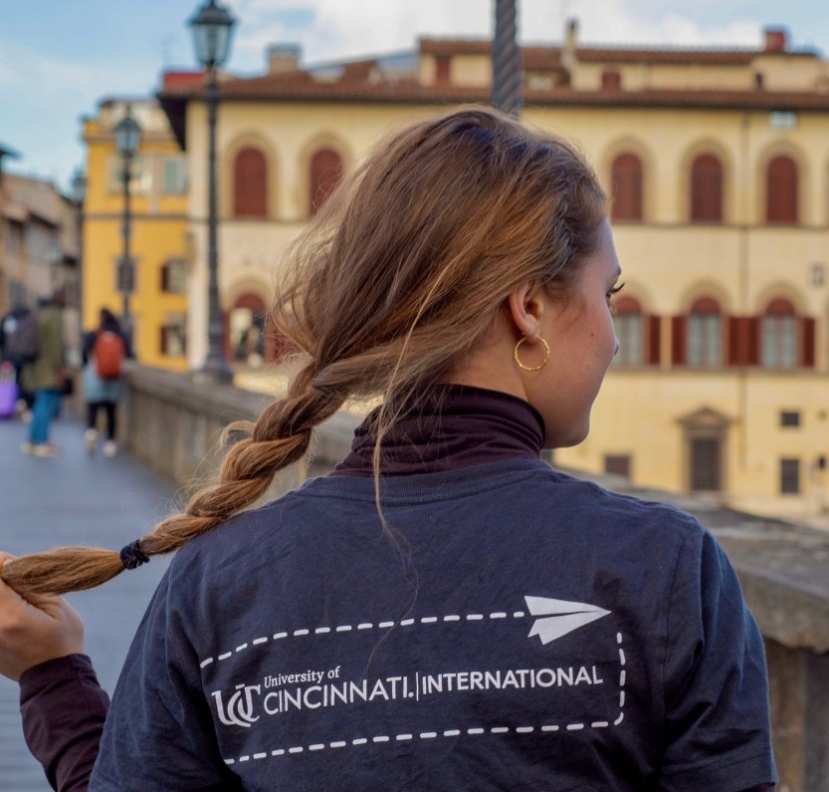 For the generation of students whose education went remote because of the pandemic, study abroad is an especially meaningful way to connect beyond the classroom and prepare for a global future.
"Study abroad provides UC students with learning experiences that cannot be matched inside the classroom and truly elevates their academic and personal growth," said UC Provost Valerio Ferme. "Through global education experiences, our students can travel the world, immerse themselves in different countries and cultures and learn first-hand about the world they live in."
The opportunities are limitless: short-term, faculty-led programs; long-term exchange and dual degree programs; solo, self-designed experiences or travel in the company of a cohort; co-op, internships and other professional practice; service learning and social entrepreneurship; and undergraduate or graduate research opportunities, including globally competitive fellowships.
Annually, 1,700-1,800 UC students studied abroad during the U.S. peak of international education in 2015-2019, when more than 325,000 students each year traveled abroad to study.
UC expected to shatter its records in 2019-20 after fall 2019 participation rocketed up 24% from fall 2018. The shutdown of travel at short notice in spring 2020 was all the more devastating.
"I just cried, right there in my office at my desk, closed the door and put my head down and cried for all the students," said Executive Director for UC International Programs Anne Fugard.
While Fugard praised university leadership for making the difficult decision to suspend international travel, the shutdown meant months spent untangling arrangements and academic credits.
Experiential learning, co-op, service learning, study abroad. It's embedded in who we are at UC.
Anne Fugard
| Executive Director, UC International Programs
Nationally, only 14,549 U.S. students studied abroad in 2020-21, down from 347,099 in 2018-19.
At UC, international staff kept in close touch with students while, semester by semester, contingency plans ticked by.
"It affected not just the students whose trips were cancelled in March. We work with students sometimes a year, 18 months, 24 months out in advance. They come in the door their first year and know they want to spend a year or a semester abroad," Fugard said.
Individual, long-term study abroad resumed at UC through a rigorous petition process in August 2021. Group travel resumed more slowly because of the complex logistics and liabilities involved. The first two faculty-led programs traveled in December 2021, pioneering post-COVID protocols and best practices. Now study abroad is well on the road back.
"We have so many faculty, advisors, staff, administration, everyone that supports international education, and that's why we're good at it. This is a shared value, and I think it's one of the really special things at the University of Cincinnati. Experiential learning, co-op, service learning, study abroad. It's embedded in who we are at UC," Fugard said.
Study abroad participation, 2018-23
Faculty-led programs that are integrated into specific academic courses are the major study abroad model at the University of Cincinnati. Over 70% of study abroad participants traveled with faculty-led groups in 2022-23. Crafted with the expertise and experience of UC's faculty, these programs connect the classroom with the real world and big ideas with dream destinations. 
Group travel is also easier and more affordable for most students, and it's a great way to make friends.
"It's the safest risk to take," said Laura Wood, a recent UC graduate in biology and chemistry, about her faculty-led experiences in Mexico and France with faculty-led programs. Then she corrected herself.
"It's just the best risk you could take."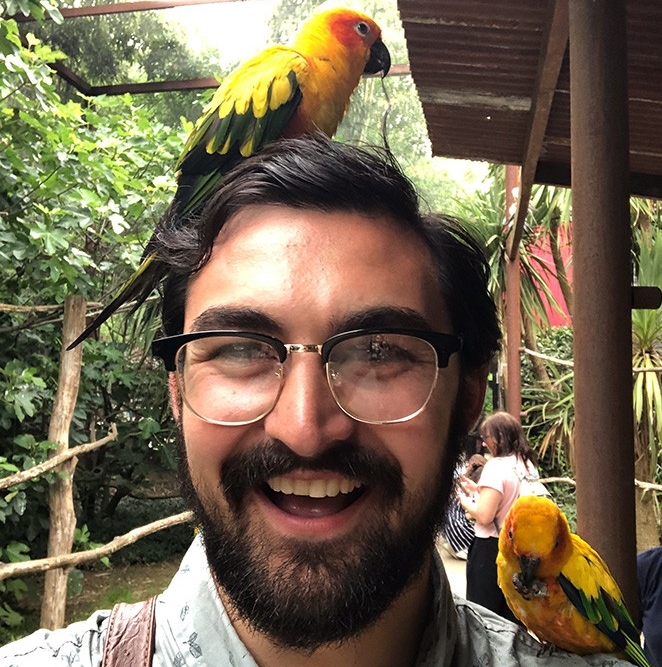 The Carl H. Lindner College of Business sends more students abroad than any other college at the University of Cincinnati. As a core component of the College of Business curriculum, study abroad offers students a high-level perspective on the international business landscape.
"We're thrilled to see our students actively seeking out study abroad opportunities. So many are ready to make up lost time and experience the world off their screens," said Lee Armstrong, director of international programs for the college.
"Students tell us again and again that navigating a foreign country increases their confidence, independence and decision-making skills. And post-COVID travel is teaching us all to be patient, flexible, adaptable — skills employers value in this ever-changing world."
In 2022-23, 38 Lindner faculty and staff led 16 international programs. The programs included visits to 68 global business and industry partners. The college also has seven university exchange partnerships that support international education.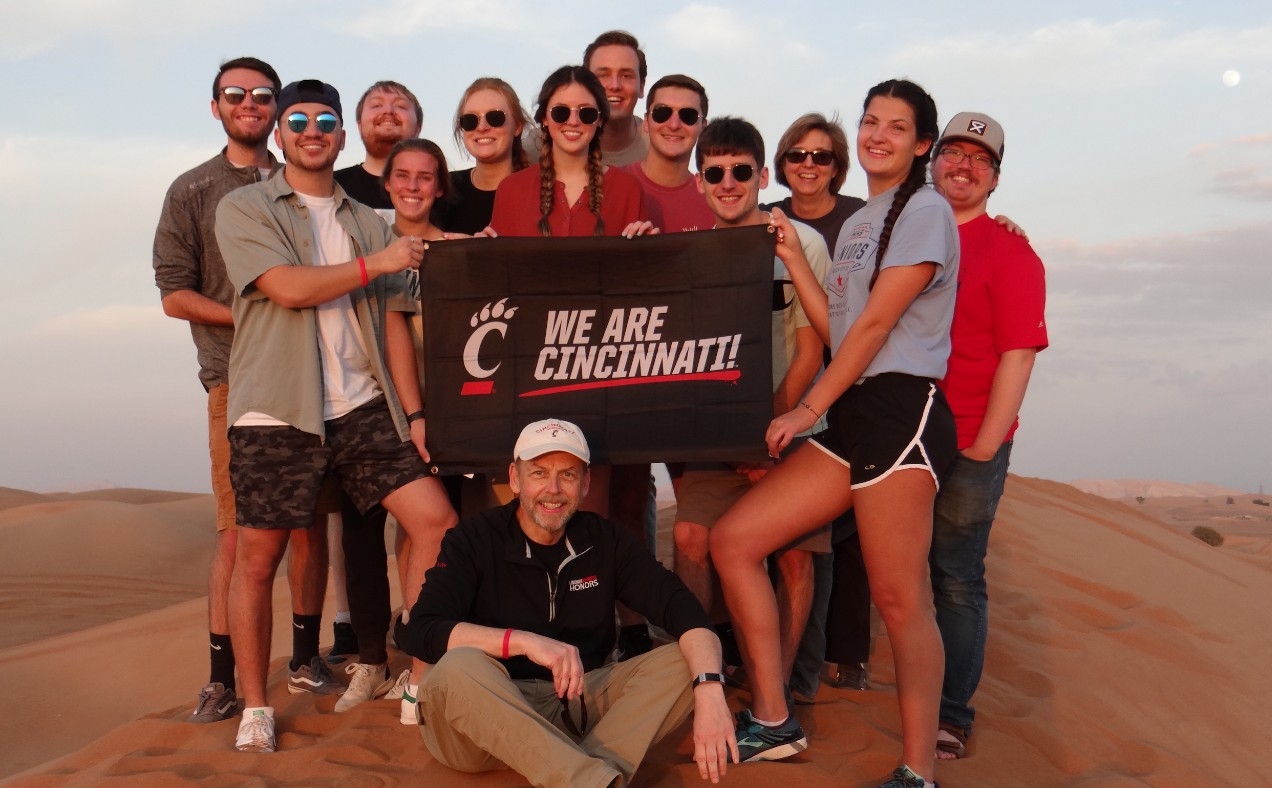 In a giant leap for the return of faculty-led study abroad at UC, 11 business students stepped off a plane to Dubai in December 2021. Their group study tour on doing business in the Middle East was one of two pioneering programs to go abroad under strict COVID protocols when the travel ban was lifted. 
Students in a marketing course on social entrepreneurship exchanged visits with UC's strategic partner Pontificia Universidad Javeriana in Bogotá, Colombia, this spring. Travel resumed in the course after three years of virtual-only collaboration between the colleges.
Top 3 colleges for study abroad, 2022-23
472
Lindner College of Business
273
College of Arts and Sciences
128
College of Design, Architecture, Art and Planning
The College of Arts & Sciences houses some of the longest-established international programs at UC. Its language immersion, fieldwork, cultural studies and exploratory programs offer classic experiences of study abroad. The college's faculty also curate cutting-edge, transdisciplinary programs in new arts and new sciences. From archaeological digs to digital media, there are global experiences that fit into any major.
For UC's most diverse group of students, study abroad opens broad horizons and close encounters that enhance an A&S education.

Olivia Hedges, a fifth-year urban planning major in the College of Design, Architecture, Art, & Planning with an international human rights certificate from the A&S School of Public & International Affairs and a minor in French, took a faculty-led tour of Montreal and Quebec City last fall. The interdisciplinary A&S program fit her schedule, plugged credit hours into her minor and spanned several of her academic and personal interests.
"I really like seeing what other people do, how other people work, how other people think. So this was a good trip for me. And every time I go somewhere, I'm mentally categorizing things for planning … It all gets added to a body of knowledge."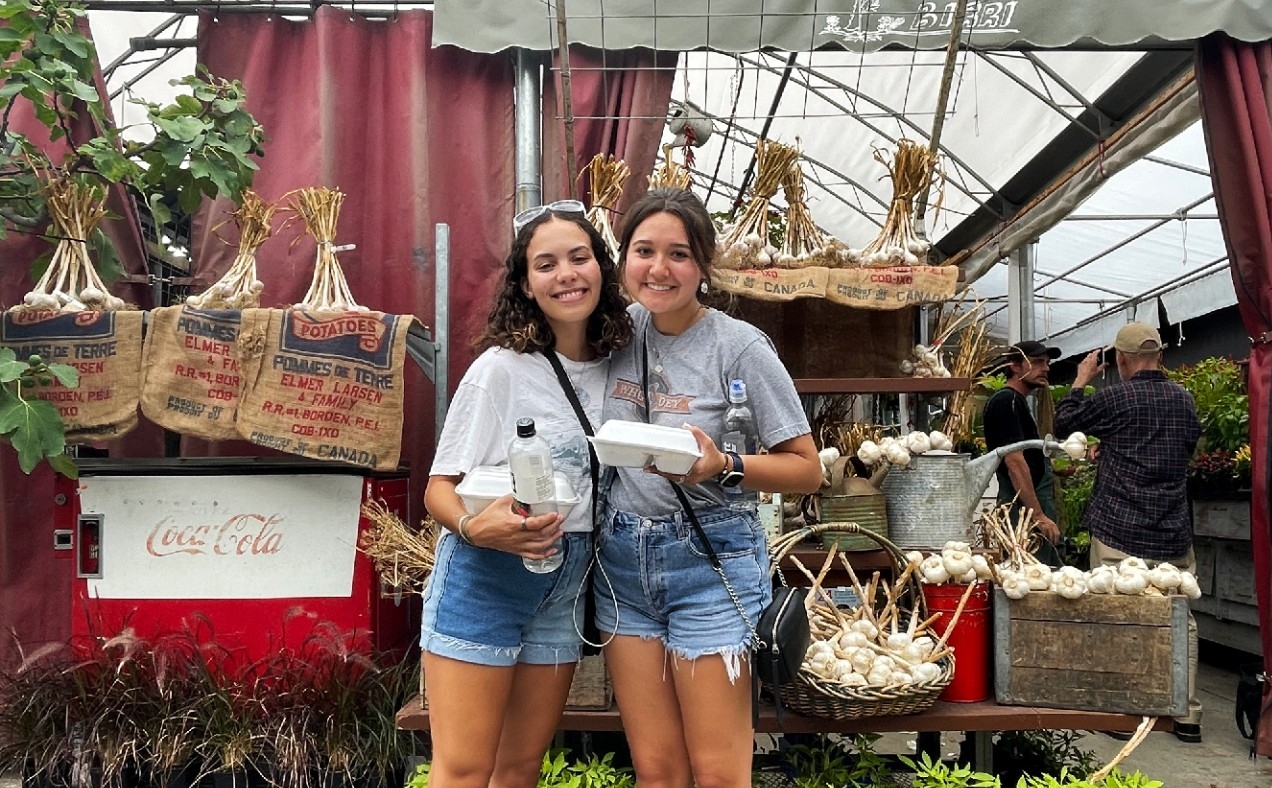 In spring 2023, the Department of Geography's Landscapes & Legacies of the Yucatan tour traveled to Mexico for the 29th time in 36 years. The time-spanning program explores Maya archaeological sites of the pre-Hispanic era, colonial churches and haciendas, and contemporary Mexican export factories and cultural attractions.
For more than 100 years, the College of Engineering & Applied Science (CEAS) has built innovative real-world experience into its highly engineered curriculum.

The college develops global partnerships to offer opportunities beyond the classroom and beyond borders, expanding its programs into new geostrategic regions of the world. Through a variety of global experiences, students can see and practice the universal principles of engineering within new cultural contexts in places like Scotland, England, France, Guatemala, Germany, Ireland and Ghana.  
Eugene Rutz, assistant dean and manager of the master of engineering programs­­, created the Global Technical Workforce course for technical students who one day will work as part of global teams. Cross-cultural teamwork sparks innovation to solve the world's systemic problems.
"We talk about teamwork, about communication, about leadership, all in the context of being a part of a global team. We talk about cultural competence," said Rutz. "And then going abroad provides that experience."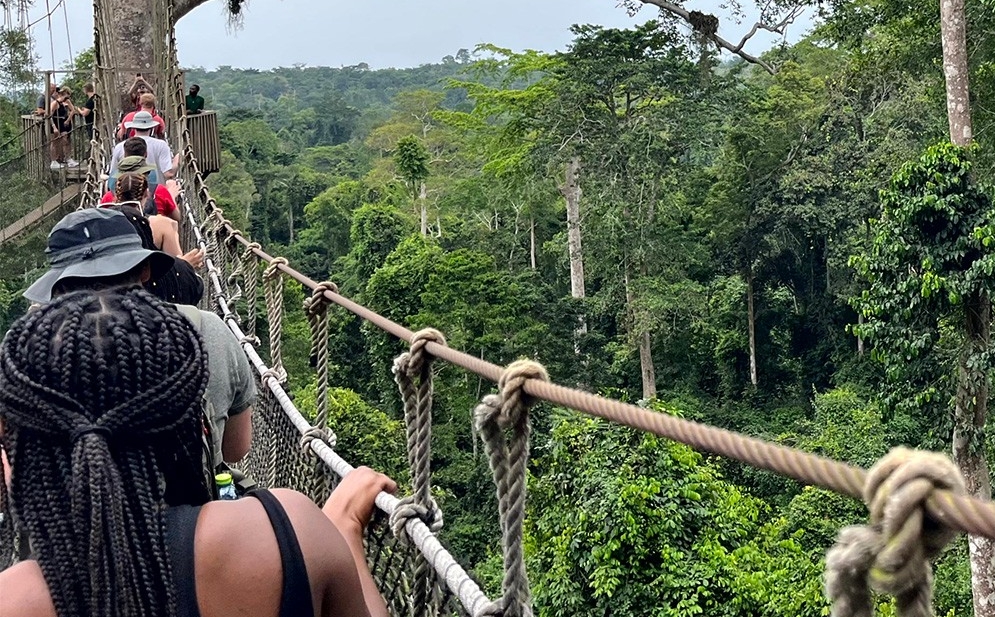 The CEAS Global Technical Workforce course added Ghana to its many study tour destinations in spring 2023. The goal of the popular transdisciplinary course is to prepare students for the working world by showing them different cultures around the world and the ways that culture affects engineering design and practice.
The fundamental goal of engineering is to solve problems. And the best way to solve problems is to understand other people.
Cedrick Kwuimy
| Associate Professor, CEAS
Some study abroad programs are designed for specific student cohorts at UC. Travel with a close-knit group of peers helps strengthen personal bonds, build deep support and mentoring networks, and inspire new perspectives. Study abroad has been shown to increase student retention and success.    
"Our students develop lifelong connections through these shared international experiences, which also impact their academic and career trajectories," said Debbie Brawn, senior director of the University Honors Program. "Doors open for them that they may never have imagined before studying abroad."
This year, a summer month together at Harlaxton College near London for UC Blue Ash students, a first-step experience for first-year Lindner Business Honors students, a travel writing seminar in Iceland with the University Honors Program and a service learning trip to Tanzania for UC's new Marian Spencer Scholars were among the diverse global experiences students could share.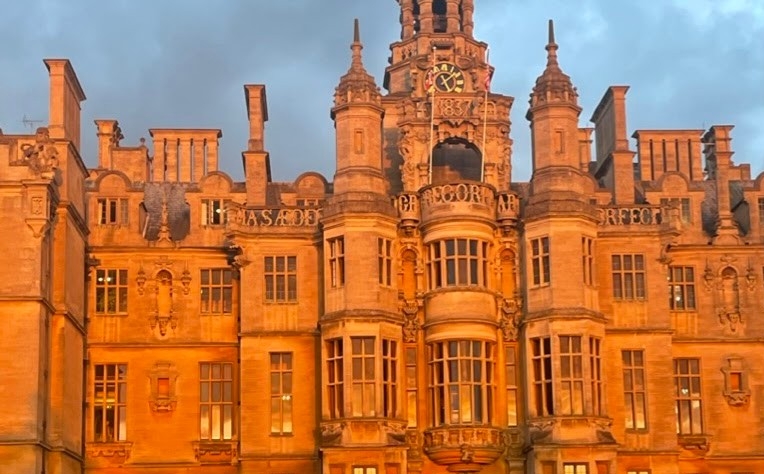 UC Blue Ash's Summer Study Abroad returned this year after a three-year hiatus due to the COVID pandemic. The month-long program in the U.K. and Germany offers students the life-changing experiences that come with being immersed in new cultures while taking courses relating to their surroundings.
Multicultural travel opportunities returned post-COVID for first-year Lindner Business Honors students at the end of the spring 2022 semester. They traveled to Puerto Rico as part of the required honors course INTB 2014: Cultural Competence.
The University Honors Program course Travel Writing in Iceland is designed to teach the fundamentals of place-based and travel writing. Students from a variety of majors and backgrounds study travel literature from all over the world. The December 2022 Iceland study tour gave the class a chance to practice their own writing skills.
This spring, nine Marian Spencer Scholars expanded their horizons by joining a Village Life Outreach trip to Tanzania, along with four NEXT Innovation Scholars, two UC student members of Engineers Without Borders and a team of faculty, staff, alumni, administrators and supporters.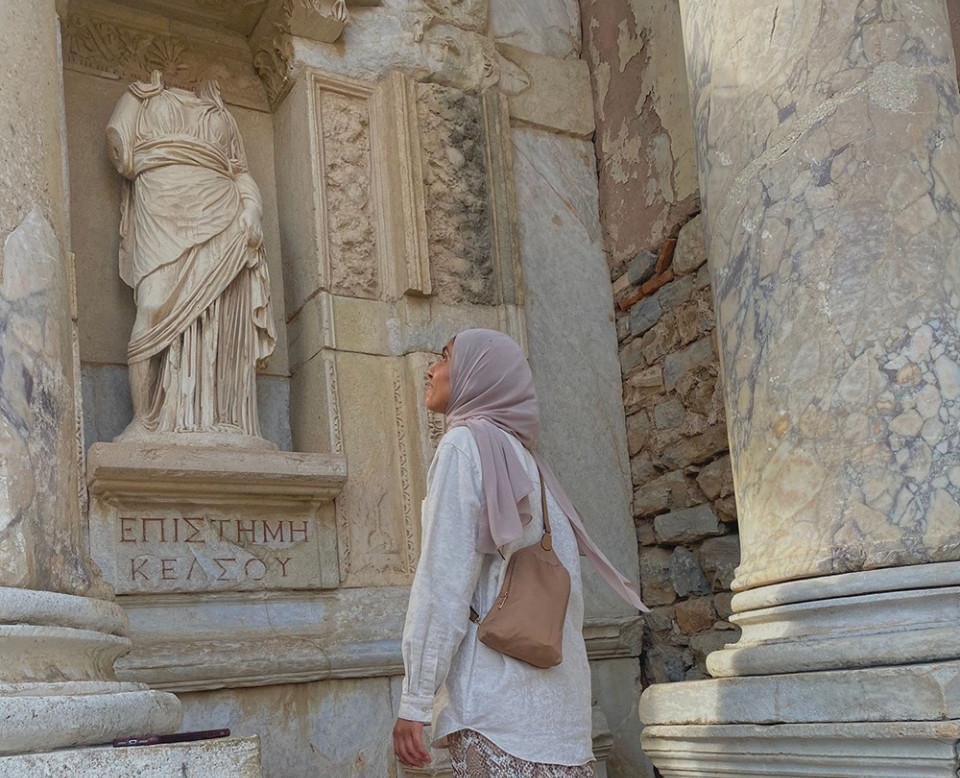 Independent study abroad for a semester or an academic year opens up longer, immersive experiences. UC's colleges develop global partnerships to provide these opportunities for their students, and UC International partners with external study abroad providers to expand the options to virtually every corner of the world.
Study abroad advisors work extensively with students to individualize their plans and prepare them to make the most of their experience.
"It means a lot to work with students who are planning to study abroad long-term, knowing the impact that it will have on them," said Ryan Meyer, associate director for study abroad. "I studied abroad on exchange when I was a student at UC, and it changed my entire life."
Exchange and degree partnerships
The University of Cincinnati's colleges make exchange agreements with universities around the globe to encourage mutual student mobility. UC colleges are also developing innovative, international dual degree programs to offer students new opportunities at global partner universities.
The College of Design, Architecture, Art and Planning (DAAP) ranks No. 3 for total study abroad participation because of its many active exchange agreements.
"Probably one of the key things to being a good designer is to constantly expose yourself to things that you are not familiar with," said Kathryn Suddendorf, a DAAP fashion design student who sought out an internship in Berlin, Germany. "The more you push yourself out of your comfort zone, the more you can take away and then bring back into your design and into who you are."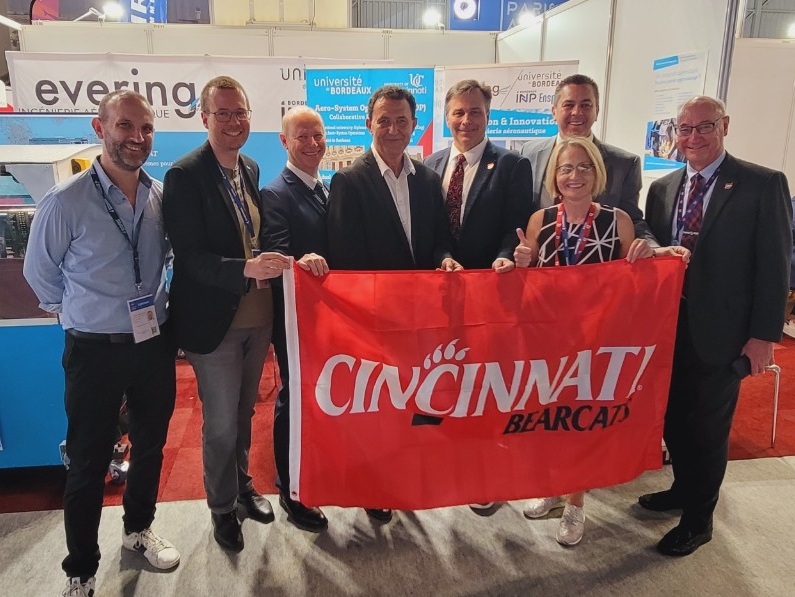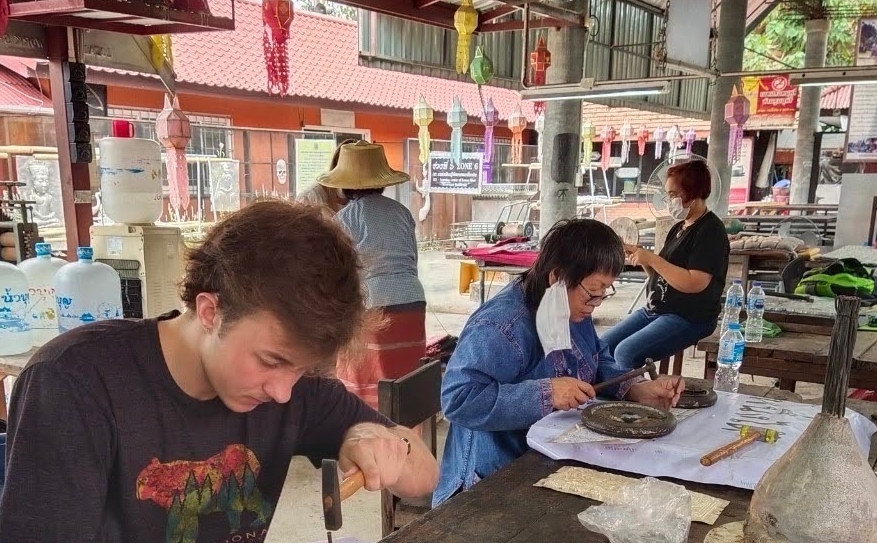 DAAP students choose semester-long programs to experience full immersion in the cultures of places as different as Florence, Italy, and Chiang Mai, Thailand. Through international study, they gain real-world experience and real inspiration.
Design-your-own experiences
The University of Cincinnati's partnerships with external study abroad providers like the University Studies Abroad Consortium (USAC) bring more destinations within reach for individual study abroad, allowing students to write their own ticket to many more destinations. In 2022-23, 203 UC students took advantage of the opportunity to create their own adventures and curate their own international education.
As part of the University Honors Program's goal to create global citizen scholars, honors students can develop their own self-designed experiences of international study to help fulfill their personal study goals.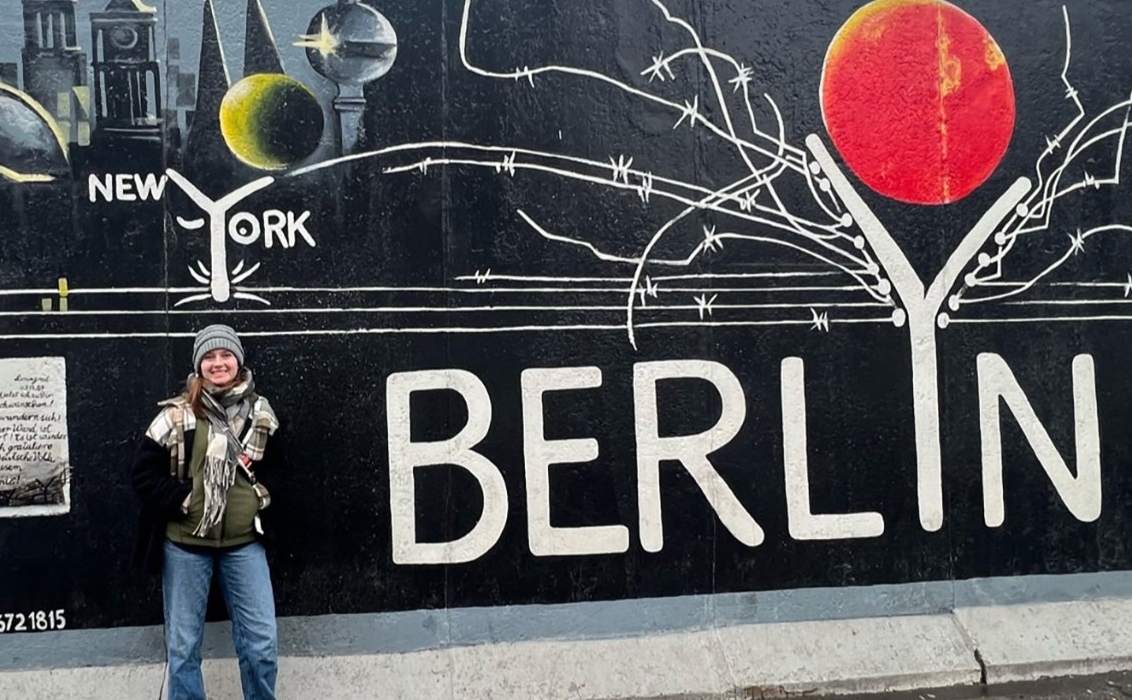 A Theatre Design & Production student in the College-Conservatory of Music, minoring in German in Arts & Sciences, chose a USAC program in Lüneburg, Germany, to match her interests. Language and history classes, international travels and visits to theatrical performances gave her new perspectives and professional competencies.
Participation by program type, 2022-23
912
54 Faculty-led programs
289
Exchange and external programs
86
Co-op, internships and teaching
In its century-long tradition as the birthplace of university cooperative education, the University of Cincinnati offers study abroad as part of the Next Lives Here Co-op 2.0 promise of work-integrated learning for all UC students.
This year, UC established the College of Cooperative Education & Professional Studies (CCPS) to expand on this tradition and focus on lifelong and worldwide opportunities for work-integrated learning.
Jim Tappel, a CCPS advisor who works with engineering students, sees international experiences as vital for students entering an increasingly globalized workforce.
"It's not just the work, it's the people you work with, and how important that is in a business environment," Tappel said, explaining that his students will need global competencies to thrive in the distinctive corporate cultures of multinational businesses and industries.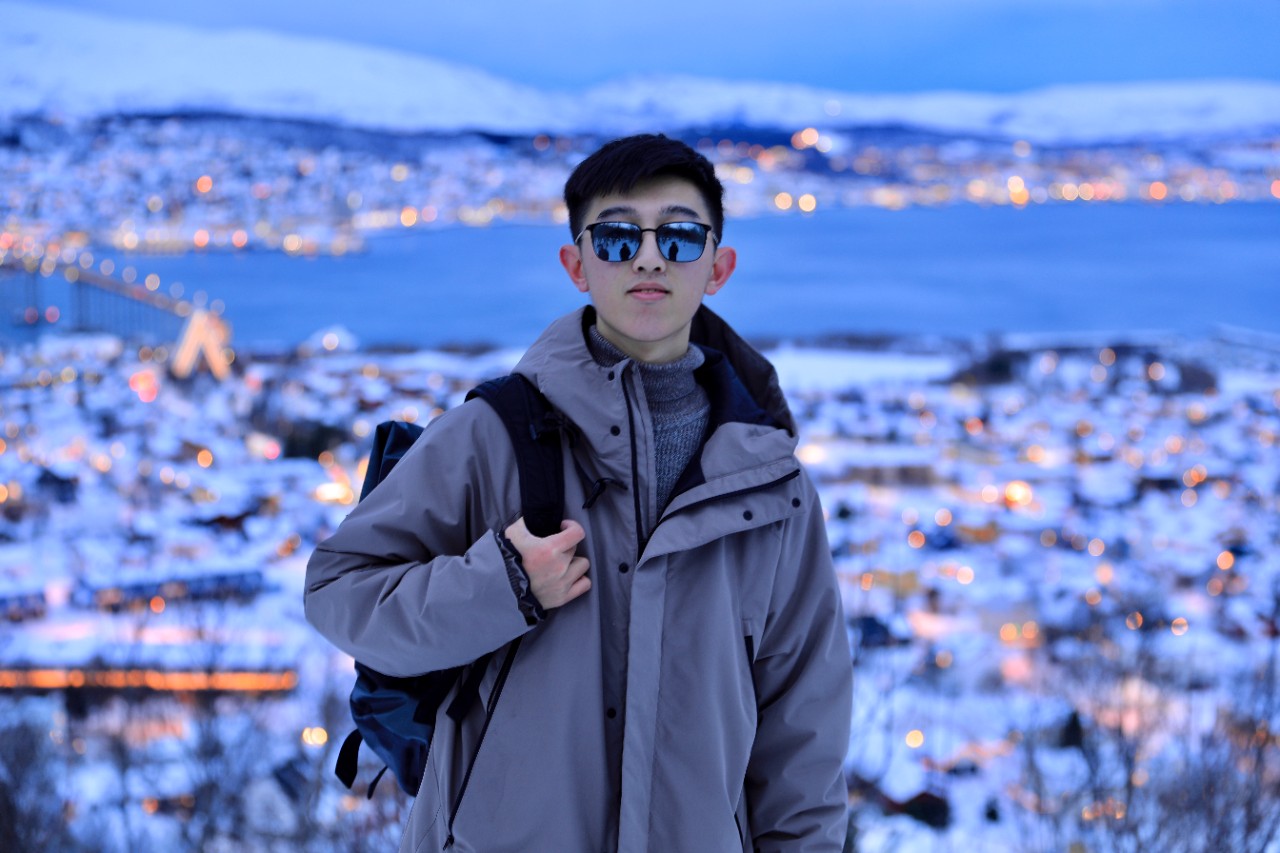 International co-op and internships
Two major programs administered through CCPS offer international work experiences.
The International Co-op Program offers intensive language training in German, Japanese, French and Spanish and then paid four- to eight-week co-op experiences overseas.
The International Experience Program assists students in finding international internships in multiple popular destination countries, with support for job hunting, housing, visas and cultural enrichment opportunities.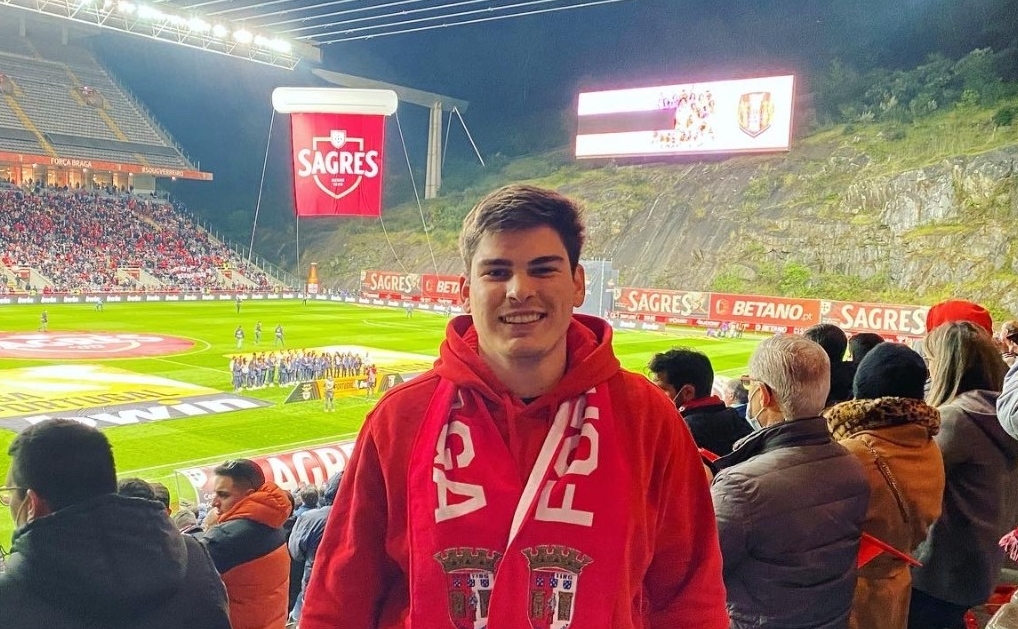 A CEAS graduate who received the Herman Schneider Medal for excellence as a co-op student this spring helped pioneer his company's first co-op program in Portugal in his final two rotations with the company. Over the course of eight months, he took more than 50 courses in Portuguese to master the language.
UC's professional programs also offer global experiences beyond co-op. Even in degree programs where study abroad doesn't traditionally fit, students have opportunities to network, do field work and see how the rest of the world works. The cultural knowledge and international perspectives gained enrich the professional skills of UC graduates.             

"I think it's a fundamental part of education to be able to grow your worldview. I also think there's something about the best way to learn. By comparing and contrasting, you actually get a better understanding of the thing that you started out trying to know," said Nora Wagner, assistant dean for international programs in the College of Law. The college offered its very first faculty-led study abroad program in 2023.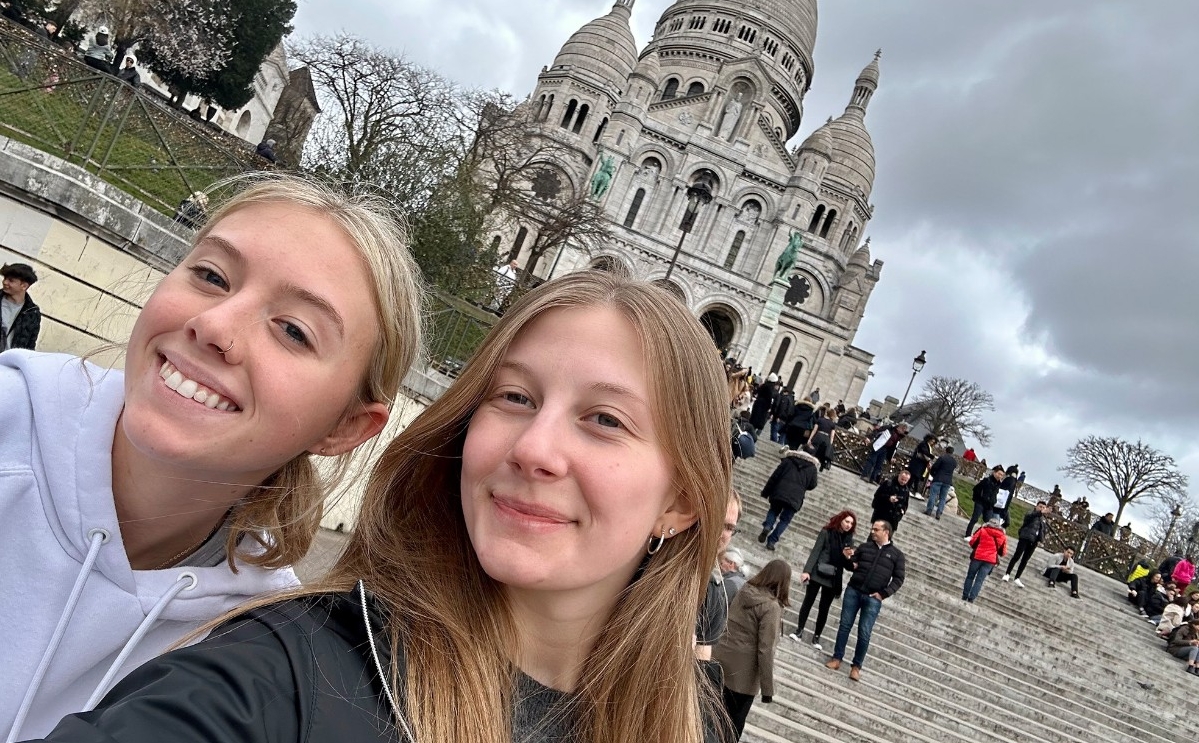 Study abroad is usually hard for engineering students to fit into their highly structured curriculum and co-op schedule. But the college's Global Technical Workforce course has offered global angles on engineering to students in any technical field for nearly a decade. 
Though it's now common for nurses to travel at during their careers, it's still uncommon for nursing students to study abroad. The College of Nursing offers travel opportunities and global clinical experiences to help them recognize the role of cultural competence in their nursing care and in reducing health disparities, abroad or at home.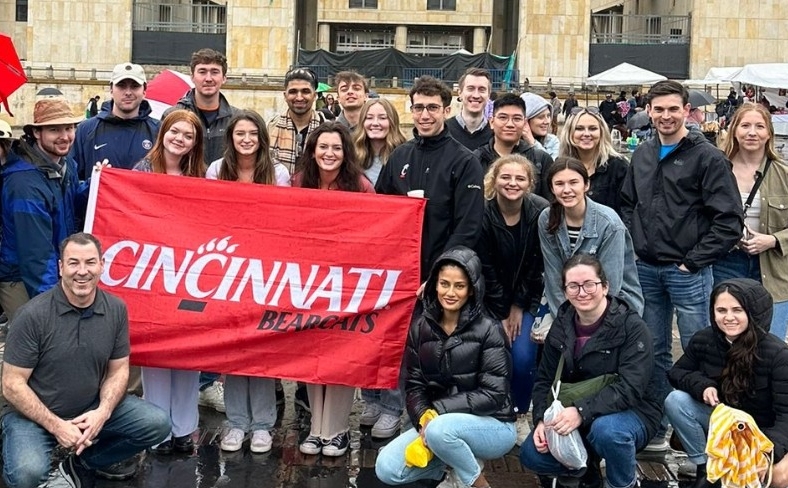 In a first-of-its-kind program originally scheduled for March 2020, students in the College of Law traveled to Bogotá, Colombia, during spring break this year as part of a short course exploring international trade, human rights and transitional justice.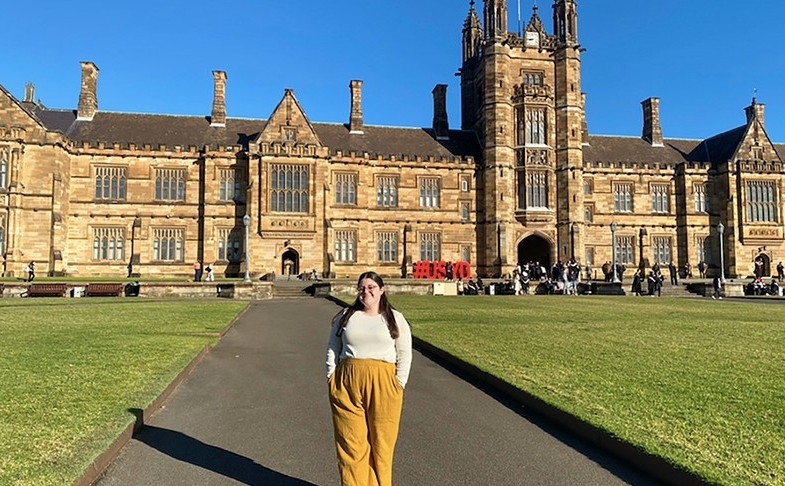 The whole reason that I came to the UC College of Nursing was for the study abroad program.
Anne Ryan
| UC Nursing Graduate
Service learning offers more ways for students to make a real-world impact. Many programs offer hands-on international opportunities for students whose hearts are set on making a difference.
The College of Allied Health Sciences has offered annual service learning programs in Mexico and Costa Rica for more than a decade. Students in programs as diverse as physical therapy, audiology, nutrition and dietetics, medical laboratory science and social work join interdisciplinary teams. The Mexico program was one of two programs first out in December 2021 under COVID-era protocols.
Village Life Outreach Project, a nonprofit founded by UC Vice Provost Chris Lewis in 2004, takes students from the College of Medicine, Engineers Without Borders and programs across UC's campuses to Tanzania for service projects.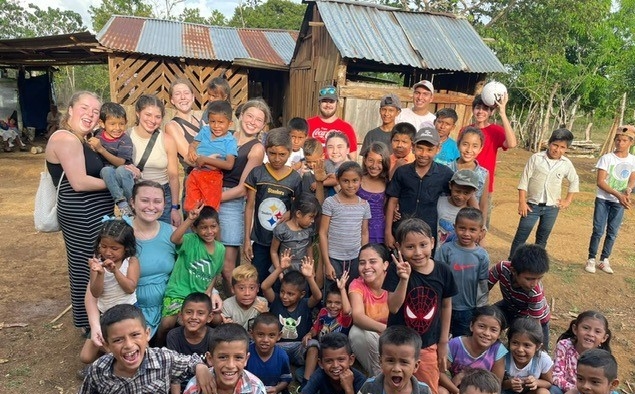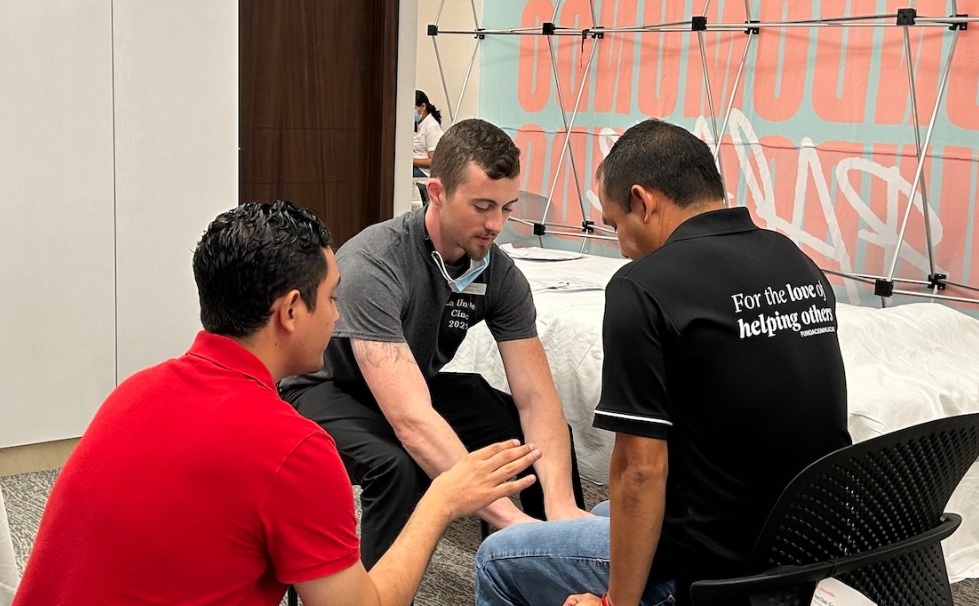 For the first time this spring, students from the physical therapist assistant program at UC Clermont joined the annual CAHS trip to Cancun, Mexico, where they worked with students from multiple health disciplines to provide medical care and gain cultural competencies.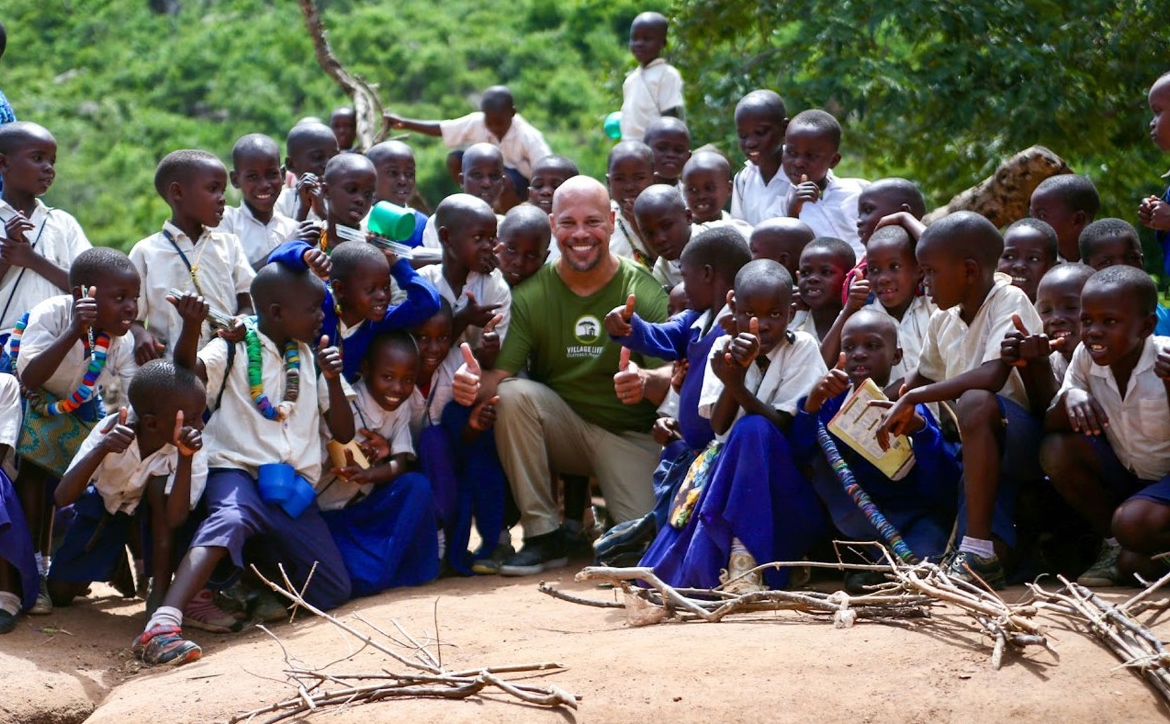 Dr. Chris Lewis first visited Tanzania nearly 20 years ago as a UC medical resident intent on making a difference in the country. Now he's instilling a passion for global health in a new generation of students through Village Life Outreach Project.
The University of Cincinnati offers students institutional support for their biggest dreams.

The Office of Nationally Competitive Awards (NCA) assists UC undergraduates, graduate students, and recent alumni through the rigorous application process for prestigious global scholarships and fellowships that fund global study and research. Opportunities are available in both STEM and non-STEM fields.
"Every year it's exciting to see UC students pursue these incredible opportunities," said Jenny Hyest, director of NCA. "Our students are going all over the world — Nigeria, Jordan, Peru, Belgium, Trinidad and Tobago, Turkey, and the list goes on — and their fields of study are as varied as the places to which they're traveling."
In 2022-23, UC students won Fulbright, Goldwater, Critical Language, National Science Foundation Graduate Research, and Japan Exchange and Teaching awards.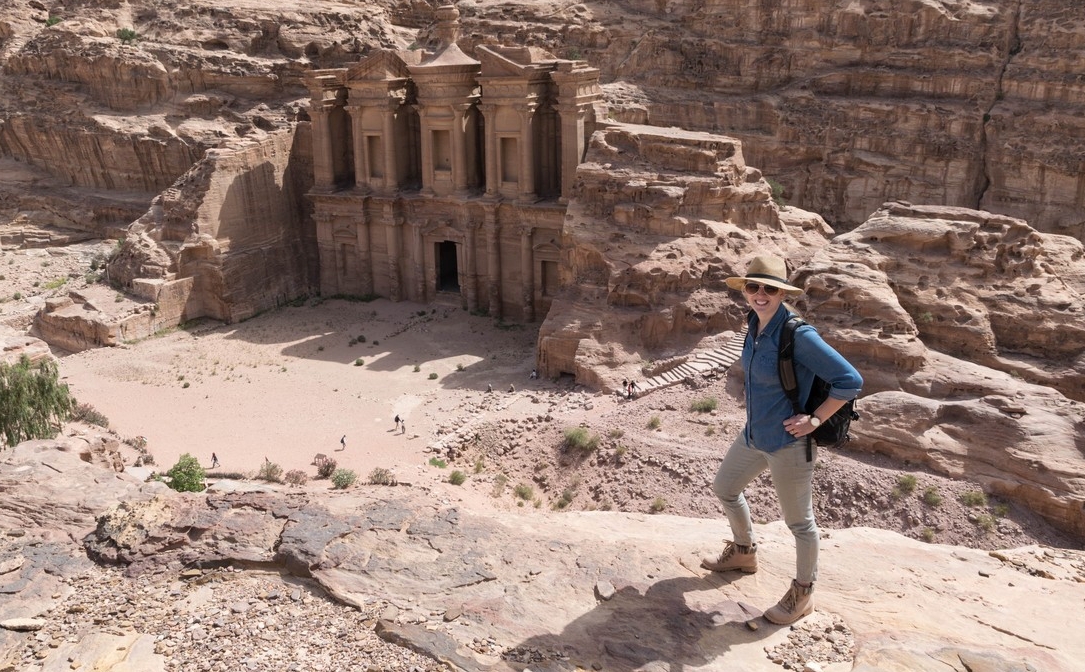 A UC alumna is studying the ancient city of Petra in Jordan as a National Endowment for the Humanities fellow. While still at UC, she did fieldwork at Pompeii and at the ancient coastal city of Tharros in Sardinia with the Department of Classics. Her work on the past can inform how we understand politics, society and culture today.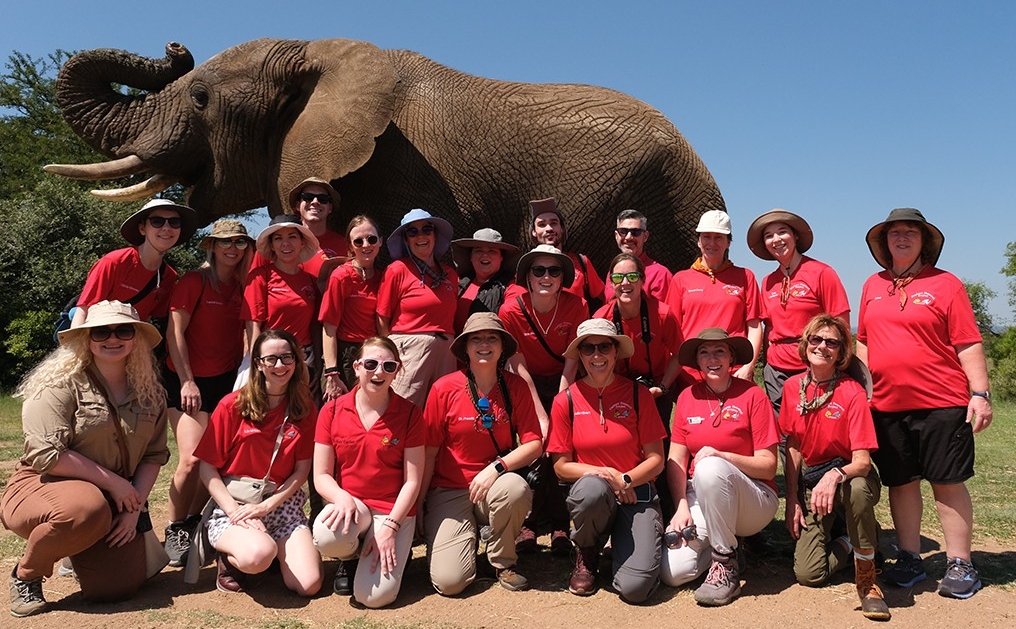 Since 2017, UC's Facility for the Education and Testing of Canine Hearing and Laboratory for Animal Bioacoustics in CAHS has sent a team of researchers to study what African bush elephants can hear. New knowledge on the subject could inform future conservation efforts to better protect the largest land mammals on Earth.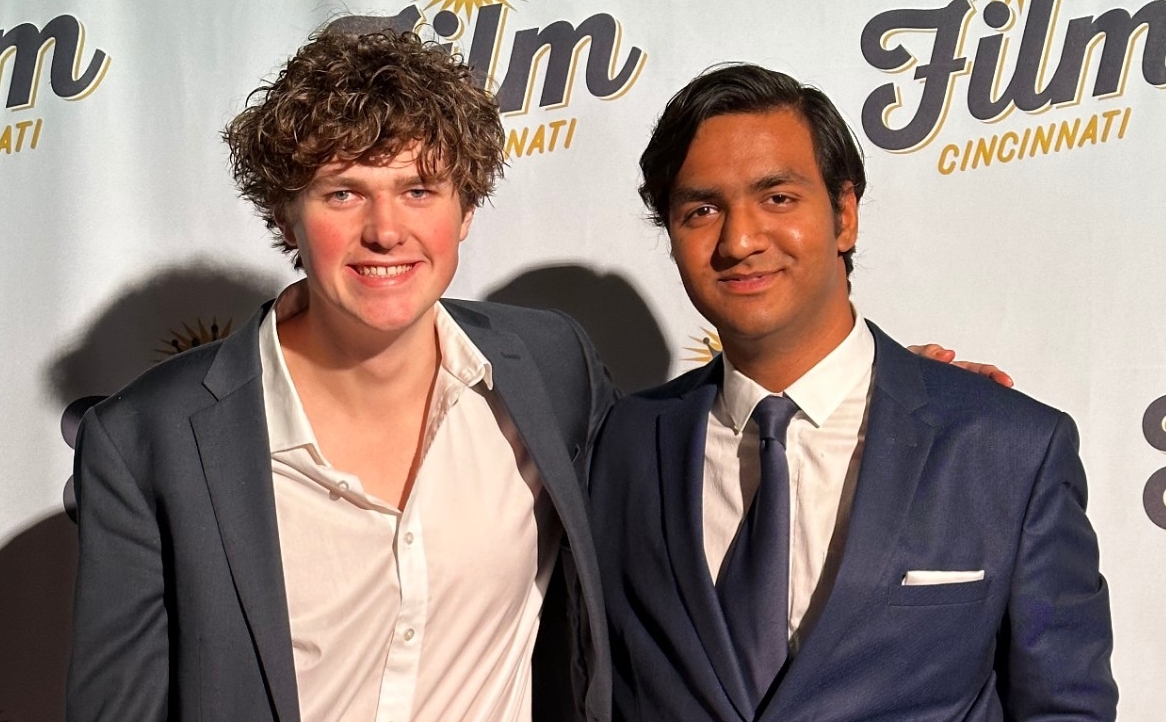 Top study abroad destinations, 2022-23
Following in their footsteps
Again and again, students who have studied abroad say the experience is transformative.
Kalea Lucas, a marketing and fashion design alumna, came to the University of Cincinnati because she saw how integral international education is at UC.
"Once I found out that Lindner had its own study abroad office, I was like, it's over. Period. This is where I needed to be," she recalled.
Throughout her academic career, Lucas sought out every opportunity available to her for international study. She ended up studying abroad eight times and credits her many, varied international experiences as the real-world value of her UC diploma.
I think the whole point of being outside of your comfort zone is to grow. There's that saying that nothing changes if nothing changes.
Kalea Lucas
| UC Business Graduate
"It all started at UC," said Radhika Bhargava, another UC alumna, a graduate in biological sciences.
When she left home in India to come to the University of Cincinnati, Bhargava didn't even know how to pronounce "Ohio." What she discovered here was a supportive community and University Honors Program advisors who helped her map the way to a degree in biological sciences, including multiple study abroad experiences that put her on her career path.
"It ended up being the best decision ever," she said.
Bhargava recently completed her doctorate in geography from the National University of Singapore, partially funded by a grant as a National Geographic Explorer.
Read Lucas and Bhargava's inspiring stories.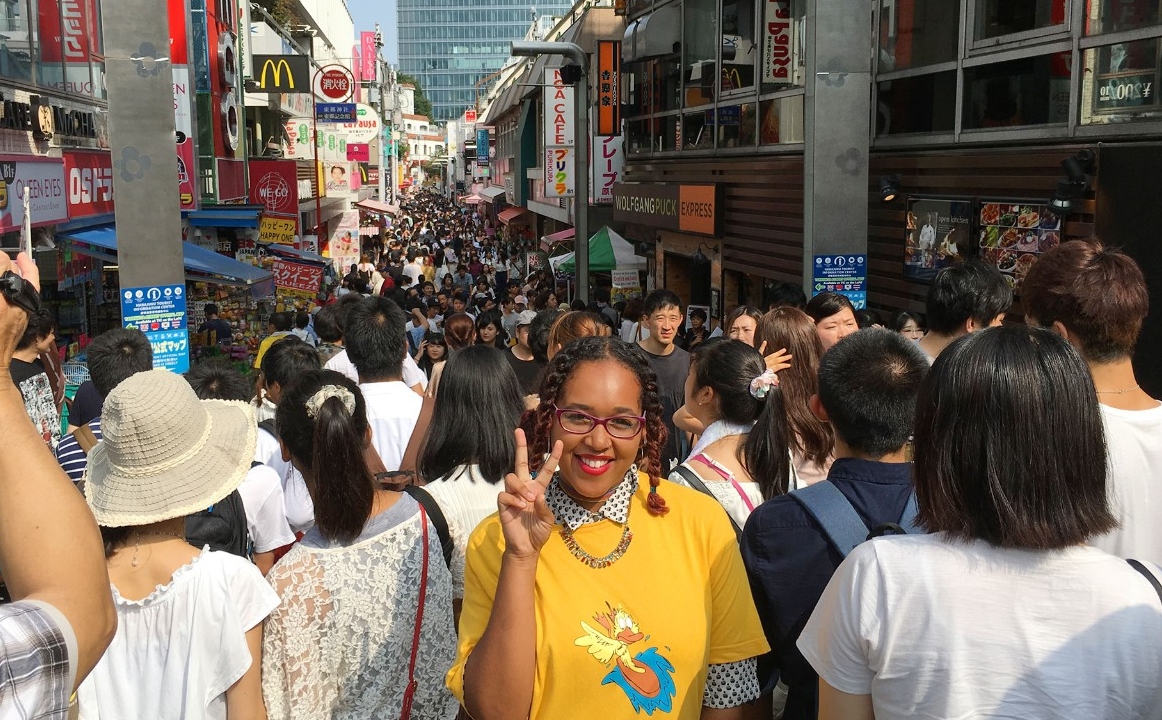 Kalea Lucas holds the UC record for study abroad experiences: Canada, Mexico, Canada again, Italy, Hong Kong, South Korea, India and Chile. She would have studied in Ghana, too, but COVID cancelled her final trip in March 2020. With the reopening of global opportunities, Lucas now works in South Korea as she dreamed of doing.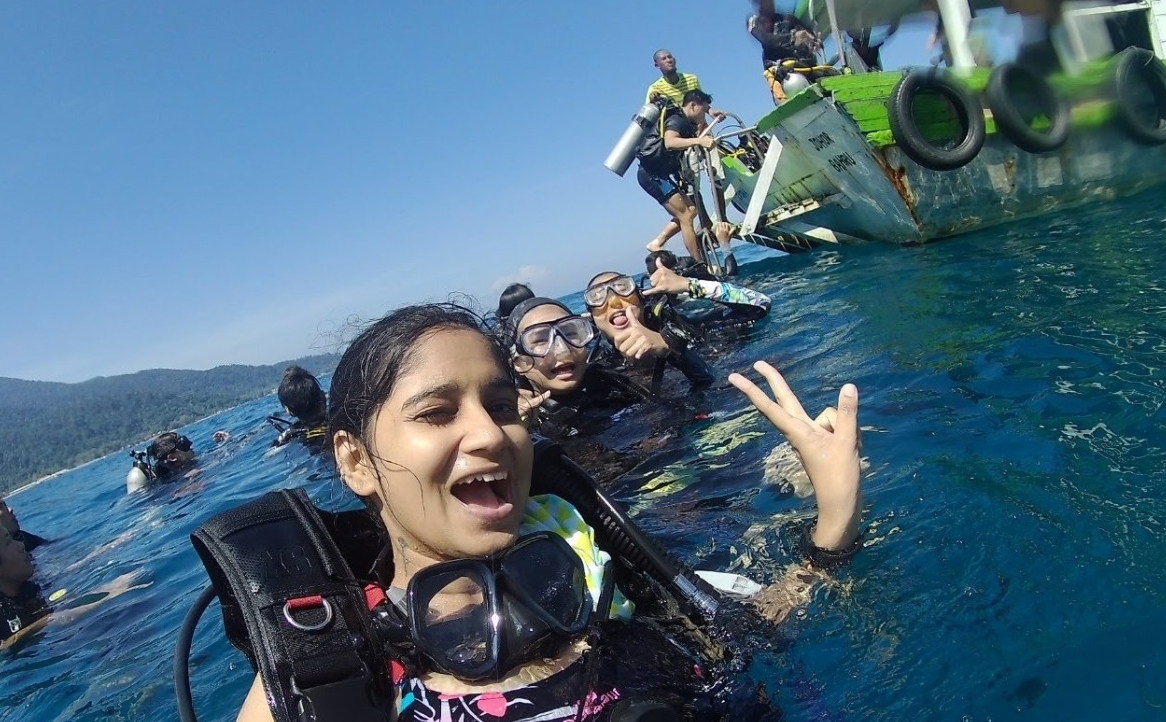 Radhika Bhargava learned to swim in order to travel down the Amazon with a University Honors Program study tour. That led to more international study in Turks & Caicos and an interest in diving and ocean research. Bhargava now researches forest management policies in India's Sundarbans tropical mangrove forests.
The University of Cincinnati partners with institutions around the globe through exchange and articulation agreements to foster international education and global cooperation.
"Strong global relationships that cross the borders of countries, cultures, academic disciplines and private and public interests will help the world meet the complex challenges we face," said Raj Mehta, the University of Cincinnati's vice provost for international affairs. "We build these partnerships for our students so that they can build the future."
UC International and global offices and staff across the University of Cincinnati's campuses support international education opportunities for all UC students.

UC International offers student scholarships for faculty-led programs and other approved academic experiences. Almost 98% of study abroad participants receive scholarships.
Grants from the office also support faculty program development. Resources, workshop announcements and applications for the current grant cycle are linked on UC International's intranet site.
"Our goal is to create sustainable programs that become signature course offerings in UC's colleges and connect students to the world," said study abroad director Fugard. "We want our students to know that international education opportunities are a part of the UC experience."
Featured image at top: UC graduate Nonso Okonji at Machu Picchu. Photo/provided 
UC the world
Prepare yourself for a global future. Whatever your program or your passion, UC offers study abroad and international work experiences that will take you where you want to go.
See more study abroad stories on our social media.
Take the first step on your global journey!
Attend a study abroad information session
Join us for the Study Abroad Fair on Mainstreet Oct. 4