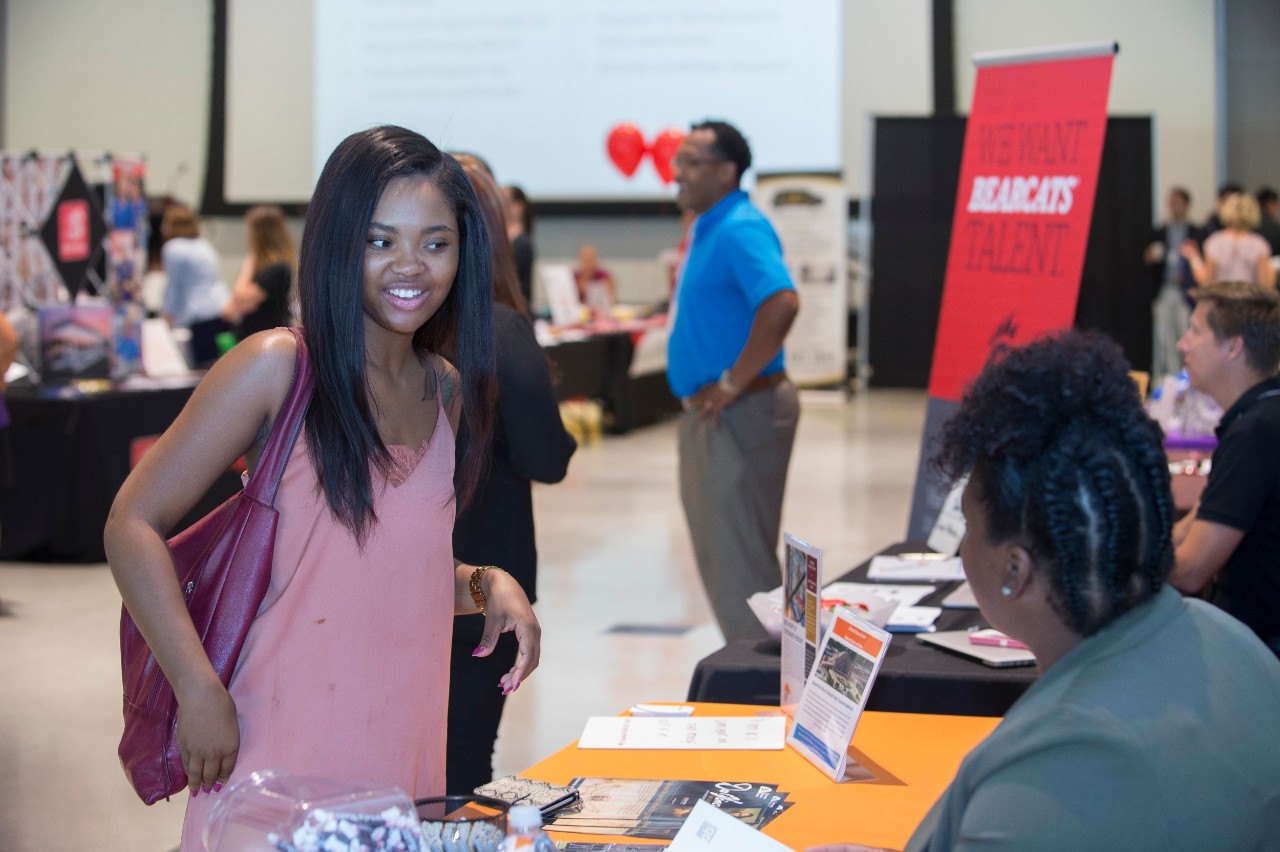 We host a number of events to support students in their professional development and give employers access to student talent.

UC's Arts and Sciences Co-op Experience Fair is a recruiting event for organizations offering internships or co-ops in communication, political science, psychology, sociology, biology, chemistry, mathematics, organizational leadership, environmental studies and more.
Liberal arts and sciences students develop skills in critical thinking, communication, learning and applying knowledge, dealing with complexity, and adapting to change that apply across a wide range of job functions. Employers use this event to recruit, build name recognition and educate students about careers.
Upcoming fair dates are October 26, 2022, and March 1, 2023.
Learn more and register in Handshake:
Held in October and March, this event matches employers with students who are looking for semester-long internships in communication, public relations and related fields.
UC's School of Criminal Justice holds an annual career expo in early March for employers and students to fill job openings and simply network to learn about the variety of career opportunites in criminal justice. The event typically takes place in early March. For information, please contact Sue Bourke at susan.bourke@uc.edu.
E2C: DAAP Co-op Fair is for employer-partners to meet and recruit emerging creative talent from UC's world-class College of Design, Architecture, Art, and Planning, who are skilled in communication design, industrial design, fashion design, architecture, interior design, landscape architecture, urban planning, and fine arts. It is also an opportunity to build your brand on campus and network with other creative professionals.

The Part-Time Job Fair brings together students who are looking for part-time jobs and internships with employers who offer part-time employment and internships on the UC campus and in the local Cincinnati area.
The Part-Time Job Fair is typically held in late August or early September, in the second week of the fall semester.

At these multi-day on-campus recruiting events in September and February, hundreds of employers meet thousands of qualified students to fill full-time, co-op and internship positions, while students use the opportunity to talk directly with company representatives about the organization's work, culture and hiring needs.
At the annual Undergraduate Scholarly Showcase, hundreds of students from across the university share their findings, revelations, inventions and interpretations of the world we live in. The showcase is free and open to the entire campus community.