Handshake is a powerful job search tool that the University of Cincinnati provides free to all UC students. Handshake helps all students find meaningful careers.
Thousands of employers use Handshake to recruit college students and recent graduates for part-time, full-time, internship, co-op, and permanent positions. Get started in Handshake.
Parker Dewey is UC's preferred platform for employers to list short-term, paid work assignments. Such work - also called micro co-op, gig work, or project work - can usually be done on your own schedule and from anywhere. Students in any major can create a Parker Dewey account, search the listings, and apply for assignments. Get started in Parker Dewey.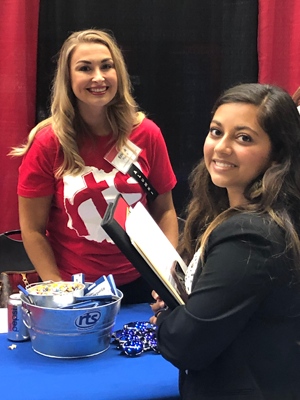 A career fair or job fair is an event where employers, recruiters, and hiring managers meet with job seekers to identify good candidates for open positions now or in the future. Meanwhile, job seekers meet company representatives to identify companies and jobs for which they want to apply.
Learn how to prepare for a career fair.
The University of Cincinnati hosts several career fairs. To find upcoming fairs, log into your Handshake account, go to "Events," and choose "Career Fair."
Tip: Once you find a fair, see which employers are coming. You can search for specific employers by name or use the filters to narrow down the list to those that interest you. You can "favorite" employers to find them again quickly later.
On-Campus Recruiting or Company Events
Employers visit the University to conduct information sessions, events, and tabling. They may even have online workshops or virtual events to connect with UC students.
At an information session, recruiters will talk about the company culture, hiring needs and hiring process. Even if you aren't looking for a job, you can take the opportunity to meet directly with people who work for an organization or in a field that interests you.
To find upcoming on-campus recruiting events, log into your Handshake account and click on "Events" in the top menu.
Employers often visit the University of Cincinnati to conduct on-campus interviews.
To find upcoming on-campus interviews, log into your Handshake account, go to "Jobs," and choose "On-Campus Interviews." Typically, a student will apply for the job via Handshake and will be contacted by the employer if the employer wishes to schedule an on-campus interview.

If you are interested in a company or organization, check their website frequently for job postings. If you can, sign up for job alerts so that you receive notification when a job is posted that matches your interests.
While you're on the website, do some research into how the company or organization seems to align with your mission, vision, or passion for work. This will be helpful later when writing cover letters and resumes to go with your job application.
Job aggregators pull together job listings from many sources into one searchable location. Some examples are:
Searching aggregators lets you quickly scan for jobs that match your interests. If you find a job you might want to apply for, look for the job posting on the company's own site and apply there.
A word of caution: When using a job aggregator, be wary of online scams and fraudulent job postings.
Ohio offers great opportunities for people with degrees in science, technology, engineering or mathematics (STEM).
Find Your Ohio connects STEM graduates with great jobs in technology, biotech, engineering and other fields in Ohio.
Top Industries and Business News
Economic development is about creating a place where companies can thrive and individuals can enjoy a higher standard of living. JobsOhio plays a leading role in Ohio's economic development and serves as a catalyst to accelerate growth by investing in communities, helping Ohio's businesses expand and attracting new companies to the state – all contributing to job creation, greater payrolls and more investment.
LinkedIn and Professional Networking
LinkedIn is a professional networking site that lets you manage your professional identity, build and engage with your professional network, and access knowledge, insights and opportunities.