E2C: Engaging Emerging Creatives
As the global pandemic continues, plans are subject to change. We ask for your understanding and flexibility. This page is your best source of current information about this event.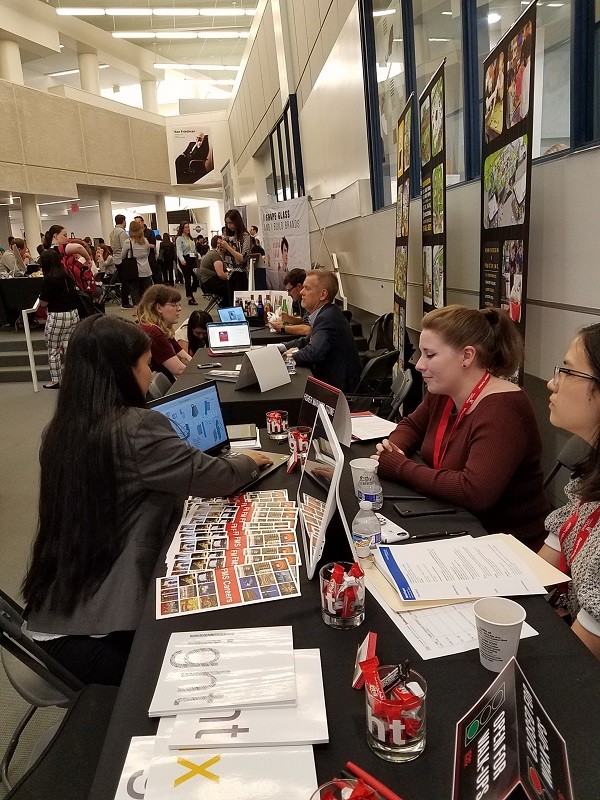 Students of UC's College of Design, Architeture, Art, and Planning (DAAP) are some of the most talented and best-prepared design students in the country. All DAAP students must work in the field full-time (that is, co-op) for at least three semesters before they graduate.
Recruit students for Spring 2023 (January to April) co-op positions at the E2C DAAP Co-op Fair on October 6-7, 2022.
The slimmed-down format features a traditional career fair on Thursday evening followed by on-site interviews on Friday.
We also invite you to meet and talk with DAAP co-op faculty advisors at a complimentary reception on Thursday before the expo.
E2C DAAP Co-op Fair 2022 Schedule (subject to change)


| Day | Time | Activity |
| --- | --- | --- |
| Thursday, Oct. 6 | 2:30 p.m. | Employer check-in opens |
| Thursday, Oct. 6 | 4:30 p.m. | Reception with DAAP co-op faculty advisors |
| Thursday, Oct. 6 | 6:00 p.m. | Employer expo till 8 p.m. |
| Friday, Oct. 7 | 8:00 a.m. | Check-in, coffee and donuts |
| Friday, Oct. 7 | 9:00 a.m. | Interviews begin |
| Friday, Oct. 7 | 4:00 p.m. | Event ends |
Targeted majors and skill sets:
architecture (bachelor's and M.Arch)

communication design/graphic design

community planning (master's students)

fashion design
fine arts
horticulture
industrial design
interior design
landscape architecture (master's students)

master of design (seeking Summer 2023 co-op)

urban planning

Cost is $250 per table. A single table registration includes up to two representatives, and you can add a third for an extra fee. If you will have more than three representatives, or simply want more visibility and space to spread out, you can register for a double table (two tables pushed together).
Besides the two-hour fair and next-day interviews, your registration includes complimentary parking on site both days, soft drinks, snacks, on-site reception with DAAP co-op faculty advisors on Thursday, and coffee, donuts and lunch on Friday. In addition, your company profile will be visible to UC students in Handshake from the time your registration is approved through the event dates.
We offer a 50% discount to nonprofit organizations and government entities. The discount applies to single tables only. The discount will be applied upon approval of your fair registration.

Payment is due September 23, 2022. Credit card payment is preferred. You will receive an invoice upon approval of your career fair registration.
Cancellations and Refunds
Cancellations received on or before September 16, 2022, will not pay the registration fee, or, if payment has already been made, will receive a full refund. Cancellations received September 17 through 23 will be charged 50% of the registration fee or receive a 50% refund. Cancellations received after September 23 will be charged 100% of the registration fee and will NOT receive a refund. Cancellations must be approved in writing.
Employers may conduct interviews with top candidates the day after the fair. You'll hold interviews at the same table (or tables) you exhibited at the evening before.
It is your responsibility to contact candidates directly to schedule interviews with them. Remind them of the interview location and to arrive 15 minutes early. Some recruiters like to schedule interviews with strong candidates as soon as they meet them; others prefer to identify their top candidates immediately after the fair and contact them that evening to schedule next-day interviews.
We suggest that interviews start no earlier than 9 a.m. We also ask that you conclude all interviews no later than 4 p.m. You are welcome to wrap up earlier than 4 p.m. if you wish.
We ask that you give us a copy of your interview schedule with the names of the students you interviewed before you leave, so we have a record of how many interviews were conducted at the fair.
You may ship materials in advance, and your packages will be held at employer check-in for you. Ship items to arrive by 5 p.m. on Tuesday, October 4, 2022, at the address below. Enclose a return shipping label in each package. At the close of the fair, securely pack, seal, and label your packages, and we will route them to the carrier. We do not assume responsibility for mishandled or misplaced packages.

Univ Cincinnati Central Receiving
ATTN: DAAP FAIR
792 E. McMillan
Cincinnati, OH 45206
The following hotels are closest to campus: