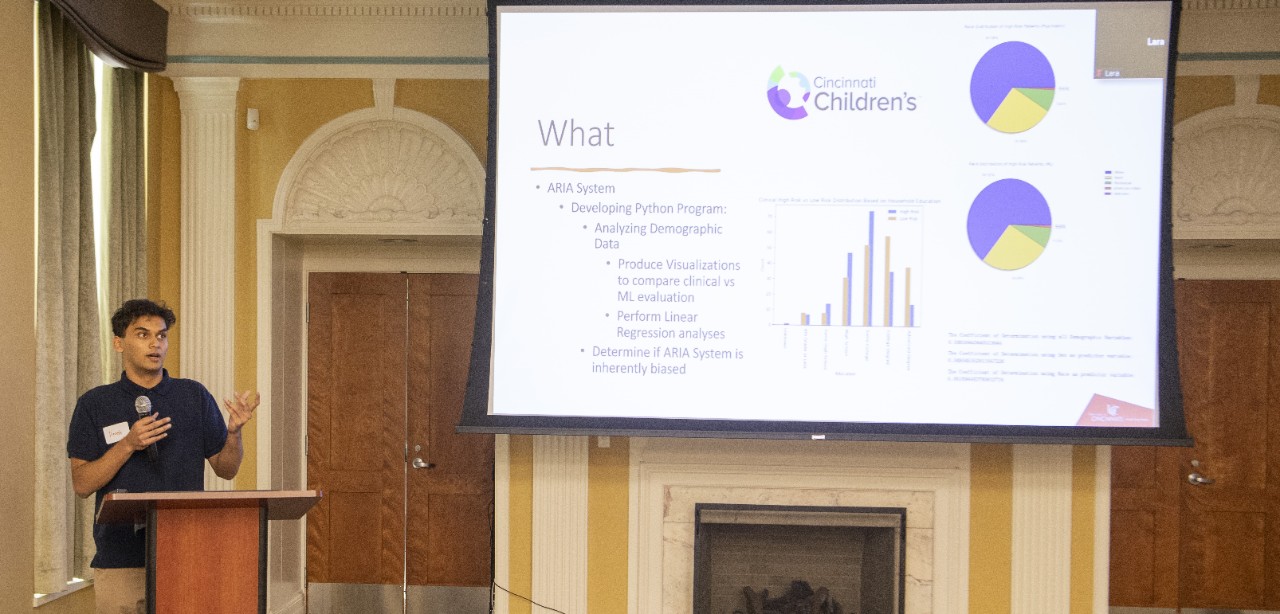 RaMP Spring 2024 Project Descriptions
Under each project title, you will find the mentor's name and credentials, the department where they work, and the format of the research work. CCHMC is Cincinnati Children's Hospital Medical Center. Any other acronyms listed instead of CCHMC refer to the specific University of Cincinnati colleges where the research is taking place. 

The details listed for the project itself will provide an idea of what to expect, what skills you might learn, and any other relevant details the mentor wished to include. 
Elena Albizzati, PhD
In person, CCHMC
Developmental Biology Unit
Center for Stem Cell & Organoid Medicine (CuSTOM)
Offering new therapies and treatments for neurological disorders is hampered by the lack of appropriate human models due to the inaccessibility of developing brain tissue. Human pluripotent stem cells can become any cell in our body, and we have developed several strategies to generate minibrain-like tissue from these cells to study the developmental origins of autism spectrum disorder (ASD). Hundreds of pathogenic genetic variants confer risk for ASD, but it is unclear how these variants are related and how they converge into a distinct and recognizable clinical entity. One goal of the lab is to use CRISPR/Cas9 gene editing to introduce ASD mutations into stem cells and perform our minibrain differentiation to understand whether these variants alter typical brain development as well as investigate the molecular mechanisms associated with the gene's function. Like astronomers, our research program aims to identify convergent mechanisms or pathways and group those genes into constellations to provide direction for optimal treatments and/or therapies for patients with ASDs.

As a member of our research team, you will have the opportunity to learn about human stem cell culture techniques and differentiation methods to obtain specific neural cell types. We also perform several routine cell and molecular biology techniques for which you will help critically analyze. You will receive 1:1 mentoring to ensure that your research experience is beneficial to your growth and success, and you will have the opportunity to participate in weekly lab meetings to be on the top of the project flow. We always encourage people to ask questions and be curious about everything they experience. The average time commitment to tackle these tasks is 12-15 hours per week and is flexible according to your schedule.
Shyh-Chi Chen, Postdoctoral Fellow
In Person, UC
This project will investigate the circadian clocks using fruit flies and mosquitoes as model animals. The results will help us better understand the temporal distribution of mosquitoes and further reduce mosquito-host interaction. Students who participate in this project will have opportunities to help with insect husbandry, conduct behavioral experiments, and contribute to the publications. The student is expected to work on this project for at least 8 hours per week.
Adewale Fadaka, PhD
In Person, CCHMC
Neonatal pain remains a significant health concern and current pharmacological treatments are limited to agents that often produce more adverse side effects than analgesic benefits in children. Our recent work has linked the transcription factor serum response factor (SRF) to incision-related hypersensitivity in neonates. However, it is not known if similar mechanisms contributed to inflammatory pain in neonates. Our preliminary data suggests that signal transducer and activator of transcription 1 (STAT1) but not SRF was uniquely upregulated in the dorsal root ganglia (DRGs) of neonates after both cutaneous and muscle inflammation.  Therefore, we aim to investigate if distinct transcription factors may modulate nociceptive behaviors and the effect of growth hormone in neonatal mice following cutaneous or muscle inflammation. Results could uncover new ways to treat inflammatory pain by targeting neuronal STAT1.
Our lab employs diverse scientific methods/techniques including molecular biology, proteomics, genomics, immunohistochemistry, electrophysiology, behavior, transgenics, optogenetics, chemogenetics, use of viral gene delivery and confocal imaging to query how the peripheral nervous system interacts with other cellular systems to modulates sensory function and neonatal pain. Our lab has previously mentored and supervised multiple students in RaMP, SURF, and RISE UP programs. Meet the Jankowski's lab and see some of our other ongoing projects at: Meet the Lab | Jankowski Lab (cincinnatichildrens.org).
The student will be involved in different aspects of neuroscience-related research in our lab. With respect to the current project, student will be exposed to the use of the techniques in addition to tissue culture, protocol formulation, and experimental design.  Motivated students interested in sensory neuroscience and pain research are encouraged to apply. 
Desired hours per week:  10-20
Diego Fernandez, PhD, Assistant Professor
In Person, CCHMC
This project aims to investigate a fundamental, emerging topic in neuroscience: the optimization of brain development and cognitive maturation in individuals exposed to unnatural environments, particularly those caused by irregular light patterns and excessive artificial lighting. Specifically, we aim to determine whether the exposure of mice to irregular light during early life alters the development and maturation of the retina-brain circuitry. We envision that this project will be instrumental in developing strategies to mitigate developmental disorders associated with early-life stress.
We are a new lab in the Ophthalmology and Developmental Biology divisions at CCHMC that embraces and promotes diversity, equity, and inclusion. Our strengths lie in teamwork, and we believe that the most efficient way to achieve our goals is through the collective search and discussion of ideas and approaches. As part of our team, new lab members will gain experience in using: i. precise tools for tracing neuronal circuits, ii. innovative genetic mouse lines, and iii. behavioral tests that collect longitudinal data across the day/night cycle. Our lab collaborates with other research groups, offering a rich collaborative environment. In addition, new lab members will participate in weekly meetings to present data and discuss future directions. While we anticipate that dedicating 8-12 hours per week would be ideal, we understand that flexibility is essential, and this will be discussed based on goals and expectations. Please visit our website to learn more about the lab:
Qing Goh, PhD, Instructor
Orthopedic Surgery
In person, CCHMC
Injury to the brachial plexus at birth is a common cause of childhood neuromuscular disorder. It leads to the formation of disabling muscle contractures, or limb stiffness, which severely limits joint mobility and function in the injured arms. As these contractures are incurable, our lab seeks to understand how they develop, and design strategies to prevent them and restore quality of life in affected children. Currently, we are exploring how a muscle grows in length, and investigating drug therapies for preventing contractures.
At the Cornwall/Goh Lab, we take a holistic approach in your development as a future professional in the biomedical sciences. We offer you a unique opportunity to work with and learn from both scientists and clinicians. You can also expect a strong commitment from us in our mentoring relationship, which we hope will extend beyond this program. For your part, you will be challenged to think critically, be engaged and proactive in learning, and develop your research communication skills. Above all else, a strong desire to learn and willingness to be involved will greatly enhance your research experience!
While your lab schedule is flexible, a weekly commitment of 8-10 hours across 2 days/week would enhance your experience with us.
Shailaja Hegde, PhD
In Person, CCHMC
Acute lymphoblastic leukemia (ALL) is the most common type of cancer in children, impacting thousands of children every year. Precursor B-Cell Acute Lymphoblastic Leukemia (Pre-B-ALL) cells grow very fast, preventing the growth of all other normal, healthy blood cells. Despite the introduction of ABL tyrosine kinase inhibitor (TKI) therapy, Ph+ and Ph-like B-ALL remains a poor prognosis disease, due to frequent relapse rates and secondary resistance to current therapies, including highly toxic immunotherapies. Therefore, it is important to identify a gene that causes the development and proliferation of the tumor cells.
YAP and TAZ are the two transcriptional co-activators that play an important role in cell proliferation, migration, and survival. YAP and TAZ are the important aspects of normal hematopoiesis. Although systemic analysis is still missing, few genetic deletion studies suggest that YAP/TAZ play a significant role in both normal hematopoietic system and in pathologic conditions. There are few studies suggesting that YAP/TAZ play an important role in the leukemic growth, but it is contest dependent.  While YAP/TAZ acts as a tumor suppressor in solid cancers, in multiple myeloma it acts as an oncogene. There is no study existing to our knowledge so far which indicates the role of YAP/TAZ in B-Acute Lymphoblastic Leukemia(B-ALL). According to databases available on human leukemias, YAP/TAZ is over expressed in B-ALL. We hypothesize that inhibition or deletion of YAP/TAZ in leukemic cells will abrogate the disease or eradicate leukemia.  Therefore, YAP/TAZ could be an attractive target of therapy in B-ALL. Overall, this project's main goal is to investigate the role of YAP/TAZ in B-ALL.
Although schedule is flexible, you will have to be present in the lab, weekly/2hrs.Techniques you will be learning in this project are, isolation of murine bone marrow and spleen cells, transduction, RNA and DNA isolations, western blotting, and flow cytometry. In addition, you will have a presentation opportunity.
Gilson Honvoh, Postdoctoral Fellow
Online, CCHMC
The ImproveCareNow (ICN) initiative has established a Learning Health Network (LHN), where patients, families, clinicians, and researchers collaborate to learn from interactions and continuously improve the quality of care for pediatric patients with Inflammatory Bowel Disease (IBD). The ICN's Outcomes registry safely collects clinical data for enrolled patients at more than 100 participating centers, providing a unique opportunity for conducting pediatric IBD research. Participation in these research studies requires consent from the patient's parent or guardian. A recent review of the consent rates within the network has revealed large variations across care centers.  This variation reflects differences in the ways in which GI centers approach the process of consent.  Some are much more effective than others.
The objective of the proposed project is to use the registry data to describe and quantify the differences across centers, identify factors in the consent process that might be the reasons behind the observed variations in consent rates across centers, and suggest strategies to increase consent across ICN care centers. The student will maintain direct communication with Dr. Gilson Honvoh and occasionally collaborate with subject matter experts in the Anderson Center and the ICN network. The role will offer hands-on experience working with real-world data, using quality improvement tools, doing data analysis and gaining some proficiency in statistical software. The work can be completed remotely, and we anticipate an average commitment of ~10-12 hours per week. Having completed at least one introductory statistics course is preferable for this role. Additionally, the student will need access to a laptop and completion of the Collaborative Institutional Training Initiative (CITI) training for Human Subjects Research will be necessary. Please do not hesitate to email at gilson.honvoh@cchmc.org with any questions about the project.
Yilun Huang, PhD candidate
In Person, CCHMC
Craniofacial malformations contribute to over one-third of all human congenital anomalies, with disruptions in the upper lip and midface being the most prevalent facial phenotypes. At the Jiang Lab, we have established some mouse models that recapitulate human craniofacial disease phenotypes (e.g. frontonasal dysplasia syndrome), providing a unique opportunity to delve into the underlying mechanisms. The RaMP student will have an opportunity to learn techniques such as PCR genotyping, tissue sectioning, and fluorescent immunostaining methods. Besides the benchwork, the student will also receive mentoring in reading scientific papers, experimental design and how to present their work. We offer flexibility in weekly hours, but still anticipate our RaMP student can work about 10 hours a week.
Natsumi Inoue, MD/PhD, Postdoctoral research fellow
In Person, CCHMC
Schulert lab is focusing on the pathophysiology of systemic juvenile idiopathic arthritis (SJIA) and its life-threatening complications such as macrophage activation syndrome (MAS) and chronic lung disease (SJIA-LD).
The student can be involved in a research project utilizing iPS cells established from SJIA patients. We will culture the iPS cells and differentiate them into macrophages to assess the functional features of SJIA-derived macrophages. Additionally, the student can be involved in the analysis of blood samples from SJIA patients time to time. We will perform isolation of certain cell fractions and following in vitro experiments.
We anticipate the student will work 8-10 hours/week, with flexible time frame.
Oto Inoue, MD/PhD,  Postdoctoral Fellow
In Person, CCHMC
Brown adipocytes has emerged as an attractive research target to tackle with obesity and diabetes. To elucidate novel mechanisms of brown adipocyte differentiation, we're working on mouse and in vitro models. The role of the student researcher is to learn and participate in in vitro models of brown adipocyte differentiation. This includes 1) basic cell culture, 2) advanced cell culture (lentiviral vector or siRNAs) of brown preadipocytes, and 3) spheroidal differentiation method of iPS cells. 8-10 hours per week should be enough to fulfill this role.
Lara Kanbar, Postdoctoral Fellow
Online, CCHMC
The long term goal of the research is to develop an Automated Risk Assessment (ARIA) system to analyze participant interviews, detect students with elevated risk for aggressive acts, provide risk characteristics (e.g., impulsivity, negative thoughts), and suggest support for the preemptive prevention of these acts. Subjects are interviewed by Psychiatry using a specific risk assessment scale, after which the interview is transcribed. Natural language processing is then used to identify key risk factors in the subject's interview that could predict future aggression. We want to evaluate the predictive ability of automated machine learning methods to detect aggression risk.
The student will learn about large scale subject recruitment, data management, data/signal processing, natural language processing, and machine learning depending on their interest.
Other opportunities are also available in the fields of chronic ventilation weaning or sleep studies in pediatric patients.
Anna Kirstein, PhD, Postdoctoral Fellow
In Person, CCHMC
Around half of all cancer patients receive radiation therapy during their treatment. Radiation therapy (RT) is the targeted use of high-energy beams to the tumor to eliminate and stop cancer cells from growing. Conventional RT uses X-rays as a source of energy. X-rays cause damage to the healthy tissue surrounding the tumor as the beams go through the entire body delivering a significant dose before, to, and beyond the tumor target. This off-site damage can result in significant side effects including the development of secondary cancers later in life. Proton beams are an alternative energy source for RT. In contrast to X-rays, proton beams interact differently with tissue: they deliver a minuscule dose to the surrounding healthy tissues and deposit their full energy at the tumor site where the beam and energy deposition completely stop. Therefore, proton therapy is much more precise, reduces treatment-related side effects, and lowers the risk of developing secondary cancers later in life. However, proton therapy has failed to show increased overall patient survival, yet. The current project focuses on utilizing sophisticated RNA sequencing techniques as well as metabolomic analyses to identify targets that can be leveraged as radiosensitizers. Radiosensitizers can be molecules, drugs, metabolites, or dietary supplements that help increase susceptibility to radiation, such as proton radiation. In this project, the student researcher will work with primary head and neck squamous cell carcinoma (HNSCC) cells grown into 3D organoids and treated with various drugs, metabolites, or antioxidants to determine their effects on X-ray and proton radiation resistance. Experimental methods will include tissue culture, RNA and protein isolation, qRT-PCR, western blot, and immunohistochemical and immunofluorescence stainings.
The desired weekly commitment for this project is 10-15 hours.
Masashi Kuroda, PhD
In Person, CCHMC
Chronic low-grade inflammation plays a critical role in the development of metabolic disorders associated with obesity, including type 2 diabetes, non-alcoholic fatty liver disease, and certain cancers. However, the exact mechanisms through which obesity triggers inflammation remain elusive. This project delves into the role of extracellular vesicles (EVs) released from hepatocytes in inciting inflammation during obesity. Notably, we have discovered that the mTOR pathway, known to be activated in obesity, enhances production of pro-inflammatory EVs from hepatocytes. Moreover, mouse models with an activated mTOR pathway in the liver exhibit elevated inflammation even in non-hepatic tissue and display impaired glucose metabolism. Our next goal is to understand the molecular mechanisms by which the mTOR pathway regulates pro-inflammatory EVs production in hepatocytes.
Undergraduate participants will gain hands-on experience in fundamental laboratory techniques, including RNA/protein analysis, cell culture procedures, and mouse handling. The role of assigned students will be tailored based on their interests, objectives, and availability.
Jaclyn McAlees, PhD, Research Associate
In Person, CCHMC
All projects aim to identify the mechanisms underlying allergic asthma development, progression, and severity. Student researchers in the Lewkowich lab would spend 9-12 hours per week learning the daily needs of a research laboratory, basic mouse handling skills, tissue culture, and cellular and molecular techniques used to process samples. Students would also be taught data analysis and graphing programs and be encouraged to present data they help generate at lab meetings.
Liran Oren, PhD
In person, UC
The project aims to develop a new capability to automatically detect pulmonary edema, an abnormal fluid buildup in the lungs that can be life-threatening. Currently, the initial diagnosis requires a clinician to perform an exam using a stethoscope, which is prone to subjective interpretation. The primary shortcoming of this method is the early diagnosis of pulmonary edema. The current project will overcome this shortcoming by constantly monitoring the respiratory sounds of patients who require mechanical ventilation support. The ability to automatically detect pathological sound, specifically fine crackling caused by pulmonary edema, will be done using existing machine learning algorithm. The project's main objective is to collect preliminary data to demonstrate the feasibility of automatically detecting fine crackling sounds from respiratory sounds.  The student will specifically assist in data collection and analysis (8-10 hrs/week).
Jiffin Paulose, PhD
In Person, CCHMC
Our lab is investigating the role of the 24-hour clock that coordinates several physiological/cellular processes in the body.  Illness can affect this clock, and genetic mutations can contribute to disease progression/severity by disrupting sleep/circadian rhythms.  One significant challenge is determining if a patient's clock is "telling the right time".  We are currently investigating minimally invasive ways to use RNA expression from skin samples to determine a) the phase of the clock in the skin sample, b) the relationship between the skin clock to the clock within the central pacemaker in the brain, and c) how re-aligning the clock at the organismal level (i.e. behavior) is reflected in the skin clock.  
We use multiple techniques at all levels of biology, including cell/tissue culture, bioluminescent cell reporters, gene expression (qPCR), protein analyses (ELISA and Western Blot), cell/tissue imaging, wheel-running, and sleep monitoring to better understand how clock dysfunction can affect - or be affected by - genetic disorders, therapeutic interventions, and their underlying mechanisms. Our prospective student(s) would spend ~10-15 hours in the lab per week, first learning various techniques and getting acquainted with the field, and later applying those techniques in a semi-independent experiment.  
McKenzie Rice, Research Assistant
In Person, CCHMC
Epilepsy currently affects 50 million people in the world, with 30% of those patients being drug resistant (WHO, 2023). New therapies are needed; however, most therapeutic studies use male models to test drug safety and efficacy and do not account for potential sex differences. This project will investigate the implications of sex differences in epilepsy, specifically catamenial epilepsy, which is epilepsy that is affected by menstrual cycles in female patients. (Chakraborty et al., 2021; Tiwari et al., 2018). The student will be working on a transgenic mouse model to look at cell-type specific regulation of microRNAs, which are small non-coding RNAs that translationally repress RNAs. MiRNAs have been shown to be promising targets for developing new therapies and may be influenced by female sex hormones in epilepsy (Tiwari et al., 2023). The Gross lab is looking for a motivated student interested in learning basic science research. The student will have the opportunity to learn different skills related to cell and molecular techniques, as well as building their background on reviewing scientific journals and presentation skills. Ideally the student would work 6-9 hours per week.
Yohei Sanada, Postdoctoral Fellow (PhD)
In Person, CCHMC
Background and Aim: Chronic inflammation has been shown to play a vital role in the pathogenesis of many obesity-related metabolic disorders. Extracellular vesicles (EVs) carry biological cargos such as RNA and protein to distant organs and cells. However, while several studies of RNA Cargos (Extracellular-RNAs; ExRNAs) have linked inflammation to the onset of obesity-related diseases, the mechanisms of how ExRNAs exert the regulatory function in recipient cells are still unclear. Our preliminary data indicate that Liver-derived ExRNAs are a primary mediator in inducing obese-related inflammation. This study aims to elucidate the mechanisms of how ExRNAs are transferred into recipient cells and become functional.
Roles of student: To investigate the roles of ExRNAs in obese diseases, the student has to take 1-2 hr per week for animal maintenance, e.g., weighting, replacement special diet, blood collection, genotyping, and so on. For the biochemical analysis, the student has to culture the immortalized hepatocyte cells and primary immune cells (2 hr/week). Furthermore, the student takes more time for Exosome isolation from culture media and functional assay using qPCR and western blot analysis (8hr/week).
Sandra Schrenk, Research Associate
In Person, CCHMC
A vascular anomaly occurs when blood or lymphatic vessels in a part of the body develop or grow abnormally. Vascular anomalies are classified as either vascular tumor or vascular malformation. Such abnormal vessels often form masses or areas of swelling and can be extremely painful. The vessels may also become dysfunctional due to slow blood flow and local blood clots. Treatment options are limited and mainly based on the injection of a chemical to shrink the vessel (sclerotherapy) and/or surgical removal of the affected tissue. However, these treatments in some cases do not help or offer only temporary relief, as the malformed vessels sometimes regrow. For this reason, it is important to find drugs which are more effective and limit the need for invasive procedures. To find better treatments, research is needed to understand its underlying cause.
Scientists have identified several underlying genetic mutations which are found in affected tissue, but we still don't fully understand how these mutations result in abnormal blood vessels. 
In our lab we are working with several transgenic mouse models that develop vascular lesions and other symptoms that are reflecting those seen in patients. Those mouse models allow us to study the molecular and cellular mechanisms that are involved. Furthermore, they allow us to perform preclinical experiments to test novel therapeutics.
The student researcher will learn and help with data analysis, histology and immunofluorescence staining of tissue and cells. Moreover, basic laboratory techniques of molecular biology such as PCR and Western blotting will be performed. The student will also learn experimental design, reading scientific papers and presenting their research. The average time commitment is 12-15 hours per week (days are flexible based on availability).
Devyani Sharma, MS
In person, CCHMC
Hematopoietic Stem Cells (HSCs) are known for their regenerative potential. This property allowed the use of HSC in bone marrow transplantation to treat hematological disorders such as leukemia. However, aging influences these characteristics of HSCs. Mitochondrial metabolism and activity are active drivers of HSC fate decisions. Our data shows that mitochondria in aged HSCs have increased sphericity with a polarized mitochondrial network and a lower mitochondrial membrane potential. An important aspect of mitochondrial functions is the lipid composition of their membranes. A lipid trafficking assay showed an atypical pattern of lipid incorporation by mitochondria in aged HSCs suggesting that mitochondrial lipids become abnormal upon aging. The overall content of Cardiolipin (CL) which is a signature mitochondrial lipid, found exclusively in the inner mitochondrial membrane was also reduced during aging. Thus with this study we are trying to identify the role of CL in preserving their self-renewal and regeneration potential during stress conditions such as aging. We use transgenic mouse models and cell culture assays along with flow cytometry and immunofluorescence imaging to understand the contribution of CL in HSC functions. Ideally a student is expected to dedicate 5-6 hours in the lab performing experiments and analyzing data that they generate. At least 3 days with a stretch of 7-8 hours per week to complete or participate in the experiments.
Durgesh Tiwari, Research Instructor
In Person, CCHMC
Epilepsy is characterized by increased nerve cell activity in brain causing excitability which leads to seizures.  As per Epilepsy foundation, 65 million people around the world are currently suffering with the condition and 150,000 new cases are diagnosed every year in the United States. At present the available therapies are able to help the condition by controlling brain excitability, but still the disease cannot be cured.  Moreover, these treatments do not work in one third of patients which potentially is due to lack of understanding of mechanisms regulating excitability and seizures in the brain. Our lab is focused on investigating a CNTNAP2, involved in controlling excitability and its potential in regulating seizures in Epilepsy. The student in the project will investigate the expression of this protein in the control mouse brain tissue using immunohistochemistry and western blotting techniques. Also, the protein will be characterized in a knockout mouse model of Cntnap2 to compare the expression and this mouse model will be characterized for their genotypes using polymerase chain reaction. The student is expected to work max. up to 8-10 hours per week.
Gyanesh Mani Tripathi, PhD
In Person, CCHMC
Muscle pain is a significant clinical problem.  Mechanisms of muscle pain involve both peripheral and central nervous system changes in addition to immune modulation of cellular activity.  Ischemic myalgia is a unique type of muscle pain due to transient reduction of the blood supply to a part of the body followed by reperfusion injury (I/R).  Our model of prolonged ischemic myalgia which utilizes a repeated I/R injury to the limb muscles has been shown to alter primary afferent function and immune signaling pathways that likely underlie pain-like behaviors. Recent data suggests that in addition to pain modulation, nociceptors may themselves be modulating immune function in the affected muscles in a feedforward manner. 
In this study, we'll assess the role of T cells in the muscles in regulating I/R-related hypersensitivity and immune responsiveness through genetically modified animals and various behavioral, electrophysiological, molecular, and immunohistochemical techniques. The student researcher will have an opportunity to gain hands-on experience in various wet lab techniques and data analysis. Desired hours/week: 8-15 hours/week.
Shruti Vemaraju, Research Associate
In Person, CCHMC
The Lang lab is interested in studying the mechanisms involved in eye vascular development. Our recent work has shown that light (both during gestation and at neonatal ages) can modulate blood vessel development in the mouse eye. We have learnt that in addition to normal light-dark cycles the wavelength composition of light matters during this process. Short wavelengths (violet and blue) of light can influence risk of developing myopia in animal models and alter blood vessel development in young mouse pups. The student researcher will work on a project to understand how light (duration and wavelength) can be linked to normal eye development and disease risk in mice. Data generated from this study in combination with existing results will result in a publication.
During this project the student researcher will gain experience in various lab techniques (wet bench) along with utilizing and refining a module for image processing. 10-12 hours per week will be optimum to tackle these tasks with the option to work remotely few hours a week on data analysis (using Microsoft Excel and open-source software ImageJ/Fiji). The Lang lab offers a great environment to work in. The general philosophy is to collaborate with each other to pursue research goals while developing the skill to think independently. My mentorship style aligns with this, and I am always striving to nurture a love for science/research in our team. There will be plenty opportunities for a student to learn and grow in the Lang lab.
Danny Wu, PhD
Online, UC
The innovative clinical data capture and use (iCDCU) lab has been taking RaMP students, especially those from the Medical Sciences and Computer Science major, since 2017. The RaMP students will receive a 3-unit training in Literature review, human subject research, and Python programming, and mentored by the PI directly with support from the current lab students and staff, Meanwhile, the students will contribute to an existing project based on their interest and skills. A typical project would apply human-computer interactions and data science methods to analyze data and generate information to make clinical and health impact. Current lab projects and members can be viewed at https://www.iCDCU.org.
Yao Xiao, PhD
In Person, UC
My project is to investigate the dynamic interplay between cancer-associated fibroblasts (CAFs) and BRAF-mutant melanoma cells, unraveling critical mechanisms underlying CAF-derived signals in promoting aggressive melanoma progression and resistance to targeted therapy. As a student researcher on this project, your responsibilities will include: Data Collection and Preprocessing; Evaluation and Analysis. We anticipate that the student researcher will dedicate approximately 8-10 hours per week to this project.
Xueheng Zhao, PhD/Helena Li, Undergraduate Student Researcher
In Person, CCHMC
Metabolites play critical roles in biochemical pathways and monitoring their dysregulation can reveal novel insights into disease development. Metabolomics provides a powerful platform to investigate patient responses to certain interventions such as treatment and diet, to reveal changes in metabolic levels and shed light on intervention mechanisms at a cellular level. Mass spectrometry is the major analytical technique for metabolite analysis and has the capacity to analyze a wide array of human and animal samples. This approach becomes indispensable in addressing complexity in disease and health. The data generated from mass spectrometry-based metabolomics are usually complex and require bioinformatics tools to deconvolute for statistical and pathway analysis. Our research investigates disease pathogenesis via untargeted and targeted metabolomics platforms.
The honors student will be involved in the ongoing project in the lab to develop a method for quantification and analysis of metabolites in the NAD+ metabolome. The student will learn about sample preparation, instrument techniques, and assist with bioinformatics data analysis. He/she may also spend time learning chromatography and mass spectrometry techniques depending on the student's availability and interest. The student is expected to be in the lab for about 10-12 hours per week. Cincinnati Children's will require you to provide your up-to-date vaccination records.