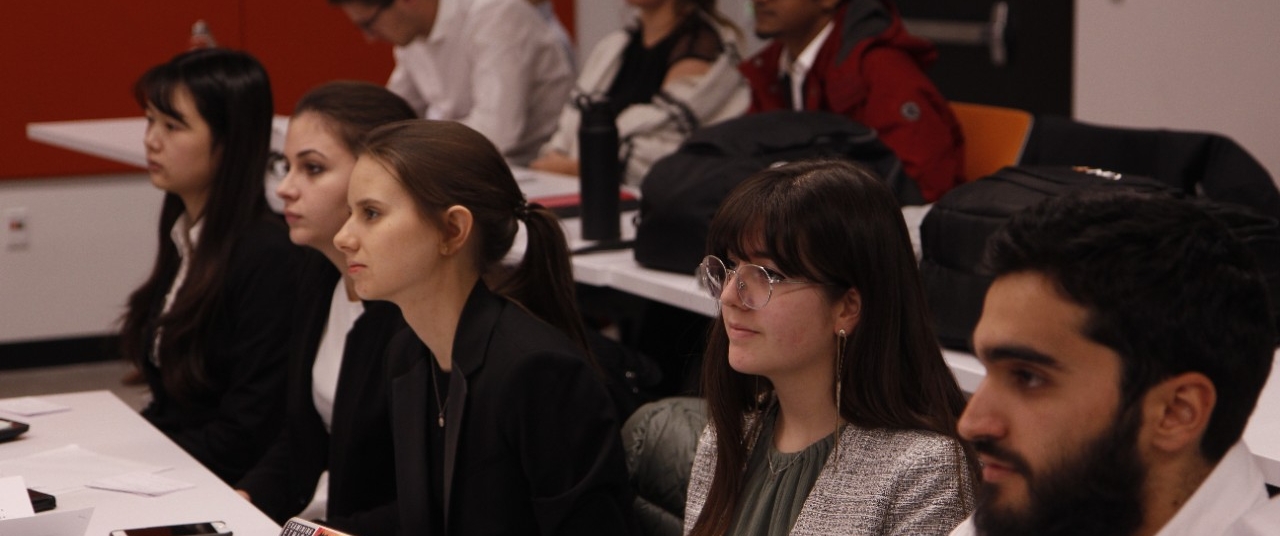 Through RaMP, I got started in the ​Nasimuzzaman​ Lab at Cincinnati Children's. This was the first time I had ever done research and I was super eager to get started. After doing Sickle Cell research in the ​Nasimuzzaman​ Lab for a semester and a summer, I switched over to T-cell research in the Conforti Lab at the College of Medicine, which is where I have been ever since.

When I first applied for RaMP, I only applied to labs with a focus in blood related diseases because that was my interest. In hindsight, I think that the actual focus of the research was the least important thing to think about when applying. A positive experience in a lab will come from a good mentorship. Apply to labs where you think the mentor will be reasonable, supportive and interested in helping you. If your mentor also does research in an area of interest for you, consider it a bonus!

I found that most of the interviews were pretty relaxed. Make sure to present your best self, but don't stress too hard about little details. Do your best to read up on the interviewer's area of research but know that it's okay if you don't understand everything fully. It's helpful to keep a copy of your upcoming schedule during the interviews. A lot of mentors want to see how your schedule will work with their experiments. Don't worry if you don't have any prior research experience. I didn't have any, but I still got matched. When you interview, have an idea of what you want to do when RaMP finishes. Do you plan to continue working in the lab? Are you going to work summers? It's okay if things don't work out exactly as you plan, but mentors want to know what you plan to put into the lab.

When you get started in a lab, you can expect to be learning the ropes for a while. Your mentor will show you the techniques that you need to know and then you'll slowly gain more independence as time goes by. Make sure to read the scientific literature that your mentors provide and ask questions when you have them (you'll have a lot of questions). Take notes in lab and keep records of the experiments that you do. I personally worked about 12-13 hours each week, but I made sure to have some flexibility around exams and projects. If you need a little extra time to study or work on a project, don't be scared to ask your mentor for a little bit of time off. Just make sure that you are communicating ahead of time.

Thanks to RaMP, I was able to get my humble beginnings in research. RaMP gave me my first connections into the world of research and made me a much more experienced researcher. This experience has strengthened my understanding of biology and chemistry while also making me a more competitive applicant for medical school. If you are looking into getting involved in biomedical research, this is the program for you!
Mid-fall semester of my freshman year of college, I applied for RaMP looking for research experience. Although I was unsure of what kind of research I wanted to do and had no prior research experience, I was eager to find a lab to explore and develop my passions. I attended a series of presentations by potential mentors who presented on their research and skills a RaMP student would learn in their lab. I noticed very quickly that I barely understood any of the techniques or research conducted in the labs, so when taking notes I mostly noted mentors' personalities.  
 
After networking with a few labs that I enjoyed the most based on mentors and the type of research conducted, I was fortunate to match into the Lewkowich Lab in the Immunobiology department at CCHMC. Here, I conducted research on predicted cytokine synergy in tracheal epithelial cells in the context of allergic asthma. Although it was quite a steep learning curve (and I never fully learned exactly what all the aspects of my research were), I learned many useful techniques that could be used across many kinds of basic science labs, such as RNA isolation, cDNA synthesis, RT-PCR, Western Blots, and ELISAs. More importantly, I learned the basic process of conducting scientific research and publishing articles.  
 
I also learned much more about graduate school for biomedical sciences and what a career in science would look like. Although I do not think that this career path is right for me, I am happy that I learned to rule this out to solidify my choice in pursuing medicine. I ended up working in the Lewkowich Lab for a little over two years before moving to social science research. Although I don't plan on pursuing basic science research in the future, I am satisfied with my experience and everything that I learned.
 
First and foremost, base your choice of lab on the mentor. Your mentor is the most important aspect of your experience because a good mentor will be able to guide you through so much more than just lab techniques. A good mentor is patient, willing to invest time in your knowledge and experience, excited about your participation, willing to help you seek out other enriching experiences such as conferences, and organized.  
 
I would also encourage, if possible, to try different types of research. I have been fortunate enough to have experience in basic science research, clinical quality improvement research, and medical sociology research. These experiences have all been quite different, but I have found that I like medical sociology research best. Find the type of research you're most passionate about before calling off research all together if you don't initially enjoy it. Follow your passions and do things that you enjoy!
I had the opportunity to work in Dr. Shuk-Mei Ho's lab under my mentor, Dr. Ana Cheong. This lab investigated the effects of environmental exposure to heavy metals on prostate stem cells and the risk of developing prostate cancer. My role in the project focused on gene expression, so I learned basic molecular biology techniques such as RNA extraction and PCR, as well as presentation skills, and time management.  

I returned to the same lab in the summer for the SURF program, where I became responsible for my own project and continued to develop. Both research experiences are useful in my current research co-op at CCHMC.  

RaMP was my first taste of research, and it was a valuable learning experience. It takes time to adjust to how a lab works and understand the many aspects of a research project, so I was able to develop the most when I returned to the lab through SURF and worked full-time. Since time was less of a constraint, I had my own project, which was an incredible experience.  

I cannot overstate the impact Dr. Cheong had on me. She taught me everything that I know about research – how to prepare for experiments, plan ahead, analyze results, take meeting notes, prepare a presentation, and communicate effectively. As a result of RaMP and SURF, I gained valuable knowledge and research skills, as well as confidence in a lab setting and in presenting. I am extremely grateful to my mentor for her patience in teaching me everything I needed to know and more.  
Advice:

Tailor your cover letters to fit the lab you're applying to. If it sounds generic, mentors may be more likely to skip over it.

Be prepared to answer questions about your research interests and goals for the program during the interview.
Expect a lot of literature reading for the first week or two in the lab. There will be a lot of information thrown at you – go at your own pace so that you can best absorb all the information. You need a strong understanding of the background of the project so that you can explain it to others and build off of it.

Be able to connect the practical (what you're doing) to the theory behind it (why you're doing this).

When performing experiments, pay attention to details!  Something small may have a large impact later. 
A good mentor should be primarily interested in helping you learn and grow.

Try to return to the lab for another semester if you can, whether through RaMP or SURF or another program.  
Up until my RaMP experience, I was pre-med but working in my lab introduced me to community health research and made me realize that I'd like to work in this field full time. My project was Goal Setting & Shared Decision Making in Pediatric Settings. I transcribed patient-physician interactions and coded (categorized) patient-stated goals to give us a better understanding of what kinds of needs pediatric patients with medical complexities have. The transcriptions had private health information (PHI), so I was given a cubicle in the T building of Cincinnati's Children's where I had a cool view of the Cincinnati skyline and spent a few hours every afternoon transcribing videos. The patient-stated goal portion I would often work on at home at my own pace. Every few thousands of codes, we would all meet and review any discrepancies in our coding.  
 
Through this experience, I learned that I'm really interested in community health and will be pursuing a Master's in Sociology as well as taking more stats classes. I am hoping to be a co-author on an upcoming publication with my mentors, Dr. Bill Brinkman and Dr. Jean Chia, regarding the research we did during RaMP. I also am a lot more qualified to work in qualitative research and have been lucky enough to stay in this lab the past few semesters and engage in more of the aims for this research project.  
 
I strongly recommend developing a good relationship with your mentors. Take the time to get to know them and make sure they understand your career goals; have conversations regularly about what they can do to help you achieve these goals. They will see your hard work and be receptive to any questions and needs that you have – they're there to support you.  
 
For the application process, apply to labs that you're interested in and that you feel will challenge you or expand your skill set. Also, when you're deciding who to match with, pick a mentor who you resonate with and are comfortable with. This will make the first few weeks especially, when you're probably feeling a little confused and unhelpful, a lot better.
I was able to join the Gross Lab in the Neurology Division of Cincinnati Children's Hospital and Medical Center. My lab studies epilepsy and autism. Most of my work has been concerning how the regulation of specific potassium channels in neurons affects neuronal excitability and disposition to seizures, as well as how it affects the brain waves that mice have. I've stuck with the lab ever since, and I'm coming up on my two year anniversary of joining.  
 
The RaMP program was incredible. Honors completely facilitated the process of joining a lab, and made it into a super easy process. I grew both professionally and personally as a result of this. I was able to join a lab that I loved, and meet people that I will be connected to for the rest of my life. I also gained real-world experience in a professional, scientific setting. I learned skills that will help me in my career and learned what the process of research was really like. Furthermore, honors helped me realize how much I developed through a capstone presentation. This has definitely helped me prepare for medical school as I have been honored to win awards and fellowships for my work, as well as having a couple of publications on the way.
 
Apply to a mentor you can work with, not just cool projects. You'll learn to love whatever you work on, and being with the right people helps make the experience even better. Be professional in the interview, but don't worry too much about appearances. Most researchers dress casually, especially if they do bench work. Talk about techniques you already know, but most important show an eagerness to learn. They know you won't be perfect now, most want someone they can work with and teach their techniques. Try to read a paper or two of the labs that you are interested in joining so you can get a better understanding of what their work. Cast a wide net when applying, the interview process can tell you a lot more about the mentor than the meet and greet. The interview is probably more important than the resume, this gives them a better sense of who you actually are. Realize you will have a lot to learn and research is often a slow process, so it may seem slow at first.